Daily post 23 Jun 2007 08:22 am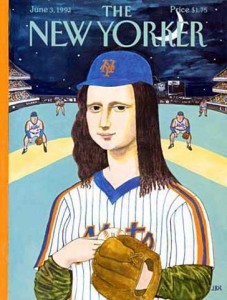 – New Yorker and Playboy cartoonist, J.B. "Bud" Handelsman, died on Wednesday evening.
He had contributed cartoons to the Observer, New Statesman, Punch (including covers and the popular "Freaky Fables" series), New Yorker, Saturday Review, Saturday Evening Post, Look, Esquire and Playboy. He'd created a 10 min animated film called "In The Beginning". He'd also illustrated a number of books including Who's That Stepping on Plymouth Rock?.
After studying at the Art Student's League, he went to NYU for Electrical Engineering but switched to commercial art after graduating in 1946. At first he sold cartoons as a sideline but became a full time free lance cartoonist in 1960. He was one of the first cartoonists working for Playboy.
His covers for the New Yorker magazine were identifiable to all readers of the magazine and were usually signed JBH.
_________________________________

CanMag has posted a number of concept art pieces from Pixar on the upcoming film Ratatouille (Rat-a-too-ee.) These are visible (in a flash version) on the official site.
_________________________________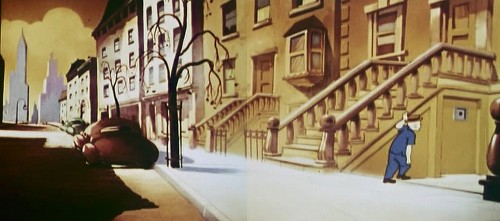 On his excellent site, Kevin Langley is giving attention to some of the background artists at Paramount. He's merely offering screen grabs – many of them – but the effect is effective. It gives some real focus to the fine backgrounds done for that studio.
It's interesting that he chooses to start with the work of Tom Ford who seems to have been at the studio for only a few years, from about 1947-1952.
Personally, I enjoy watching how Robert Little's work changed, grew and developed over the many years he worked at Paramount and Fleischer's. From Gulliver to Casper to Modern Madcaps.
An example of Ford's work can be seen above from "Audrey The Rainmaker." This is one of the many samples from Kevin's site.
_________________________________
Check out Thad Komorowski's site. He's giving us a treat with some of Floyd Gottfredson's dailies of the Mickey Mouse comic strip. It starts with 1936 and continues through other posts, ongoing.
3 Responses to "Handelsman/Ratatouille Art/"
on 23 Jun 2007 at 11:22 am 1.Jerry Beck said …

Obviously I'm biased toward Famous Studios (as one of the few who will go on record as bring a fan of the studios work), but I hope Langley will be highlighting the work of Shane Miller. Miller's "scenics" (as they called them) are breathtaking! The backgrounds during the studios brief fling to compete with UPA (the releases from late 1956 through mid 1958) are as good and "modern" as anything being done at Terry or on the west coast.

And if I could use this space to insert one more personal plug for Famous, I really recommend a book Leslie Cabarga and I put together for Dark Horse Publishing and Classic Media reprinting the early 50s Harvey Comics of Casper the Friendly Ghost. It mainly features art from several great Famous Studios animators, Bill Hudson, Tom Golden, Steve Muffati, Dave Tendlar and Marty Taras. It's not funny comic art like Jim Tyer's work on Terrytoon comics, but it's tight professional material that's been completely overlooked. The book comes out next month.
http://www.darkhorse.com/profile/profile.php?sku=14-339

on 23 Jun 2007 at 2:30 pm 2.Thad Komorowski said …

Thanks for the plug! I'll be posting more Gottfredson strips over time. Gottfredson is one of my absolute favorites and one of my biggest influences as a budding cartoonist/animator, both in his artwork and writing.

Oh and I love Famous too! I'd like to see that Casper book when it comes out. I am partial to the Baby Huey and Herman & Katnip stories though. (and Marty's Rags Rabbit)

on 23 Jun 2007 at 4:06 pm 3.Kevin Langley said …

Actually, I will be posting stuff from everyone from Shane Miller to Anton Loeb. Unfortunately, I only have screencaps to work from but I've been grabbing tons of them. I think I'll post the pics in chronological order from now on. I started with Ford mainly because his backgrounds in "Teacher's Pest" (fine cartoon by the way) made me want to highlight some of the great work done at Famous. Thanks for the link Michael.
Leave a Reply