Photos 24 Jun 2007 08:35 am
- As you may have guessed, if you've followed this site, I'm in love with New York. I enjoy just looking at its busy-ness. The street scenes are always interesting to me, and the activity keeps my eyes excited.
I've enjoyed snapping pictures of the perspectives of these streets that I see on my daily hikes. Here are a few of these photos, which I'm sure will bore the heck out of most of you.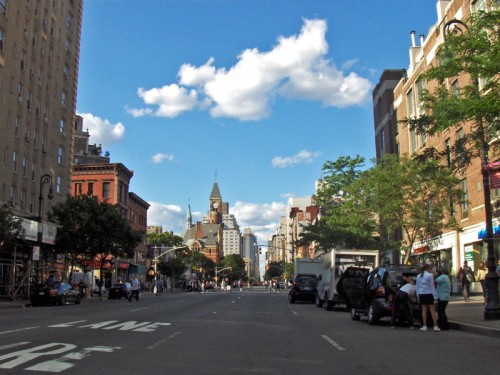 Looking uptown from West 4th Street and Sixth Avenue in the village, you can almost pretend it's a small town scene. However, if you walk another block in any direction the view is completely different.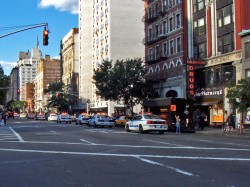 B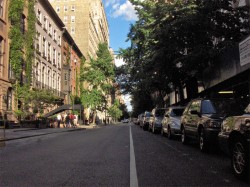 C
A. At 9th Street and Sixth Ave. the scene is completely different. There's a large number (mayber twelve) of police cars in a single row racing uptown with their lights and sirens blaring. You never know who they're escorting. I once saw Bill Clinton in a black SUV heading downtown to the site of the 9/11 attack.
B. Moving Eastward on 9th Ave. things change again. More trees are on the side streets here in Greenwich Village.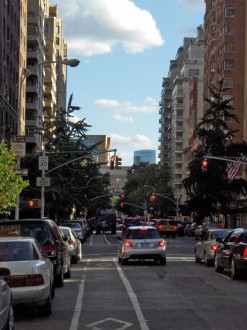 D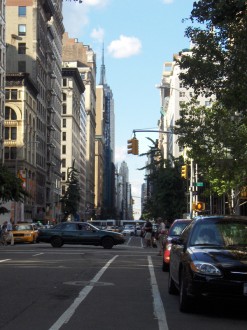 E
D. Looking downtown from 12th St. & Fifth Ave. you can just about make out the arches at the entrance to Washington Square Park. It's only five blocks downtown.
E. Looking uptown on Fifth Ave & 17th St gives you a completely different perspective as the Empire State Building starts to center everything.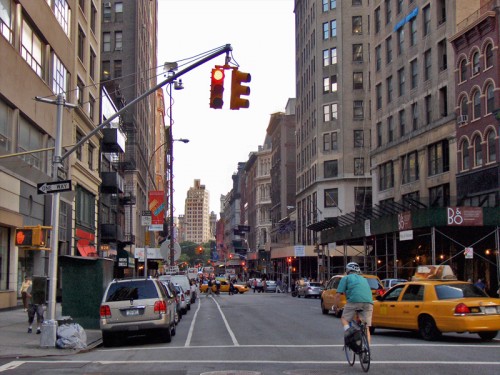 What seems like only half a block Eastward, standing on Broadway at 22nd street, looking downtown, the view is wholly different. Union Square Park, 8 blocks downtown, changes everything from this vantage point. There's also more congestion.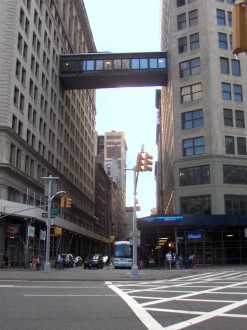 G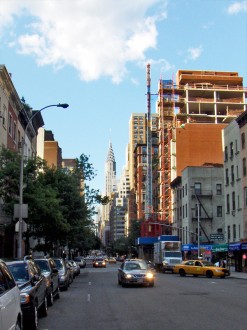 H
G. At 24th St & Fifth Ave the Toy district looms large. I've always been intrigued by the connecting tunnel up in the sky; it hinges the two buildings. This was one of the more interesting features at the World Trade Center.
H. At 28th St & Lexington Ave you can just about make out my favorite building in the City, the Chrysler Building. Its Art Deco presence seems to always be glittering in New York. This street is lined with Indian Restaurants; I'm standing in front of "Curry In A Hurry," a NY staple.
One Response to "Street Scene Sunday Photos"
on 26 Jun 2007 at 11:56 am 1.J Lee said …

Irving Place between 17th and 20th streets has that "You're not in Manhattan" feel, since Grammercy Park blocks the Lexington Ave. traffic and the commerical nature of the street from 14th to 17th isn't there. Stuyvesant Street has the same vibe, since it runs diagonally between Ninth and 10th streets and Second and Third avenues (Beekman Place between 49th and 51st streets east of First Ave. is even more in its own little world — there no reason to go down that street unless you need to go down that street).

And of course there are sections of the Village west of Sixth Avenue that are also places of their own in part to the Manhattan street grid breaking down there, leading to such entertaining intersections as the corner of West Fourth and West 10th streets.
Leave a Reply