Commentary &SpornFilms 28 Jun 2007 08:01 am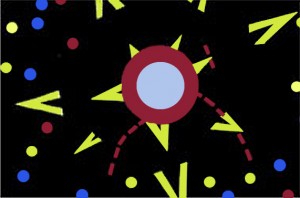 - Jeff Scher is back in the opinion pages of the New York Times with his monthly animated contribution. The piece, this month, celebrates the Fourth of July with a confetti confection of fireworks. The short film takes its cue from Oskar Fischinger.
The piece is designed for the TimeSelect subscribers, so it may be hard for some of you to receive it. Give it a try.
It's an interesting gig to have to deliver an animated piece each month for the internet. Jeff's last and initial piece is still available on line, as well. Here's L'Eau Life. If you haven't seen that film, check it out.
_________________________________
Speaking of Oskar Fischinger, I've linked to the Fischinger Archives. Oskar, you should know, was an important abstract animator whose most famous piece was the Toccata and Fugue in Fantasia. The archives have galleries of some of Oskar Fischinger's animation drawings: 2, or 3.
_________________________________

Above is an Oskar Fischinger silent film, "Seelische Konstruktionen," which was set and reworked to a musical number, Cavern, by the rock group Liquid Liquid.
Richard McGuire was the bass player of the group; he's now directing animation at Prima Linea Productions in France. He's done a lot of work for the NYTimes Sunday Book Review and the New Yorker magazine. He's credited for reworking Fischinger's film to tie into the group's song.
I did an animated video of the song in 1983, just as the group broke up. I got it onto ABC's late night music video program at the time and a couple of local shows. The record company, 99 Records owned and operated by Ed Bahlman, went out of business not too much later. The film was screened in competition in Ottawa.
Here are some frame grabs from the video I animated. I used multiple split screens and violent cutting to make a short about the small everyday bits of violence we saw on city streets.
_________________________________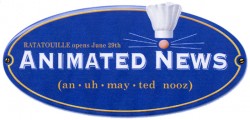 - By the way, on a completely different topic, I love the temporary logo on at Animated News. It reads, under the title banner: (an-uh-may-ted nooz). Hilarious stuff.
The logo links to the Pixar Ratatouille site.
One Response to "Monthly Abstractions"
on 29 Jun 2007 at 3:19 pm 1.Robert Schaad said …

Ah yes, the late great 99 Records. I paid many visits to the store, and Ed was always kind enough to play anything that I wanted to hear…as well as turning me onto new discs. He was as enthusiastic about about new music as you could ever hope someone to be.
Leave a Reply