Commentary 30 Jun 2007 09:34 am
- What can I say? I'm a curmudgeon. I didn't totally love it.
Ratatouille ("rat-a-too-ee"), I mean. I had some predictable problems with the film.
Rats!
They fought the dogs and bit the cats. They ate the cheeses out of vats. Rats.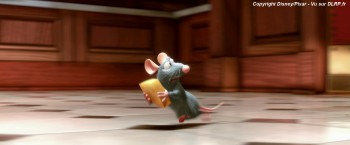 It's hard to watch a movie, any movie that shows hundreds of realistic looking rats with realistic looking hair running across a restaurant kitchen. Or covering a small car. Or falling from a ceiling in a smallish house. It's unpleasant. Is this the stuff of family film?
I wanted to give it four out of four stars, but I can't – maybe three and a half. Pushing it. All those rats; they were just too realistic when you put a lot of them together. They got the look of wet fur just about perfect. The animation was almost realistic. (Some of it was actually nice character animation.)
The kids in the theater. I heard all three of them – it was a private screening – ask what was happening. They seemed to have a bit of trouble following it. Maybe kids aren't supposed to enjoy every "family" film. I don't know.
Then about 3/4 of the way through the film, there's a real slowdown, and I had to look at my watch to see what time it was. Like every other Pixar film, it was five or ten minutes too long.
I'm sorry. I'm a curmudgeon. Maybe I should tell you what I liked about the film.
Let's try to forget that we're talking about RATS RUNNING AROUND KITCHENS!
The craft in constructing the film was top notch excellent. I mean some of the character animation was exactly that – excellent. Not all of it, but enough of it. All of it was, at least very good. Peter O'Toole gave them the one great voice in the film, and the animators responded brilliantly. His character seems a refugee from a Tim Burton film.
The Backgrounds were stylized and looked illustrated. In fact, they were often very attractive. I wish they were a bit more stylized, but that's just my own personal bias kicking in. In CARS you had an attempt to imitate real, and I didn't get the point.
Ratatouille had an intelligent approach to the audience. None of those media references animated features always throw at us to tell us how with it they are. (This has been part of the landscape ever since Aladdin, and Jeffrey Katzenberg seems to encourage it.) That's an enormous plus – treating an animated film with some dignity.
So there you have it. The body of a really good film with a lot of RATS RUNNING AROUND KITCHENS! Sorry, I can't get over it, and I don't think I should.
The end credits featured 2D animated rats in kitchens, and there was more of a remove. These didn't look like real rats, and I realized that probably would have been the way to save the day – 2D animation. Rats are just such a bad idea for lovable animated characters, and there's such a penchant for animators – cg animators – to feature them these days.
Walt Disney never would have allowed it during his life. He had a MOUSE, and he stood him up, put him in shorts and treated him as if he were human. Even the mice in Cinderella wore clothes – for a reason. They were mice – these are RATS.
I debated keeping this opinion to myself, since I know you're all going to hate me now, but what can I say. It's what I felt while watching the film; it's what I think a lot of adults are going to feel while watching it. I hope Pixar makes a ton of money with it, but in the end I don't expect it to go through the roof – after the first weekend. I hope I'm wrong. I think Brad Bird is brilliant, but there were rats running around kitchens here.
- Some articles about the potential box office are worth viewing.
#1 here, #2 here. Of course, all predictions are already probably moot since the opening box office is already in (around $16.5 million for Friday) and predicted to be a close #1 against the new Die Hard film. Fun to speculate though.
22 Responses to "I'm a Curmudgeon"
Leave a Reply