Articles on Animation &Commentary &Frame Grabs 07 Sep 2013 02:24 am
We'ze Back!, hooray!
Well, today's Saturday, and I actually have a realio trulio live blog post for the day. We were able to get Verizon in to trip over their own shoelaces and figure out what was causing our phone problems. But they came through with blazing colors, and here we go again. Now I hope we can, at least, make it through the next week without having to shut down again.

__________________________

More on St. Louis
I received a surprise check this week from the St. Louis Animation Film Festival.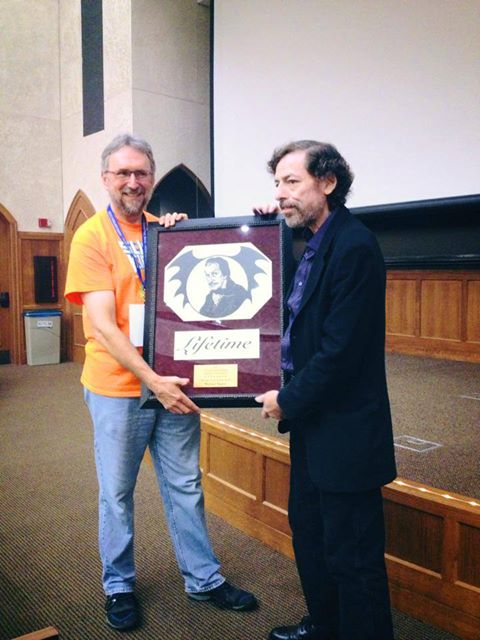 Maybe you'll remember that we had to leave St. Louis in the middle of the night. Because of some enormous pain I was getting from an operation I'd had in NY, just the week before, doctors had to retrace their steps. The Festival felt that they should cover any overage costs that it took to get me into NY and onto Beth Israel's operating table. The Festival folk couldn't have been more generous. I was embarrassed just to have to pull out the way I did. They made it more than alright by covering extra travel costs that caught me unawares
The award was made especially for me. and had just gone out via FedEx. The award celebrates my career with by illustrating my in-production film. Illustrated by a local talent, it depicts Vincent Price in the E.A.Poe position lookin' over me. My new guardian angel will be looking out for me from my office wall. It's working guys; it's working.
The film isn't even finished yet, and already it has an Award. Thanks to you.
Cliff Froehlich and the rest of his staff are first class people, I can guarantee that! Thank you Cliff and anyone else involved.
__________________________ Christians Mingle

The commercial for "Christian Mingle" animation looks like it was pulled from the 60′s animated short, Nathan A]exander Davidson and his wife, done at their company, Zone One Oni Designs.
It looks like a scene out of
Cosmic Cartoon
.
Cosmic Cartoon
was a personal film done by
John Lisberger
and
Eric Ladd
. Peace, harmony and rotoscoping. The emotions went from that film to their doing a TV feature called
Animalympics
.
Christian Mingles lasts less than 20 secs whereas Cosmic Cartoon lasted almost 20. Both use lots of hand-done air brushing done on top of cels and photographed traditionally. At least, I know that's how Cosmic Cartoon was done; you can't really tell with the Christian dating service ad. One presumes they're now using a computer for artwork and effects. Regardless, it's a top-rate spot.

A 2 1/2 min sample of the opening to Cosmic Cartoon.

I'm sure the full film is out there somewhere on YouTube.

If Fred Ladd, John Lisberger or anyone else connected with the film want to give us more info, I'd love to see it in the comment section.
The same is true of Nathan Alexander Davidson. Tell us what you're up to now. Any more such spots in the works?

__________________________ The Miyazaki Effect

I still haven't gotten over the retirement of Hayao Miyazaki this past week. There are very few animation directors, historically, that I can think of whose influence was as far reaching and key to the art of the medium. There are enough live action film makers whose work was consistent and moving over a consistent number of themes. John Ford, Alfred Hitchcock, Howard Hawks and George Cukor
are those I can think of immediately. However, when you think of animation directors, you'd be hard-pressed to come up with many who'd fit naturally into the "Auteurist" class of film director. Miyazaki, most certainly, did fall into that philosophy, and his work certainly rose to the top of the cream of the crop of animation. Most other animation directors have done shorts which might allow them to qualify, but the themes they're working with are usually smaller so that they
could
fit into a short.
I'll talk about this at length in the upcoming posts. The director's influence has been too great on me to not pay great attention. (It's at a time like this that I wish the late, great Tissa David were still around so that we could recap our thoughts with each other.)
3 Responses to "Saturday Comments Live"
on 07 Sep 2013 at 6:59 am 1.Stephen Macquignon said …

Congratulations on the award. I can not think of anyone else more deserving

on 07 Sep 2013 at 2:21 pm 2.the Gee said …

I'm glad to hear things are gong better for you.

Sounds like a lot.

Stumbled across this last night, somehow.
http://zettwoch.blogspot.com/2013/08/sliff-kids.html

It's related to that festival, of course.

on 11 Sep 2013 at 11:18 am 3.Laura said …

Great posts Michael!
What a fantastic award, soo well deserved and I imagine a boost to the soul!
Congratulations and thank you for keeping us inspired!
Leave a Reply