Daily post 15 Aug 2007 07:51 am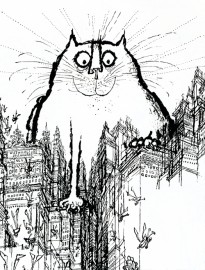 – Like most cartoonists and illustrators, I'm a big fan of the delicate work of Ronald Searle. I think I first came to admire his work through all those TV Guide covers that I knew from my childhood. His sense of caricature was so exquisite.
Any time I came across his work attempted in animation, I was always disappointed. The delicacy, the composition, the heart always seemed to be out of it. The movie titles for The Magnificent Men In Their Flying Machines were a good sample of this. In The Hallelujah Trail, the camera just roamed over stills, but something was missing. Perhaps it was the juxtaposition of those sensitive drawings and the brash musical score by Elmer Bernstein, but it didn't work.
Dick Deadeye didn't quite capture his style or energy, but it the book on the making of the film is excellent. It's filled with fine drawings by Searle including a couple of turnarounds.
I've become a frequent visitor to Matt Jones' Ronald Searle Tribute blog. There's so much material there that it's always a treat to visit.
I have an old issue of Cartoonist Profiles which published the following article by Searle in 1969. A good opportunity to revisit.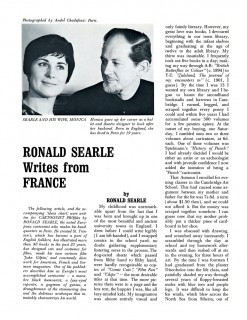 1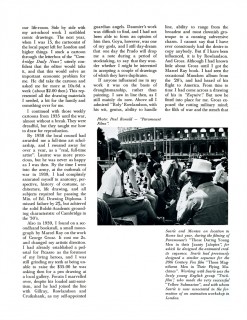 2
(Click on any image to enlarge.)
If you'd like to see more drawings by Ronald Searle, you might try the Chris Beetles Gallery, or Ronald Searle.co.uk.
3 Responses to "Ronald Searle 1969"
on 17 Aug 2007 at 5:12 am 1.Matt Jones said …

As you say there have been several attempts to replicate Searle's style in animation & none too successfully BUT have you seen 'Energetically Yours'?
This, I feel, comes closest to capturing Searle's line quality -perhaps because he was very closely involved.
The article states that he was involved in an animated version of the' John Gilpin' book which I'd never heard of before. The horse in the book of course is the alleged basis for the horse design in Disney's 'Sleeping Beauty'.

Great article Michael, thanks for scanning & posting that-do you mind if I add to the Searle blog?

on 17 Aug 2007 at 7:36 am 2.Michael said …

Hi Matt:

I haven't seen "Energetically Yours," but without it looking like the delicate Searle watercolor I have difficulty imagining it capturing his great artwork. I will look out for the piece, though, with some interest. Please feel free to add the article to your site.

on 03 Jun 2010 at 1:27 pm 3.Steven Hartley said …

Gee, I went to "The Cartoon Musuem" in London today, and I saw some of Ronald Searle's original drawings and inks, and he was such a talented artist, and I saw some original drawings of Charles Schulz's Snoopy, and some of Desperate Dan and Dennis the Menace drawings.

It was a fun day, and I enjoyed it, Ron Searle did some drawings of Mickey Mouse looked really overweight and old, they were very amusing.
Leave a Reply