Animation Artifacts &Layout & Design &Richard Williams &Story & Storyboards 17 Aug 2007 07:41 am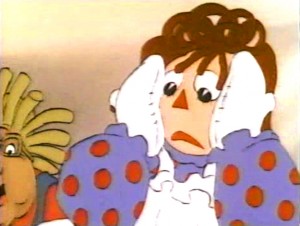 – Tom Sito's blog, yesterday, reminded me that it was the 30th anniversary of the release of Raggedy Ann & Andy:A Musical Adventure .
To quote Tom's blog:
___ASIFA/Hollywood is planning
___to have a reunion of the crew of
___Raggedy Ann to celebrate the
___anniversary. It will be at the
___American Film Institute in
___Hollywood on November 17th.
___A simultaneous reunion will
___happen in New York City. A lot of wonderful people worked on this film, many getting
___their first start.
This gives me a good reason to post some artwork from this film in the next few months. So, excuse me if you find it annoying to see artwork from a second rate feature. However, this was a seminal film for a lot of talented people who got a chance to work along some of the masters.
Just check out this list of animators on the film:
_____Hal Ambro, Art Babbitt, George Bakes, John Bruno, Gerry Chiniquy,
_____Tissa David, Emery Hawkins, John Kimball, Chrystal (Russell) Klabunde,
_____Charlie Downs, Grim Natwick, Spencer Peel, Willis Pyle, Jack Schnerk,
_____Art Vitello, Carl Bell and Fred Hellmich left mid-production.
_____Gerry Potterton was the consulting Director.
_____Cosmo Anzilotti was the Asst. Director.
_____Corny Cole was the designer of the film.
These were some of the younger upstarts inbetweening and assisting:
_____Bill Frake, Jeffrey Gatrall, John Gaug, Eric Goldberg, Dan Haskett, Helen Komar,
_____Judy Levitow, Jim Logan, Carol Millican, Lester Pegues Jr, Louis Scarborough Jr,
_____Tom Sito, Sheldon Cohen and Jack Mongovan.
_____I supervised assistants and inbetweeners in NY,
_____Marlene Robinson did that job in LA.
If you don't know who these people are, trust me they were the backbone of the business for many, many years prior to 1976.
In some ways I think this along with some of the Bakshi and Bluth films led directly toward the rebirth of animated features. There was a long dark period before it.
So to start with the artwork.
This is a scene which immediately follows the Pirate kidnapping Babette.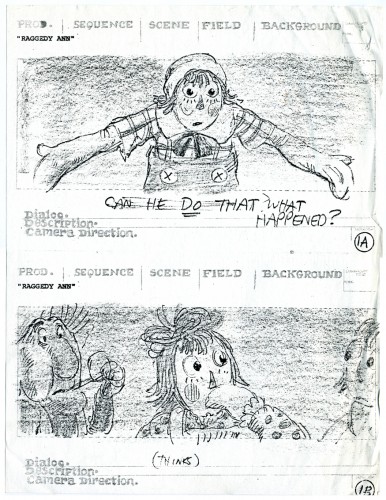 Here's the storyboard for the two scenes. It's a copy of
Corny Cole's drawing from the director's workbook.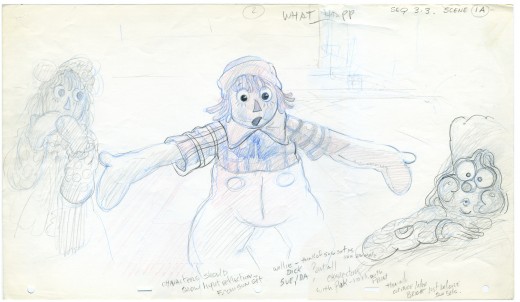 This is Corny Cole's layout for Sc. 1A.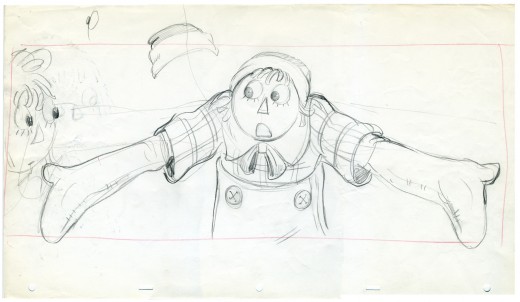 Here we have Dick Williams' reworking of the same pose.
Fred Hellmich originally animated this, but Dick Williams redid the entire sequence, and
Fred left the film.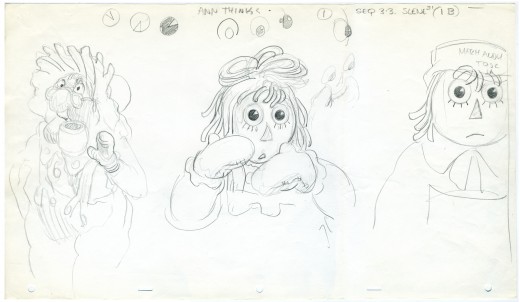 Dick's LO for Sc. 1B.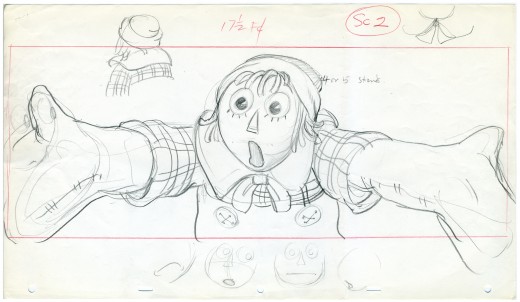 Cut back to Andy (as drawn by Dick Williams) for Sc. 2.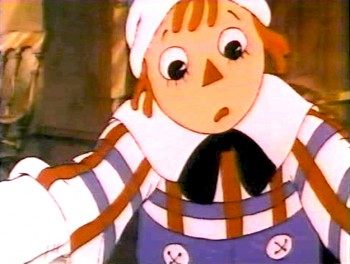 How small it all gets on a pan and scan video.
20 Responses to "30 Raggedy Years"
Leave a Reply