Animation &Animation Artifacts &Models &Richard Williams 21 Aug 2007 07:22 am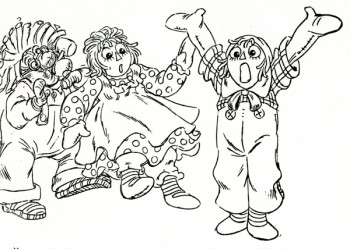 – As I posted last Friday, to celebrate the 30th Anniversary of Raggedy Ann & Andy: the Musical, I'm going to post a bunch of artwork from this film. I'm not even sure much of this material is of interest to anyone but those who worked on the movie, but since I worked on it, I'm interested.
Here are a bunch of model sheets of the secondary characters. The film opens in a playroom, and lots of toys inhabit these first few minutes. They all suffer from the same problem – too much. There are too many lines, there were too many colors, there was too much flailing-about animation. It would have been better to keep it a bit quieter, but that was never the Dick Williams way.
Here they are, right off Xeroxed copies: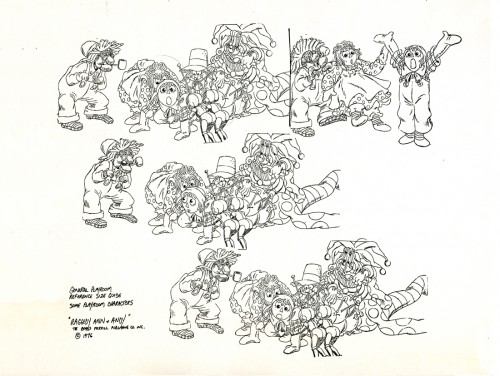 Most of these model sheets were pulled from completed animation. In the case of this
group shot, Dick Williams did these drawings in reworking Fred Helmich's animation in
the "No Girl's Toy" musical number.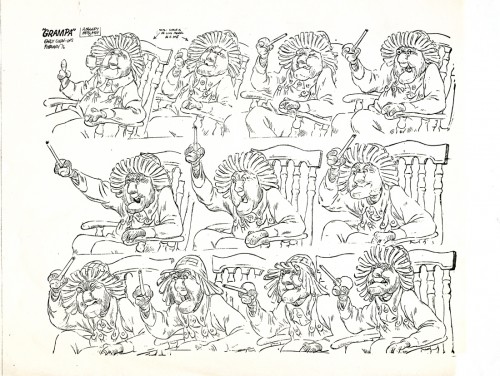 I really have to encourage you to click these images to enlarge. Gramps is the
perfect example of the brilliant detail that Dick Williams put into his animation.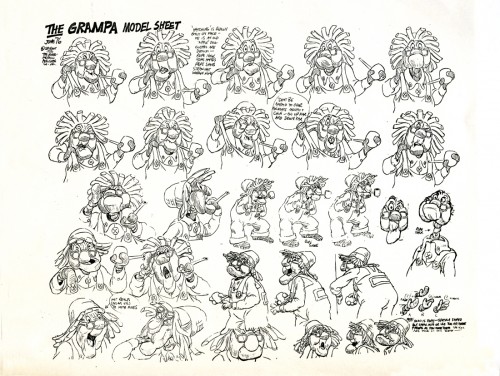 Both these Gramps model sheets represent separate scenes. Most of the key drawings
from the scenes were placed on these models.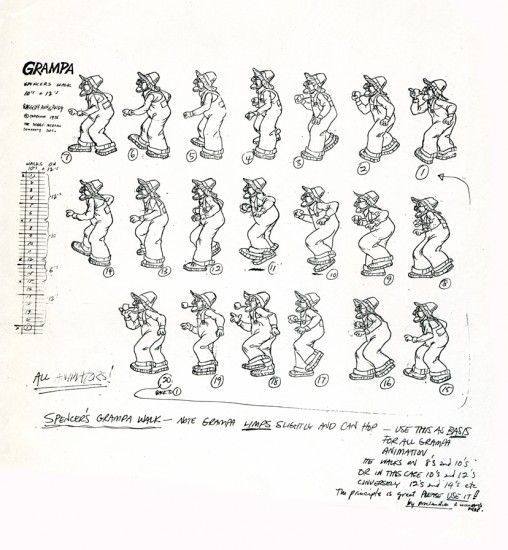 Here's the walk cycle of Gramps done by Spencer Peel and approved by Dick Williams.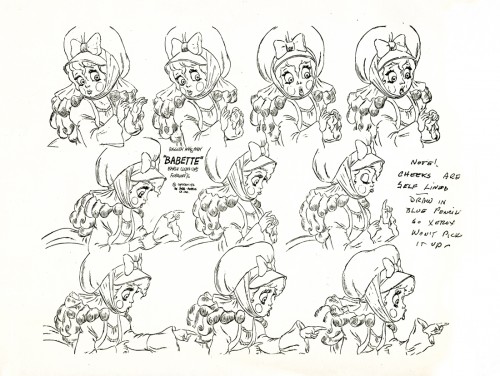 Hal Ambro did the animation on the Babette character, at least in the opening of the film where it was good. Dick Williams did the clean-up and inbetweens, himself.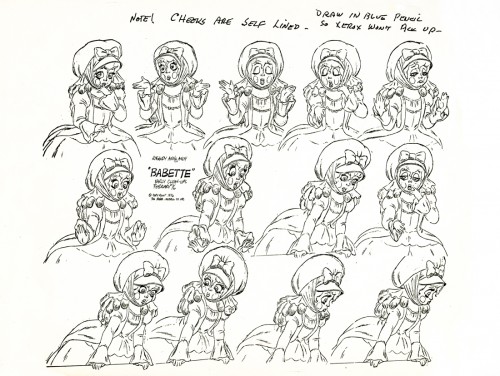 Dick's clean-up did a stunningly brilliant job of locking in this character. I'm not quite sure we had anyone else on staff who could have done this character as well. Dick Williams is
an enormous talent, but it was too bad he was limited to inbetweening.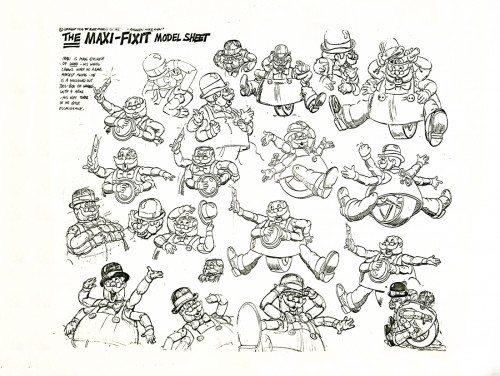 Maxi Fix-it was a nothing of a character, yet he involved endless energy in animation and clean-up. No wonder the film's budget quadrupled during production, and it wasn't enough.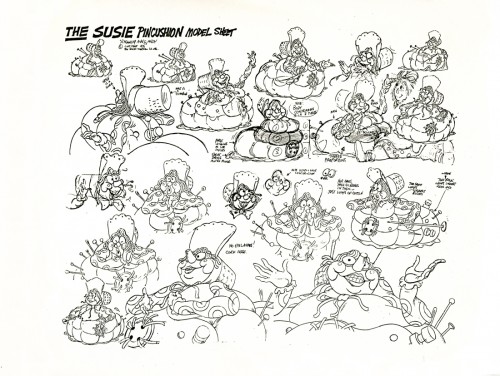 Susie Pincushion was just another character who had 22 colors on her.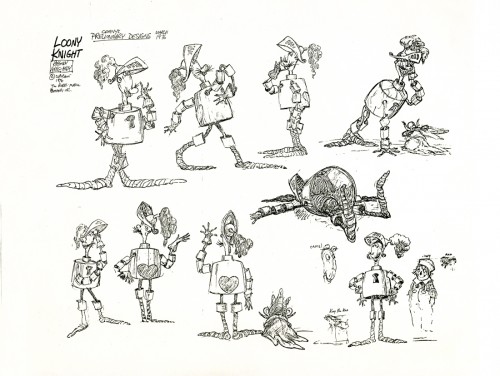 The drawings that were used for this preliminary model sheet were by designer, Corny Cole. What a talent! The character looks as though it could have fallen out of the oriiginal books by Johnny Gruelle. The life in each and every one of these drawings was solid gold. Too bad it ended up such a lifeless and annoying character when it finally hit the screen.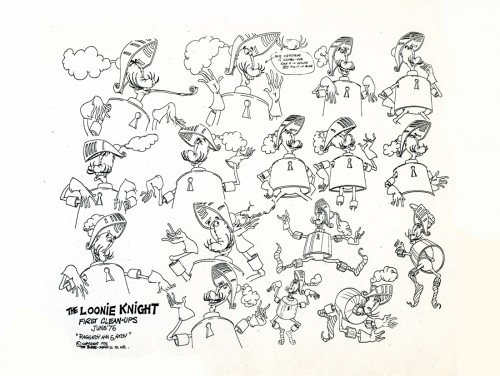 The clean up guide for the knight shows you what's been lost.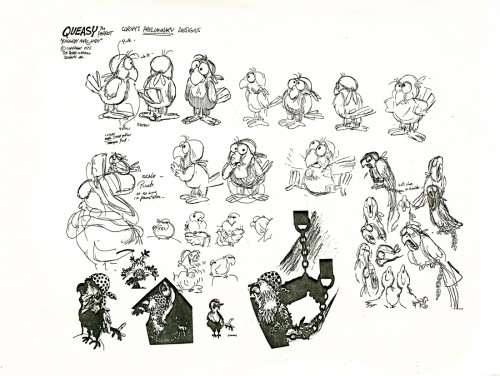 Queasy was the parrot that sat on the Pirate's shoulder. Arnold Stang did his voice.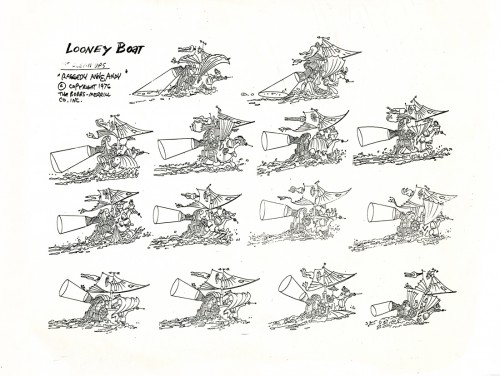 The animation of the pirate ship was split between Corny Cole and Doug Crane. I have
a couple of scenes done by Corny with his Bic pen animation. Someday I'll post some of these drawings, but it'll be a big chore to do it. Each drawing is so large that it'll take three scans for each one and will require photoshop reconsrtuction. Lotsa work.
But they're beautiful drawings, so it'll probably be worth it if I can find the time.
13 Responses to "Raggedy Models"
Leave a Reply