Animation Artifacts &Richard Williams 22 Aug 2007 08:41 am
- Aside from the usual models that came my way on Raggedy Ann and Andy: A Musical Adventure, I was privy to a lot of private notes, cartoons and comments by some of the upper echelon, and I have all the production charts and drafts (which I'll spare you) so that I can verify any info I'm sharing. I've chosen a couple of items to post today just as curiosity pieces.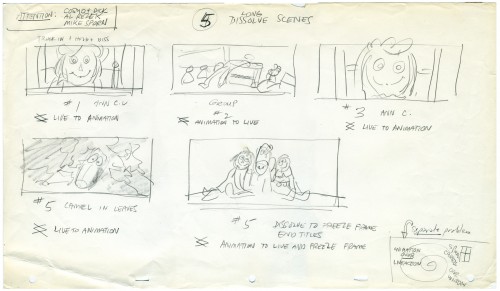 Part of my job on the film was overseeing special effects (shadows, stars, etc.).
Dick gave an improvised storyboard, during one of our meetings, in which he detailed
all the combination live action/animation shots. Listed to receive this item are Al Rezek,
our camera supervisor, and Cosmo Anzilotti, the Asst. Director of the film.
About six months into animation, crisis mode started to set into the production. It was w a y behind schedule, and they were constantly searching for ways to move things along. At one point it was decided that more clarification was essential so that everyone would share in the same knowledge. Dick Williams prepared the following document to define what the animators would be doing for the remainder of the project.
Needless to say things changed from this plan.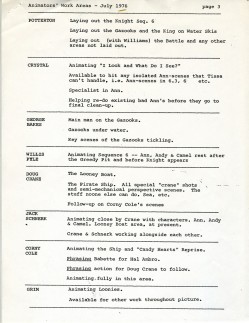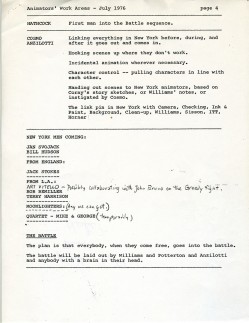 The animators listed in order are:
Tissa David, Art Babbitt, Spencer Peel, Hal Ambro, Charlie Downs, Gerry Chiniquy, John Kimball, Warren Batchelder, Tom Roth, Dick Williams, Emery Hawkins, John Bruno, Gerry Potterton, Crystal Russell, George Bakes, Willis Pyle, Doug Crane, Jack Schnerk, Corny Cole, Grim Natwick, Cosmo Anzilotti, and Art Vitello.
To my knowledge, Jerry Hathcock, Jan Svochak, Bill Hudson, Jack Stokes, Terry Harrison, and Michael Lah didn't work on the film even though they were all approached.
Not listed here is Irv Spence who did quite a bit of animation.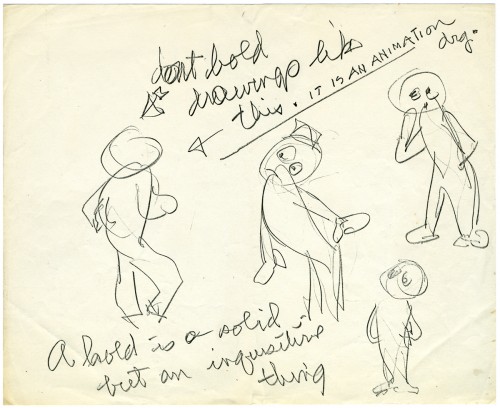 Grim Natwick wrote a note to Dick a couple of months after the start of animation commenting on some of the animation problems he saw. It was done very large on
16 fld animation paper. (Grim always seemed to write LARGE.)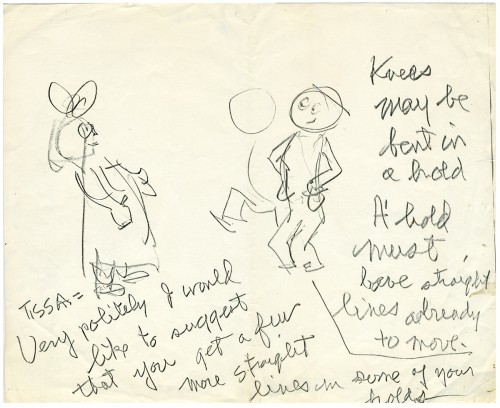 Grim's note ends with a personal comment to Tissa David. A note from mentor to student.
It just goes to show you can always get animation lessons no matter how old or important you are.
Stay humble.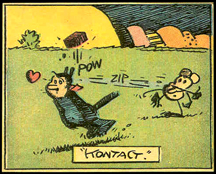 Happy Birthday, George Herriman
5 Responses to "More Ragged odds & ends"
Leave a Reply