Daily post 27 Aug 2007 08:03 am
- I was surprised and pleased to see the editorial in yesterday's NY Times. It was written in support of Jack Kirby, who shaped Marvel comics with many creations and has been given short shrift as Stan Lee takes much of the credit for the success. To quote the editorial:
Marvel took his talents for granted and denied him the credit and compensation he clearly deserved. Worse, he was overshadowed by his loquacious and photogenic collaborator, Stan Lee, who became the public face of an enterprise that depended heavily on Mr. Kirby's skills.

Mr. Kirby eventually quit, leaving behind characters like the Hulk, the Fantastic Four, the X-Men and the Silver Surfer, and ending what was easily the most fruitful collaboration in comic book history. His long and ugly battle with Marvel over the rights to his original artwork galvanized the artistic community and raised his public profile.
The Amazing Adventures of Kavalier and Clay by Michael Chabon obviously was a fantasy novel shaped around the partnership of Joe Simon and Jack Kirby. Mr. Chabon's continued support of him as well as an editorial such as this may help give Mr. Kirby his due. With the enormous financial success of his creations, it's certainly appropriate that Marvel should at least give him some credit for characters he created.
____________________________________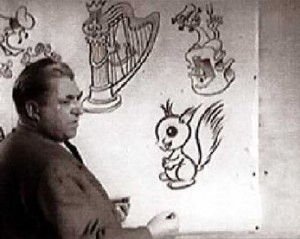 As for overlooked cartoonists, Hans Bacher, on his site Animation Treasures 1 gave us some screen grabs of the German animator Hans Fischerkoesen's two films Weather-beaten Melody (1942) and The Snowman (1943).
David Nethery picked up Hans' thread and posted part of the video Weather-beaten Melody. The film employs unique 3D set ups (one assumes these are multiplane camera shots though it looks at time like the Fleischer 3D sets) for long sections, and David's focus is on these shots. Hans Bacher tells us that these were done in Prague. If you want to see many of the best shots of the film without watching the full thing, go to David's site.
The character animation, itself, is typical of 40′s Europe, very mechanical work done, for the most part, on ones. They follow the Disney mold and are technically elaborate. Walks and character animation is often rotoscoped, however well done.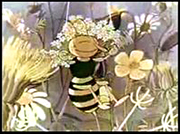 Once WWII broke out, the Germans realized they couldn't get the films from the West. They financed elaborate animation studios to produce work that they expected to equal Disney. Fischerkoesen was one of the key producers of these films.
William Moritz wrote a valuable thesis on Fischerkoesen, Resistance and Subversion In Animated Films of the Nazi Era. You can read an abbreviated version of this on AWN.
Naturally, Fischerkoesen's films are readily available for the YouTube world. Including the two films above, some earlier works and several ads.
. Weather-beaten Melody
. The Snowman
. One an elaborate ad for Philips light bulbs that gives The Sunshine Makers a run for its money.
. Another, a very creative cigarette ad with dancing smoke done for Schall and Rauch in 1933.
. Das Blaue Wunder is another 1935 cigarette ad that seems to have more in common with Fleischer than Disney.
Thanks to Hans Bacher and David Nethery for pointing the way to this artist. And, of course, the amazing William Moritz had done the in depth analysis that's so informative.
2 Responses to "Kirby & Fischerkoesen"
on 27 Aug 2007 at 1:04 pm 1.Tom Sito said …

I met Jack Kirby in 1984 at a holiday party given by Ruby Spears studio. For those who don't recall, Ruby Spears was a studio that spun off from Hanna Barbera and did mostly Saturday Morning Shows like Mr T and Fangface.

Cartoonist Doug Wildey introduced me to this pleasant older gentleman in an open white shirt who reminded me of an Israeli Prime Minister. When I asked what a legend like Jack Kirby was doing here, if he was slumming with friends? Doug told me he was picking up freelance storyboards. I was amazed that such an artist was doing low budget piecework like that. I figured his creations for Marvel had him set for life. But alas, here is where the artist meets the business.

I also was pleased that some notice was given to his story.

on 27 Aug 2007 at 4:49 pm 2.Mark Mayerson said …

Tom, Kirby's move into the animation business was a step up. It was the first time in his career he had health insurance and a pension plan. He was a piece worker at Marvel, paid by the page with no additional payment for reprints, overseas sales or merchandising. Even though he wasn't a salaried employee, Marvel treated him as if he was, claiming ownership to the characters and to his artwork.

There are lots of stories of people who created a pop culture success and who were prevented from cashing in. Kirby is unique because he created so many successes and never profited from a single one of them.
Leave a Reply