Animation &Articles on Animation &Hubley 30 Aug 2007 07:49 am
- Bill Littlejohn is an animation "God" who doesn't get the attention he deserves. Let me call your attention to an excellent and extensive interview Tom Sito conducted with Bill which is posted on AWN.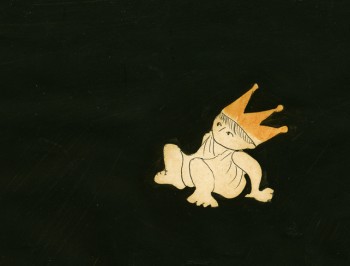 Bill was one of the first animators whose work I could identify opn screen. I studied the Hubley films in my early years, and I watched The Hole and Of Stars and Men every chance I could in the days before vhs tapes when you had to go to a theater to see these films.
Bill's work on Of Stars and Men has completely entered my vocabulary of great animation. The walk cycles for the many animals are just so magestic and regal that I watch them over and over.
That film employed the Hubley technique in which the animation drawings were painted black (using oil paint so that the paper wouldn't buckle) all about the exterior of the character and were then double-exposed over the backgrounds. A lot of hit and miss was part of the process as characters had to avoid each other or create a multiple exposure; you could see through each of the levels. With each run through the camera, the density of the image kept thinning out, as well. It's amazing how stunning this film is given the inherent problems in the technique. And it was made for a budget of $90,000 – a feature film!
I have a lot of Bill's animation drawings I saved while working at Hubley's. I'll try to scan some soon.
____________________________________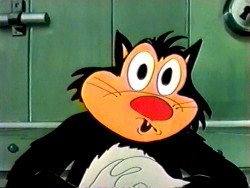 - There's an enormous Jim Tyer post which celebrated his brithday back in February. there's not much new information here, just a lot – and I mean lots – of links to videos and other writings. If you've a mania for Jim Tyer, this is the first stop.
There are quite a few sites which break down Tyer films in a frame by frame analysis. His animation is good for this; the distortions are so entertaining. However, I sometimes wish there were more of a critical analysis by someone who is truly knowledgeable about animation. It'd be fun to see an informative comparison between some of Rod Scribner and Jim Tyer, but truly discuss their work in relation to animation technique. Less show-and-tell and more commentary with illustrations supporting the thesis. Maybe someday when I'm in a ponderous state, I'll offer my thoughts. However, until then, it's still fun to look at the wacky drawings.
A couple of these sites are:
Animation I.D. Tyer-How Does It Work
Classic Cartoons "How To Relax"
Classic Cartoons "Foiling the Fox"
Inspiration GrabBag More Jim Tyer
12 Responses to "Littlejohn & Tyer"
Leave a Reply