Books &Commentary 11 Oct 2013 06:40 am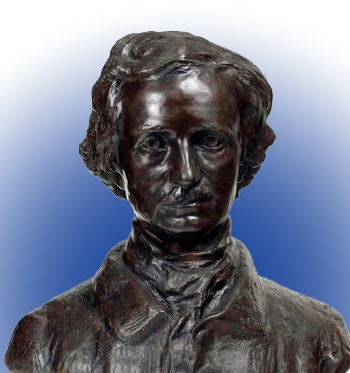 The Writer, the Man and Evermore; this is the subtitle given to Charles McGrath's recent article about the newly opened, exhibit celebrating the work of author Edgar Allan Poe. Having written a bit about this yesterday, I decided to go further. Of course I am excited by this news, having worked on Poe's biography these past six years, with the purpose of creating a low budget animated feature. Poe led a very difficult life, completely impoverished, with almost all the women in his lifetime dying during on him – his wife, much younger than he, died of Tuberculosis. His mother also died of TB when Poe was just 3 yrs old. He was left an orphan of the State and was given to Thomas Allan and wife as surrogate parents. They abandoned Poe during his college years and he spent much of the rest of his life searching for funds to write. He lived with his aunt and married his cousin 27 years his younger. It was assumed they were more a brother-sister relationship rather than husband-wife. Since all three were inches away from pure penury, it made sense for them to live together with his acting as the family support. And, indeed, it was much of the writing that did give them financial aid. Several times he attempted to start a literary magazine, but was more often likely to be writing for one. Graham's Reader was one such paper for which he wrote some strong material, including The Murders in the Rue Morgue.
Presumably, according to Mr. McGrath a lot of manuscripts, letters, and the life are on display. Given the extensive work that several other organizations have done, it's helpful to have this material preserved for public consumption. (I keep promising to get myself to the Poe House up in the Bronx but I've missed that train for too often to not feel the guilt of my actions.) We have in the script for the feature a short sequence wherein two well know ladies – friends of the Poes – visit. They play some sort of early football in the yard only to end when Edgar's shoe completely dissolves after smashing the ball. Since he had no other shoes, the guests chipped in to buy him a new pair.
Please, don't mind me. I've gotten so addicted to Edgar Allan Poe's work that I have a hard time not talking about it. I thnk, in some ways, I see a lot of similarities in our lives. That money thing was always the patch blocking the middle of the road. I need a lot more than he did to get my "art" going, but in the end it ma as well be the same thing.
I also recognize that unwittingly I have the same sense of arrogance about mine own artform. I so fussy about wanting what I want that I can be hard to put up with after screenings. I'll tell you after seeing "Tangled" I was hard to live with. I hated the film and was upset with all those who'd worked on it. It was stupid; I'd seen a lot worse and even enjoyed a lot worse. I just couldn't deal with those lead characters and, though I liked the horse, I couldn't help but see Prince Phillip's horse (Milt Kahl's character in Sleeping Beauty) in cg. It just never made the grade for me.
Boy, am I looking forward to the day when I can give my full support to that POE film. It really will be some kind of adult film, but today, I can only visit the art exhibit planted so nearby my own home. Even that's a pricey affair, so getting in to see it will take some financial maneuvering. But I wouldn't miss it.
One Response to "The Writer, the man and Evermore"
on 12 Oct 2013 at 7:51 pm 1.Robert Schaad said …

Well, the Pierpont Morgan IS free on Friday nights from 7-9pm… ;o)
Leave a Reply