Animation Artifacts 22 Sep 2007 07:53 am
- On a couple of the past recent Saturdays, I've posted some drawings that Grim Natwick did back in the early 70′s. Since he was often requested to draw Betty Boop, who was experiencing a renaissance of her own in the 70′s, he decided to do a number of drawings in advance. These were usually colored with markers or colored pencil.
Then he hired a local New York inker to make a couple of cels for him. Stephen Worth pointed out last week that Duane Crowther's studio did some of the same for him in LA. All those in my collection were done by an inker I know who completed the cels and placed the construction paper behind them. Grim, then, signed these cels with a Sharpie.
Regardless, these were all handed out to press people interviewing him to save him the task of trying to make a good drawing on the spot. I have a bunch of them, and I'm posting them as they come.
Stephen Worth spoke of a naked Betty in the batch, so I'll post that today. As a matter of fact, these are the only two cels I have. The rest are drawings on paper done in what is recognizably Grim's hand.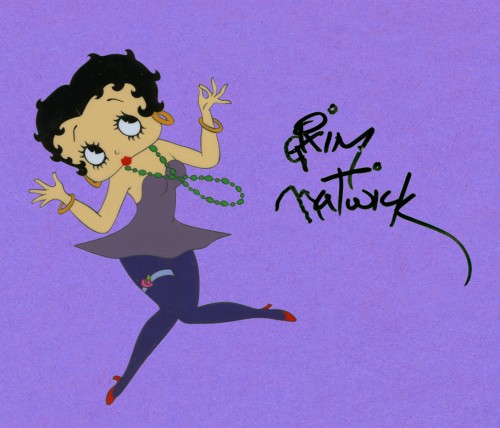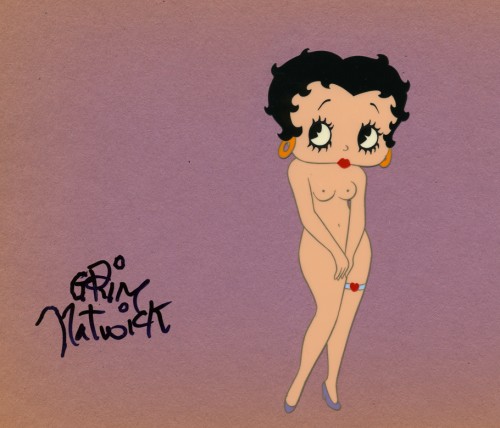 _________________________________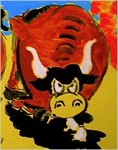 - The New York Times has taken their extra charges off their NYTimes Select pages so, readers no longer have to pay to read Frank Rich or Maureen Dowd or Tom Friedman on line.
This means that it's also free to view the animated spots by
Jeff Scher.
If you haven't been able to view these spots previously, go there now for your own mini film festival.
-
-
One Response to "Natwick Betty Saturday"
Leave a Reply