Animation Artifacts 26 Sep 2007 07:43 am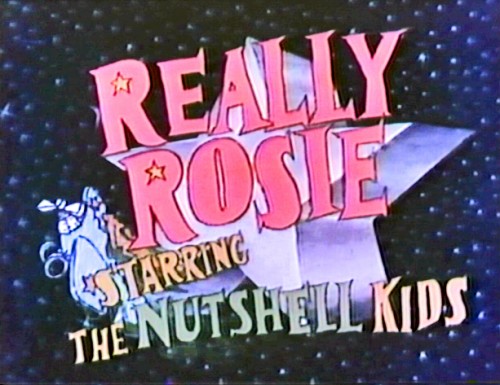 – I was a bit surprised by the response I got for posting some frame grabs from Maurice Sendak's 1975 CBS special, Really Rosie. (See Part I here.) As I mentioned in that post, I was never drawn to this show and have had a hard time sitting through the whole thing. I do know, however, that it's a very popular film, so I bow to the popularity. They certainly tried something different when they made it, and I'm glad to have seen it done.
Sendak got his feet wet in animation with this show, and I wish he'd done more. There were a few Weston Woods films adapting some of his books. Gene Deitch was the principal director on those. They're a bit better than this show in their execution. Sendak's style seems to invite an unfortunate flatness in the animation.
Since Chicken Soup With Rice is the most popular song, I've scanned some frames from that piece. It seems endless to me today, as it did when I first watched it. Even Carole King sounds as if she's getting tired of singing it at one point. I would have hated to have had to plot out this song for the show. Every bit of creativity was necessary.
I apologize for the quality of some of these images. They come from a VHS tape which played at the SLP mode (meaning lowest quality). It was hard to keep images in focus. So here are the images I did get: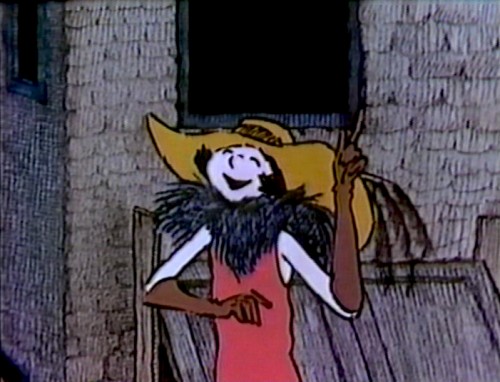 Rosie, voiced by Carole King, in the basement of the building (it's now raining outside)
invites some of the kids to audition to perform this number. _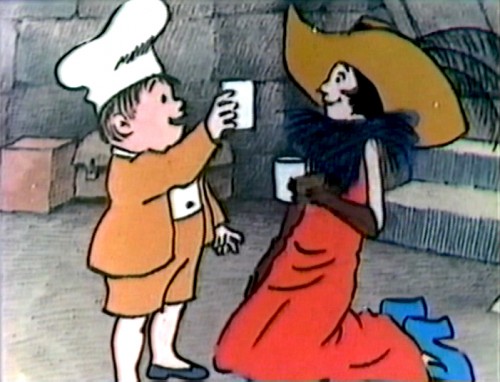 A child look-a-like for the baker from Sendak's book, In The Night Kitchen, gets the
lead – though Rosie really holds onto the lead in all of the songs._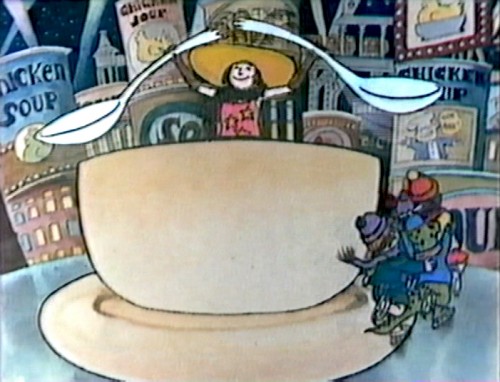 _
They all rally around a cup into which soup is poured. Good thing it's not hot, or the song might have ended with this scene after they were all scalded.
Not even a warning telling kids not to try this out at home. Those wacky 70′s!_



Ice skating leads to the kids dressed as snowmen carrying birthday cake._



And blowing out candles leads to blowing away doors, spilling soup, and blowing one
of the kids into the air._


Then we're floating across the world (really a stage back-drop) in a plane made out of
the tea cup – or should I say soup cup._


Landing on an elephant, where all the other kids join in just as the elephant sprays them
all with chicken soup. _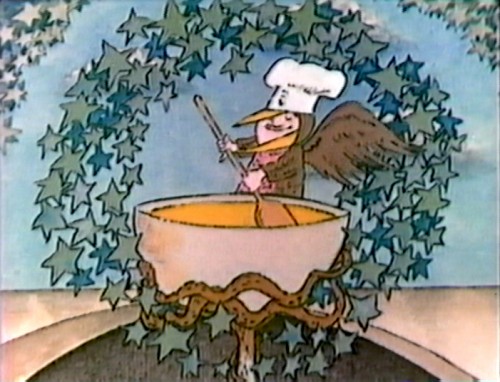 Now a child, dressed like a bird, stirs the cup-o-soup under a starry wreath.
(Let my freak flag fly.)_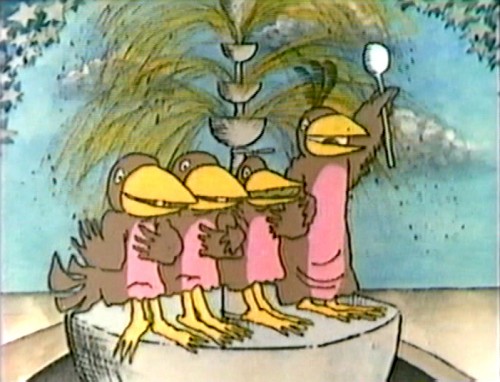 Pan down to another tier of the tureen where more children dressed as birds sing their hearts out._


Queen Rosie waters the "flower" children with chicken soup._


And they all dive into the clear cup of soup._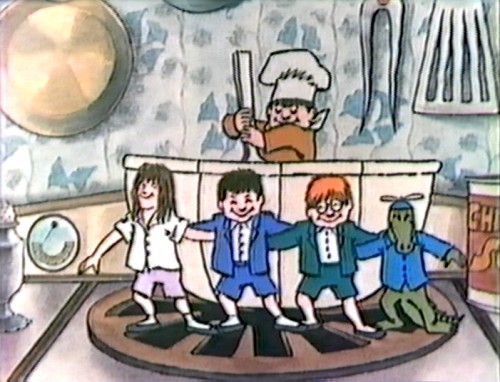 Another cup of soup, a breakaway cup – a prop for the production these kids are staging
in their minds – gets stirred.
Too often, it seems to me, the crocodile character is looking straight on at the camera.
It's an awful pose to draw and always looks ugly. Never do it – always give a 3/4 or
side view on a face. _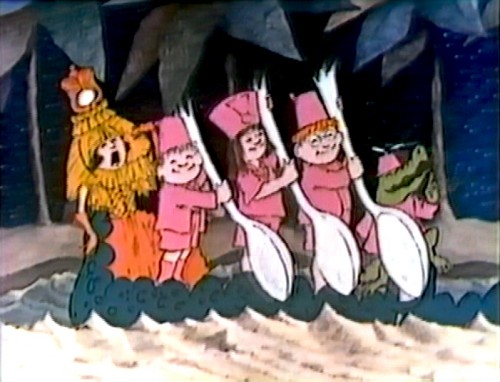 _
See how much better that croc character looks here._


_
Now we're dancing around a cemetery.
I think a Halloween soup is the order of the moment._


A whale bursts chicken soup with rice – as might be expected._


Then, trying to get in all of the holidays, a boy changes into a Christmas Tree. This was done several times by Sendak. His beautiful Christmas card that included this piece was animated by Ed Smith as part of R.O. Blechman's PBS show, Simple Gifts. It's a mag-
nificent bit of animation. I'll scan it soon for you. Great watercolors by Sara Cologero._


Now the kids are dressed like ornaments for that tree._


Rosie's star ornament turns into a star abstraction_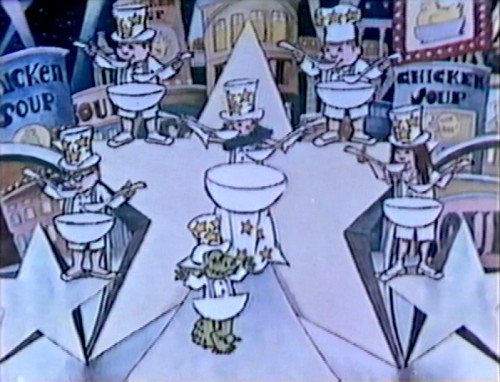 Which, when finally lit, gives us the elaborate set for their song._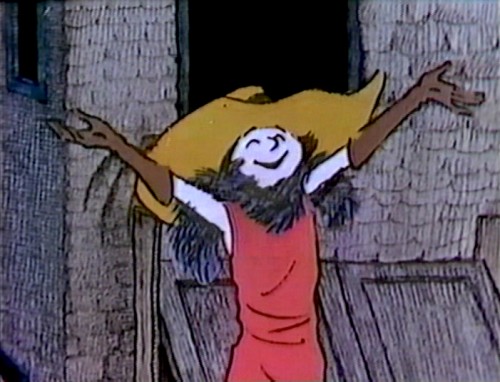 Rosie takes a bow._
One Response to "More Rosie"
Leave a Reply