Animation &Animation Artifacts &Fleischer 06 Oct 2007 08:03 am
- The Bum Bandit was a FLeischer cartoon starring Bimbo produced in 1931. It marks the fourth appearance of Betty Boop – who doesn't get billing in the credits. As a matter of fact, she introduces herself with a different name during her song in the film, "I'm Dangerous Nan, the sister of Dan McGrew." She's so tough she spits bullets through a cactus.
Grim Natwick did the drawing, posted here. It's dated 1931, the year of the film. The drawn Betty looks better than the film's Betty. A lot was lost in the inking – including her scarf and guns. (I wonder if it was cleaned up for our delicate times?)
I like seeing the peg holes which are certainly more sophisticated than the two round holes used in other studios at the time.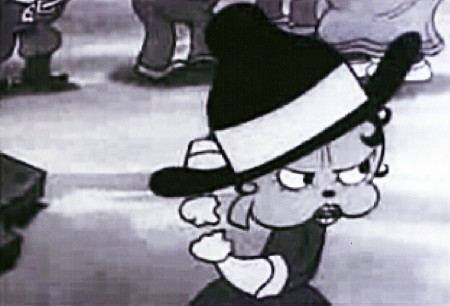 You can watch this film in an OK version on YouTube
(for however long they allow it to continue there.)
8 Responses to "Grim's Betty – Dangerous Nan"
Leave a Reply