Illustration &Theater 23 Jan 2006 09:06 am
- Cartoon Brew has a number of insightful comments about the Disney/Pixar buyout. All of the markers seem to be designed to make a good marriage, but I always fear the worst. We can only hope that Pixar will maintain the same autonomy it's had in the past and continue to produce excellent films.
– I'd like to recommend a stunning art book that's been out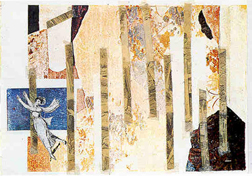 there for years: The Theater Art of Boris Aronson by Frank Rich & Lisa Aronson (Knopf, 1987). The book is a bit difficult to get and expensive. If you can't afford it, go look at in a library.
Aronson was one of theater's greatest designers; it was a privilege to have seen a number of his theatrical productions from Company on up.
He and Tony Walton are the only designers that have ever brought me into the theater especially at current prices.
A collage for "A Little Night Music."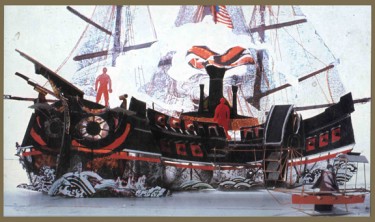 A model for Admiral Perry's ship in "Pacific Overtures."
The book is rich in photos of actual sets as well as background material to illustrate how Aronson came up with the set he did. For many shows, he produced a collage of the theme of the production. Then he did models from his paintings of the sets, and finally the sets were constructed.
This is not unlike the process that an animation designer should be using to make sets and costumes. It's not always easy to do, especially on some of the over-rushed jobs we have to do, but it certainly will help the art expand and develop. I hope to offer more samples of this brilliant artist's work this week.

The Man Who Walked Between The Towers is having enormous success at film festivals; I'm always a bit embarassed to toot my own horn, but this news is special for me. We just won the Carnegie Medal, an award presented by the American Library Association. It's the film equivalent of the Caldecott Award. It's a real treat. Congratulations to my two other producers, Paul Gagne and Melissa Reilly and all the other great artists who worked on the film.
3 Responses to "Aronson Designs"
on 23 Jan 2006 at 2:37 pm 1.John Celestri said …

Congratulatons to you, Michael (and all your cohorts) on winning the Carnegie Medal!

on 24 Jan 2006 at 1:57 am 2.Daniel Thomas said …

Congratulations on your success. I remember learning about the performance artist whose story became the basis for The Man Who Walked Between the Towers, and was throuroughly impressed with it. Imagine, then, my surprise to discover that it has been adapted as an animation. Living in the midst of flyover country (Minneapolis), I'll hold out hope that I'll be lucky enough to see it on a big screen.

on 25 Jan 2006 at 5:17 pm 3.Jenny said …

Congratulations!! That's an incredible honor–and well deserved!
Leave a Reply