Animation &Animation Artifacts &Disney 12 Oct 2007 08:13 am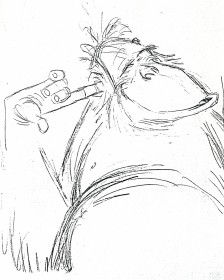 – Since there was such popularity with the post I had put up earlier this week about The Jungle Book, and since the new DVD is being celebrated everywhere, I thought I'd post some more bits I have from that film.
These are some of the drawings by Milt Kahl from a sequence featuring King Louie doing a dance. It's interesting that I think immediately of Shere Kahn as Milt Kahl's work, and I don't think of Louie. Yet I've had these copies for the past 25 years.
Somewhere – I have to find it – I remember Walt Disney being quoted as having said the one thing you should never animate is a monkey. They're funny enough in real life; animation can't improve on them. I remember thinking of that quote the day I first saw this film. I also wondered how Louis Prima felt knowing that they were representing him as an orangutan. I suppose that's not a monkey.
The copies of these drawings I have are xeroxes. I'm posting them for the magnificent drawing alone; I don't have timing sheets to be able to work out the movement. Honestly, with Milt Kahl's work, looking at the images alone should be enough. I apologize if these are at all fuzzy or grey; that's the quality of the images I have. They're also not full sheets of animation paper. I copied only the peg holes and drawings.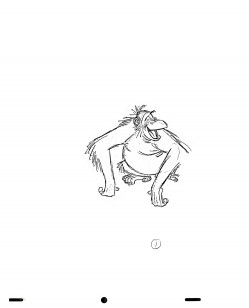 01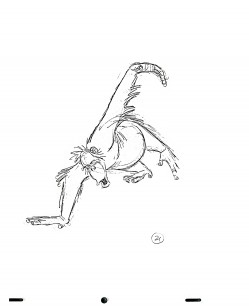 21
(Click any image you'd like to enlarge.)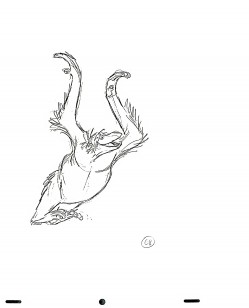 66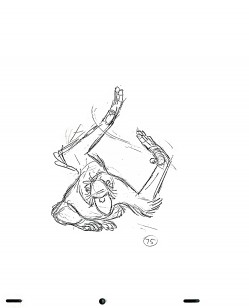 75
Talk about breaking of joints,
_______________this scene couldn't be a greater lesson in animation for you.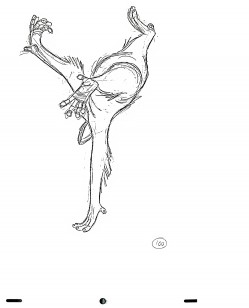 00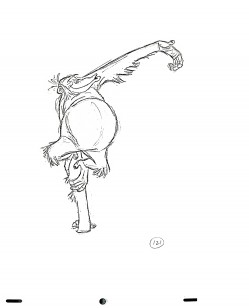 21
I know I don't have to say, but I will; these drawings are extraordinary.
#100, here on the left, is a masterpiece in weight, balance, forshortening and sheer brilliance. And it's only one frame from a scene.
_____________________________

By the way, Michael Barrier is back (Oct.11th), and he opens with some comments about The Jungle Book as well as a reprint of his 1978 Funnyworld review.
10 Responses to "Kahl's Jungle Book"
Leave a Reply