Photos 14 Oct 2007 09:28 am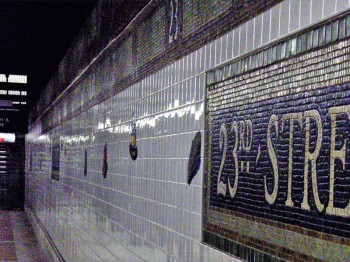 – You'll remember back in August I promised to give you some more photos of the Art in the BMT. No, you don't remember? I'd posted some photos from the Prince Street subway station which displays some silhouettes artistically tiled into the walls.
Well, I remember it, and today's the day. I have images from the 23rd Street BMT station which displays hats. Yes, HATS. I wasn't sure what this has to do with the subway or the BMT, but there are lots of hats floating about that station, and it intrigued me. So I went to the station specifically to take these photos. In fact, I was walking past it when I remembered that I wanted to photograph them.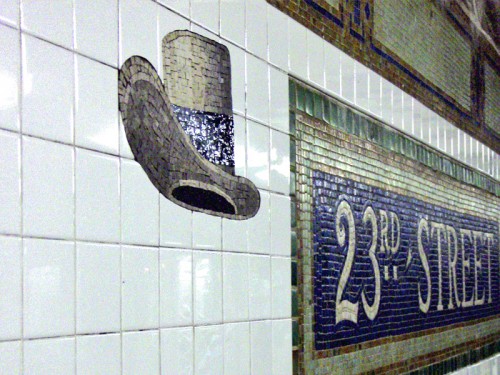 (Click any image you'd like to enlarge.)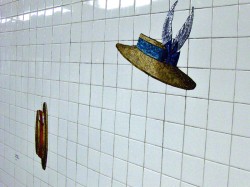 _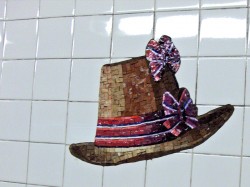 The exhibit is called Memories of 23rd Street and was designed and constructed by Keith Godard. A London-born graphic designer and artist Mr. Godard also designed the
14 ft. high-relief bronze historical plaques on the Brooklyn Bridge that, he insists, were inspired by Lorenzo Ghiberti's "Gates of Paradise" in Florence.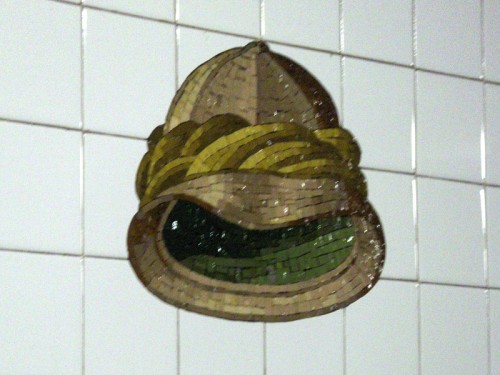 I learned that Mr. Godard's idea for the piece is, apparently, two. First, he honors all the people who probably stood at this intersection since the station was built by picturing their hats.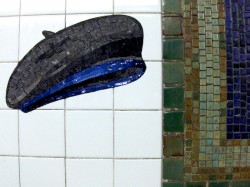 _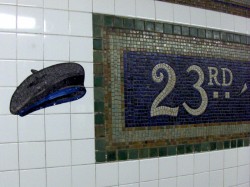 Secondly, the Flatiron Building (just above this station) once was notorious for the wind tunnel it created above ground. Hats went flying everywhere up and down 23rd Street.
Hence, the flying hats and the term "23 Skidoo."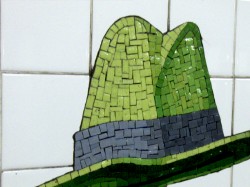 _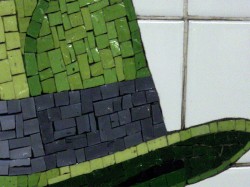 If you have the time (a train could be coming into the station just as you arrive, and you'll have to rush on board missing the artwork), you can go in close to study the elaborate tile constructions.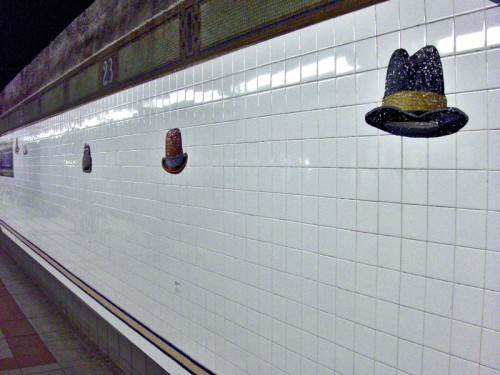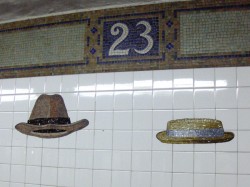 _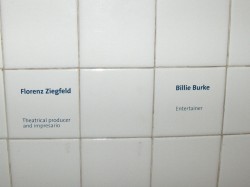 All of the hats are identified with little labels a couple of feet below the images. If you
check out the MTA's site, you can see whose hats are flying about.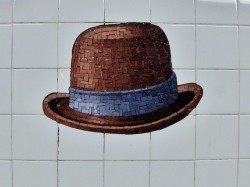 _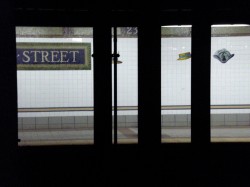 Since I came to see the HATS, I had all the time I wanted. I stood about snapping pictures and had the few early morning riders watching me. There, of course, were hats up and down both platforms in the subway station. I stayed on the one side – going Downtown.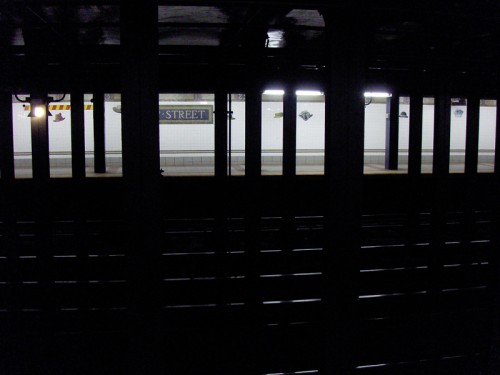 I let a couple of trains go by before leaving when I felt I'd shot enough.
10 Responses to "Hats off Photosunday"
Leave a Reply