Daily post &Photos 23 Oct 2007 08:26 am
Paul Lasaine has a great new site which reveals some of the incredible artwork he's done for a number of films.
He has a beautiful post which details some of the matte paintings he did for Disney in the years he worked in their matte department. Films like Dick Tracy, The Jungle Book (live action), and Lord of the Rings show before and after shots of the artwork he did for those films.
This is a beautiful site with lots of examples of Paul's artwork – including background art he did for Prince of Egypt as the supervisor. There are examples of art he did for a number of features.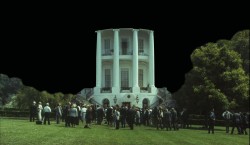 _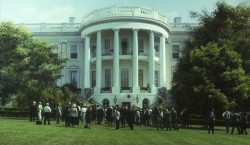 The image on the left is the live action constructed set for the film Dave; on the right the same shot combined with Paul's matte painting.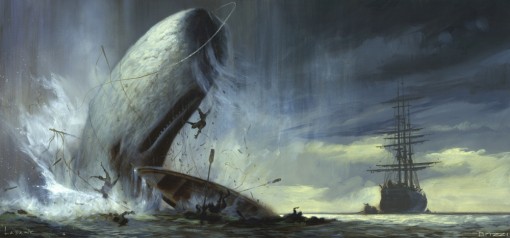 The painting, above, is from a version of Moby Dick he was helping to develop at Dreamworks. The Brizzi brothers would have directed it.
This is turning into a regular stop for me, an excellent site. Check it out tout de suite.
_____________________________
I'm a sucker for silent movies. I think I've read at least a dozen biographies of D.W. Griffith, and I've seen a lot of his films (probably all of the features) at least once. I'm impressed with the drive and the love those people put into their work. They didn't think of it as an art form, and they weren't considered artists in their time. But in the end, there can be no doubt that some of the filmmkaers of the time were creating art.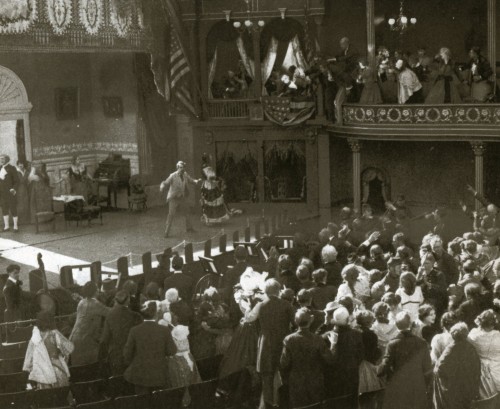 A scene from Griffith's The Birth of A Nation. It's a recreation of Ford's Theater as Lincoln gets shot.
I once saw a silent feature with no musical accompaniment. The silence was defeaning. It was amazing how silent the audience remained throughout the feature film. I guess the film was absorbing enough to make that audience unaware of the silence. That was about 15 years ago; I wonder if the same would occur today.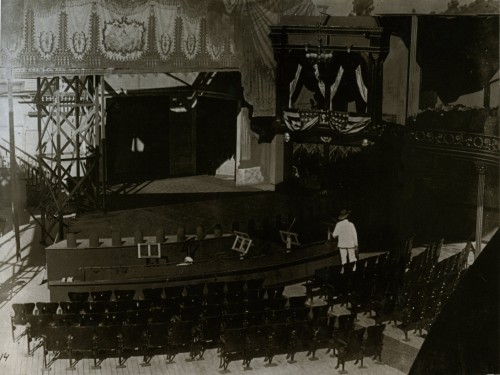 DW Griffith on the Booth Theater set under construction.
Watching silent films with organ music playing background is not the ideal way to see them.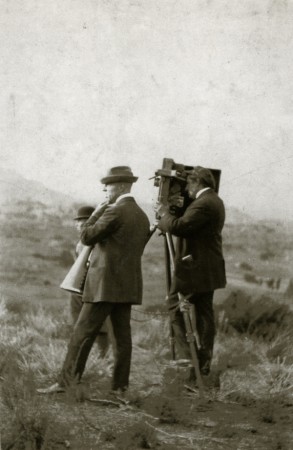 Most piano players who back up these films also aren't really up to the task. But when you see a film with a great pianist or a good orchestral score it makes all the difference. There's a musical group called the Alloy Orchestra that enhances the films they accompany, and allows the movies to live up to their full potential. I suggest you try to attend one of their programs if they're in your neighborhood. (Or just buy one of their cd's; you won't regret it.) I suggest Metropolis or one of their sampler albums.
A rare picture of D. W. Griffith and Billy Bitzer on location for Biograph around 1912. Bitzer is lining up a. shot through ground glass, which he has inserted into the gate — there was no viewfinder on the Mutograph camera. This large machine, which punched its own sprocket holes, was smaller and more portable than Biograph's first cameras. Negatives made with it are still providing superb quality prints.
________(Click any image to enlarge.)
2 Responses to "Mattes & Silent Films"
on 23 Oct 2007 at 1:21 pm 1.Mark Mayerson said …

Hi Mike. I'm another huge Griffith fan. When MOMA had a major retrospective of his work in 1976 (I think), I caught nearly every program.

One correction. It's Ford's Theater where Lincoln was shot. John Wilkes Booth was the assassin. And Raoul Walsh did a heck of a job playing Booth in Birth of a Nation.

on 23 Oct 2007 at 2:41 pm 2.Michael said …

Stupid of me, Mark. I knew that and should have written it. I guess I had Booth on my mind.
Thanks for the catch – I've changed it in the post itself.

The funny thing is that I have a small kerosene lamp that came from the original theater after it was refurbished many years ago. I guess they had them positioned up near all the boxes.
Leave a Reply