Animation Artifacts &Disney &Story & Storyboards 22 Oct 2007 08:17 am
- Continuing my post of the Song of the South boards by Bill Peet, I find I have just two pages left. John Canemaker loaned these to me for this site. There's a bit of an overlap between the two pages of storyboard.
The first is a bit overexposed, so some of the detail couldn't come across, although I tried pushing it a bit in photoshop.
The second board has a bit more meat in it, and comes across nicely even though it is large.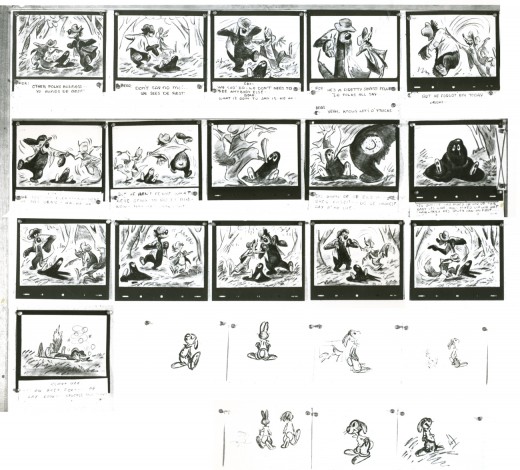 (Click images to enlarge.)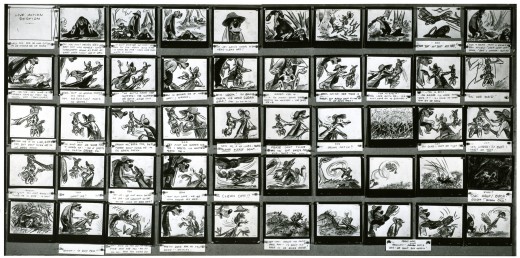 I also recommend you go to Hans Bacher's Animation Treasures 2 to see backgrounds he's reconstructed from this film.
3 Responses to "Bill Peet's Tar Baby pt 2"
on 22 Oct 2007 at 3:03 pm 1.Eddie Fitzgerald said …

Refreshed at the fountain of Bill Peet!

on 27 Oct 2007 at 1:32 pm 2.Joakim Gunnarsson said …

Thanks for posting these.
I'll post some of Paul Murrys "Uncle Remus" sundays from 1945 on my blog, for those interested in seeing the newspaper version of Brer Rabbit.
http://sekvenskonst.blogspot.com

on 25 Jan 2008 at 4:05 pm 3.Henrieke said …

Wow– thank you so much for sharing these with us!!
I'm MORE than happy with anything from Song of the South I can find, and this just made me literally jump up from my chair!
I'm kind of missing the spirit from the movie in the Brer comics nowadays.
Leave a Reply