Animation &Animation Artifacts &Disney 24 Oct 2007 08:04 am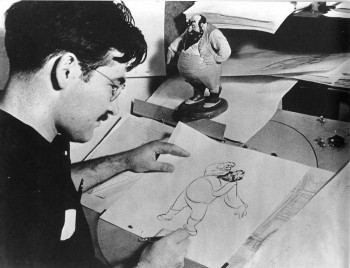 - Mark Mayerson has just completed his final mosaic of Pinocchio. This has been an extraordinary effort on his part, and I can't say how much I've enjoyed it. This film was possibly the pinnacle of traditional animation, and we can't study it or honor it enough. Mark's efforts have only elucidated this point more than ever. There's so much there; the film is an animation treasure.
One of the gems of the film was Bill Tytla's animation of Stromboli. A minor character takes on an enormous personality and a major threat to Pinocchio under Tytla's hands.
The Frank Thomas/Ollie Johnston book, The Illusion of Life, contains a flip book in the upper corner – a short bit of Stromboli flying off the handle. The images are quite small and it's hard to really see them. I have a slightly larger version of them, so thought I post them as my small tribute to the film.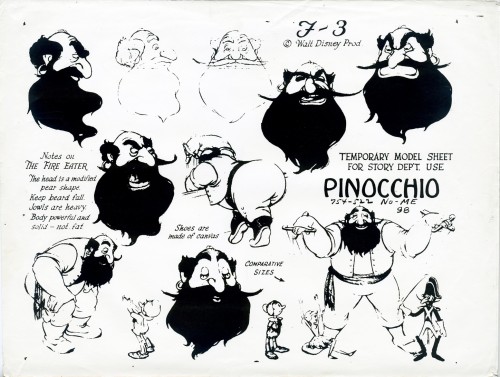 A model sheet of Stromboli.

1
_

2
_

3
_

4
(Click any image to enlarge.)
2 Responses to "Tytla's Stromboli"
on 24 Oct 2007 at 9:23 am 1.John Celestri said …

Hi Michael,

As you remember from our Raggedy Ann & Andy days, I'm a HUGE Bill Tytla fan. I believe his work sets the standard for all other character animation.

His work is not just about the solidity of his drawing, but his ability to draw force vectors to get across the emotions as well as the movements of the widest range of personalities (such as the Devil in Night On Bald Mountain to Dumbo). And being the FIRST to do so.

He wasn't just trying to create pretty or wild drawings — each of his drawings were a direct result of his analysis capturing that character at that particular time, expressing that particular emotion, and moving at that particular rate of speed, etc.

Sorry, I could go on and on.

Ciao,
John

on 24 Oct 2007 at 9:45 am 2.Michael said …

I'm not sure if he was the first to animate with "force vectors" since Norm Ferguson had been doing it since the mid 30′s as well. However, Tytla was definitely influenced by Stanislavsky's acting techniques as no other animator, and he sure used it in his art. It made for some really exciting animation.
Leave a Reply