Daily post &SpornFilms 04 Nov 2007 08:02 am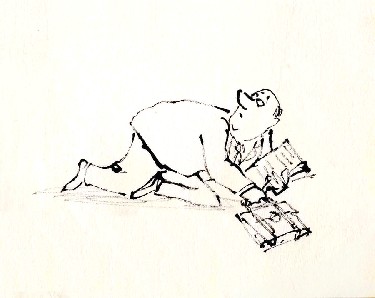 Yesterday
- An art exhibit of William Steig's work opened yesterday at the Jewish Museum. It's nice to note that Steig's original art for Doctor DeSoto, The Amazing Bone and Abel's Island will be on display at the same time that my films of his books will be shown at the Museum of Modern Art.
Note that art from his beautiful book, Shrek, will also be displayed. (Looking at Steig's stunning illustrations, it's hard to understand how such an ugly solution evolved into the films' style.)
"The Art of William Steig" runs through March 16 at the Jewish Museum, 1109 Fifth Ave., at 92nd Street; (212) 423-3200.
_________________________
Next Weekend
- It was a kick getting my regular email from MOMA – I'm a member. Labeled MoMA Film E-News, November 2-16, 2007 I expected some small mention but was surprised to find the following:
Michael Sporn
November 9–12

Michael Sporn has been a vital creative force in New York animation for thirty-five years. Prior to opening his independent studio in 1980, the Oscar-nominated and Emmy Award–winning producer/director worked closely with many legendary animation artists on commercials, shorts, and feature-length films. Sporn has produced a remarkably diverse range of animation, including feature film titles (Sidney Lumet's Prince of the City), television specials (HBO's Lyle, Lyle Crocodile), and even visuals for the Broadway stage (the 1981 musical Woman of the Year). A sensitive interpreter _____________Doctor De Soto. 1984. USA.
of children's stories for the screen, Sporn has ____________Directed by Michael Sporn
carefully adapted to animation the unique styles
of storybook illustrators like William Steig, Russell Hoban, Bernard Waber, and Mordicai Gerstein. Sporn's own production design distinguishes his adaptations of such classic tales as The Red Shoes and The Hunting of the Snark, as well as socially conscious films like Champagne.
I guess I just didn't expect as much attention. I have to admit I love it; who wouldn't? What I most look forward to is giving some of these films a small bit of attention. There are a few films that I do cherish, and I'm glad they'll be projected on a big screen. Mike and Phyllis Barrier will be in town as will John and Cathy Celestri. It's been some time, and I will be happy to see them again.
_________________________
Here, again, is the complete breakdown of the shows appearing in MOMA's catalogue:
Friday, November 9, 6:30; Repeated Saturday, November 10, 1:30. T2
Michael Sporn Program 1: New York Stories
Mona Mon Amour. 2001. Humorist Patti Stren looks for love in all the wrong places in this comical monologue of modern-day neuroses. 9 min.
Champagne. 1996. A moving animated documentary portrait of Champagne Saltes, a bright and sassy fourteen-year-old who lived in a convent school while her drug-addicted mother was in prison for murder. 13 min.
The Man Who Walked Between the Towers. 2005. On an iconic moment in New York history, the day in 1974 when French aerialist Philippe Petit made his death-defying tightrope walk across the towers of the not-yet-finished World Trade Center. Based on Mordicai Gerstein's Caldecott Award-winning book and narrated by Jake Gyllenhaal. 10 min.
Lyle, Lyle Crocodile. 1987. The comic misadventures of Bernard Waber's beloved neighborhood reptile (in the classic children's book The House on East 88th Street) are narrated by Tony Randall with songs by Charles Strouse (Annie). 26 min.
The Little Match Girl. 1991. Abandoned to the wintry streets of New York, a little girl inspires compassion for the homeless in this lovely rendition of the Hans Christian Andersen tale. Narrated by F. Murray Abraham. 26 min. Program 84 min.
Saturday, November 10, 3:30; Repeated Sunday, November 11, 2:45. T2
Michael Sporn Program 2: Fables
Doctor DeSoto. 1984. An Oscar-nominated adaptation of William Steig's classic story about a clever mouse-dentist who outwits a conniving fox. 10 min.
Abel's Island. 1988. A sudden gale storm whisks William Steig's Edwardian mouse, Abelard Hassam di Chirico Flint, away from his wife and home, depositing him on a primitive, deserted island. With the voices of Tim Curry and others. 26 min.
The Red Shoes. 1990. Using a vibrant palette, Sporn transposes Hans Christian Andersen's touching tale to contemporary Harlem. Narrated by Ossie Davis. 26 min.
The Hunting of the Snark. 1989. Lewis Carroll's wondrously nonsensical poem, narrated by James Earl Jones, is brought to life through a range of visual conceits and animation techniques. 19 min. Program 81 min.
Saturday, November 10, 5:30; Repeated Sunday, November 11, 4:45. T2
Michael Sporn Program 3: A Peaceable Kingdom
Goodnight Moon. 1999. Margaret Wise Brown's sixty-year-old book, with illustrations by Clement Hurd, has pride of place in every American child's bedroom, and is joyously brought to the screen in this award-winning adaptation. Narrated by Susan Sarandon. 4 min.
The Marzipan Pig. 1990. Based on Russell Hoban's deeply touching fable of unrequited love involving a marzipan pig, a bee, a taxi meter, a flower, a mouse, and a clock. Narrated by Tim Curry. 26 min.
The Amazing Bone. 1985. Dark adventures await Pearl, William Steig's sweet-natured piglet, when she discovers a magical talking bone that has fallen out of a witch's basket. 12 min.
Ira Sleeps Over. 1992. A delightful adaptation of Bernard Waber's story about a momentous sleepover, with songs by Tony Award-winning composer William Finn. 26 min.
The Story of the Dancing Frog. 1989. A sophisticated British widow becomes the stage manager to a debonair frog, who dazzles crowds the world over with his cakewalk, polka and tap dance routines. Based on the book by Quentin Blake, narrated by Amanda Plummer. 26 min. Program 94 min.
Monday, November 12, 7:00. T2
An Evening with Michael Sporn.
The artist in conversation with animation historian/filmmaker John Canemaker and MoMA assistant curator Joshua Siegel, illustrated with clips from his award-winning animated films, including a new short, Pab's First Burger, and an excerpt from his feature-length work-in-progress about the life and work of Edgar Allan Poe. Sporn's career is also traced through his commercials, public service announcements, title sequences, and visuals for the Broadway stage. Program 90 min.
4 Responses to "Steig, More on MOMA and Me"
Leave a Reply