Animation Artifacts &Disney &Story & Storyboards 27 Nov 2007 08:48 am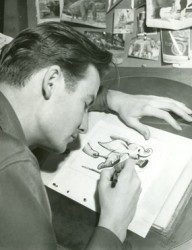 - Thanks to a loan from John Canemaker, I can continue posting some of the brilliant storyboard work of Bill Peet. The guy was a masterful artist. Every panel gives so much inspiration and information to the animators, directors and artists who'll follow up on his work.
This is the sequence from Dumbo wherein baby Dumbo plays around the feet of his mother. Brilliantly animated by Bill Tytla, this sequence is one of the greatest ever animated. No rotoscoping, no MoCap. Just brilliant artists collaborating with perfect timing, perfect structure, perfect everything. Tytla said he watched his young son at home to learn how to animate Dumbo. Bill Peet told Mike Barrier that he was a big fan of circuses, so he was delighted to be working on this piece. Both used their excitement and enthusiasm to bring something brilliant to the screen, and it stands as a masterpiece of the medium.
Of this sequence and Tytla's animation, Mike Barrier says in Hollywood Cartoons: What might otherwise be mere cuteness acquires poignance because it is always shaded by a parent's knowledge of pain and risk. If Dumbo "acted" more, he would almost certainly be a less successful character—"cuter," probably, in the cookie-cutter manner of so many other animated characters, but far more superficial.
I had to take the one very long photstat and reconfigure it in photoshop so that you could enlarge these frames to see them well. I tried to keep the feel of these drawings pinned to that board in tact.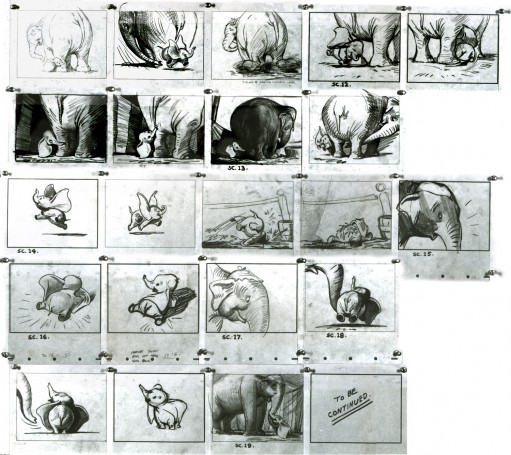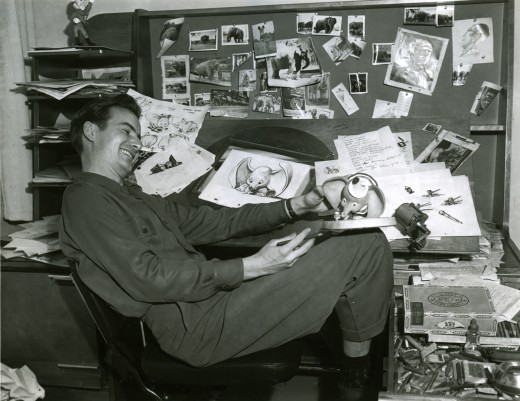 Bill Peet at his desk on Dumbo.
_______________________________________________Tomorrow, Bill Tytla's Dumbo.
10 Responses to "Bill Peet's Dumbo Board"
Leave a Reply