Animation &Rowland B. Wilson 29 Nov 2007 09:05 am
- I apologize for the server problems we had yesterday. Our site was down for most of the day. If you haven't seen yesterday's post, just scroll down.
_______________________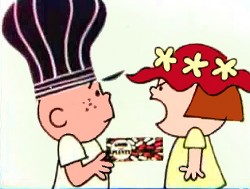 - Jack Schnerk's daughter, Mary Schnerk Lincoln, has put three of her father's commercial sample reels onto YouTube . This gives me a good excuse to call attention to his work, once again. There are a number of well-known and collector's item commercials in these reels. Included are spots designed by the likes of Gahan Wilson, Tomi Ungerer, Charles Saxon and Rowland Wilson.
Jack Schnerk was a great animator who deserves considerably more attention. He was a strong influence on me in the first eight years of my career and taught me quite a few large principles about the business. He also told me a few stories of his work as an assistant at Disney's on Bambi and Dumbo as well as the great times animating at UPA and the difficulties of animating at Shamus Culhane's studio. Actually, he didn't tell me about his problems with Shamus; another animator did. Jack complained about the business, but never about how he was treated.
I wish I had more samples of the many scenes of his that I assisted. He worked in a very distinct style – I don't think I've seen anyone elseever draw that way. Somehow, the very rough drawings weren't hard to clean up, and he didn't leave the bulk of the work for the people following him. He was concerned about the timing and did every drawing he needed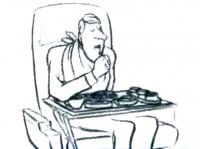 to make sure that timing worked. Most of the time we worked together, he had no chance to see pencil tests. Only on Raggedy Ann did he have that luxury.
Jack had a dark side, that I appreciated, but he also brought a lightness and individual sensibility to the work he did. He took chances in his animation and timing and sometimes failed but usually succeeded with them. That's more than I'll say for most of the animators I've met in the business.
See Jack Schnerk sample reel 1.
5 Responses to "Jack Schnerk"
Leave a Reply