Animation &Books &Daily post 19 Dec 2007 09:35 am
- Because I was never very involved in the commercial (meaning ads) end of the New York animation world, I didn't have much contact with Jack Zander. Yet, I do know that he was a significant part of that end of the business in this city. Once you got past the names of Paramount and Terrytoons, Zander's Animation Parlour was the big studio of my earliest days.
In fact, I probably had more contact with Jack's son, Mark, over the years. The one interview I had at Zander's was with Mark. It was one of those interviews where something in the air tells you that you're never going to work at this place, so why try again. It was nothing Mark did; nothing I did. It just didn't feel like I was a good fit. I didn't try again and didn't have much contact with Jack in the future.
Mark Mayerson let me know, last night, that Jack had passed away Monday at the age of 99. Mark also has one of the best, most succinct bios I've seen of Jack's life on his site this morning. I urge you to check it out.
Tom Sito also has a nice post about Jack on his site today.
AWN has an interview with Jack Zander by Joe Strike.
Jack Zander was a significant figure in New York's commercial history. He deserves some attention.
____________________________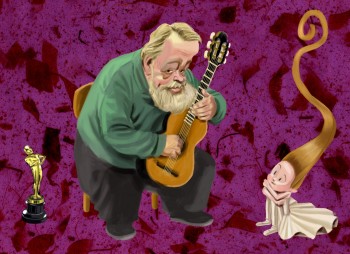 - Michael Barrier had a wonderful post at his website, Dec. 17th; it was on Borge Ring, and excuse to print his letter to Mike. I was a pleasantly surprised to see myself mentioned in the piece. Many people have said nice things about me, but this is the first truly poetic quote I've read. Borge is a poet of an animator.
He made a small error though in commenting on my film, Dr. DeSoto. Borge said I made the film for $4000. In fact, it was $3500 per minute. I don't think I could have gotten it photographed for $4000. I'm sure I miscommunicated, as usual, way back in 1984 when we spoke of that film. I hope he doesn't like the film less.
If you'd like to see some of Borge's work, Mark Mayerson wrote about him and led us to several films in 2006.
The illustration, above, is by Patrick Mate. I couldn't resist swiping it for this post; it's such a great picture and really captures Borge – in my mind, anyway. Patrick's blog is worth checking into if you don't know it.
____________________________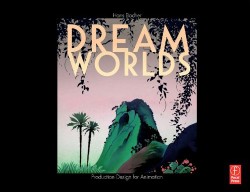 - I just received my issue of Hans Bacher's book Dream Worlds. It took a while for Amazon to get it out.
I haven't read it as yet, but was astonished in carefully thumbing through it. With the same ardent enthusiasm I had for Amid Amidi's Cartoon Modern and Mike Barrier's The Animated Man, I encourage you to buy a copy of this book if you're serious about animation.
It's stunningly beautiful, filled with excellent art, attractively designed and it looks to be enormously informative. The book shows you what a production designer does in an animated film. I've seen no other book like it.
I will have much more to say about this book as I read it.
One Response to "Jack Zander and other thoughts"
on 19 Dec 2007 at 8:22 pm 1.Tom Sito said …

I shared a workspace with Hans Bacher at Richard Perdum's in 1989 when we began preliminary work on a little Disney film called Beauty & the Beast. Watching Hans bang out one beautiful color study after another, I once asked him if he ever considered ever doing a sucky piece of work, just for the experience of having done one? He just smiled.

I'm glad he is now published, so the public can see the depth of this amazing artist, who's development work is rarely scene beyond a film studio's walls.
Leave a Reply