Animation Artifacts &UPA 28 Dec 2007 09:04 am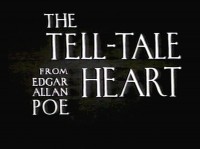 - Recently, there have been a number of attacks on the classic
UPA film, The Tell Tale Heart.
A number of voices – all on blogs
and internet chatter – have called the animation for this film poor. Even recently, in a letter to Michael Barrier, Tee Bosustow writes "about the bad animation in Tell Tale Heart."
Pat Matthews was the film's sole credited animator, and he was good, having worked at Fleischer's and Lantz' studios before arriving at UPA. His work in this film is exactly what was required of him. Rather, The Tell Tale Heart is a tour de force of production design. It is probably one of the first non-war/propaganda animated films, since Baby Weems, to so feature this element of production over everything else – except story. Paul Julian's brilliant artwork oozes from the pores of every frame of this film. Together with James Mason's narration and Boris Kremenliev's strong musical score, the film evocatively tells the strong Edgar Allan Poe story. This tale has not been told on film any better since it was made in 1953. Ted Parmalee directed the film with authority.
It's odd how I feel as though I have to defend this movie. I think it a brilliant film and have to remind myself that I'm not alone in believing this. It was nominated for the Oscar and for good reason (it lost to Toot Whistle Plunk and Boom. Ah, the irony!)
Here's the first of two posts, using frame grabs to feature all of the scenes of the film.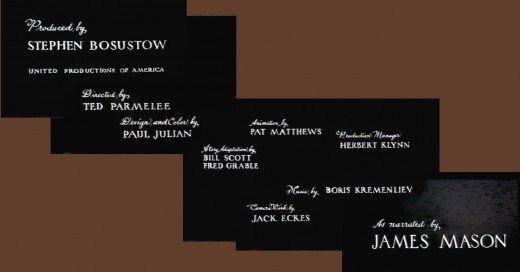 True I'm nervous. Very very dreadfully nervous.


But why will you say that I am mad? See how calmly I tell this story to you. Listen.


It starts with the old man. An old man in an old house. A good man I suppose. He had
never harmed me. I didn't want his gold. . . if gold there was. Then what was it? I think . . .


I think it was . . . his eye. Yes, that eye . . . the eye.


That. His eye staring. Milky white film. The eye.


Everywhere. Everywhere in everything.


Of course, I had to get rid of the eye.
So I waited. Watched. Waited. I was never so kind to the old man.


I looked after him. Each minute. Each second. And I waited.


But night after night. In the hour of the slowest clock . . . I opened the old man's door.


The eye was always closed. For seven days, I waited. You think me mad? What mad man would wait . . . could wait so patiently?


So long? In the old house . . . with the old man . . . and the eye.


Then on the eighth night I knew . . . tonight. Still, I waited . . .
. . . while time slowed. Stopped. Ebbed out.


A watch's hand moved more quickly than mine. Then, what? Yelps.
For an hour, I did not move a muscle. I could feel the earth turn. The eye.
Hear the spider spinning. the grinding crumble of decay.
Then . . . dull and muffled, yet . . . Of course, it was the beating of the old man's heart.


He knew. So strong for such an old man.
Louder then. And still louder. For all the world to hear. I know.
I had to stop it . . . . . AHHHHHH !



Then it was over.
______________________________________________ To be concluded tomorrow.
19 Responses to "The Tell Tale Heart – part 1"
Leave a Reply