Animation Artifacts &Richard Williams 24 Dec 2007 09:26 am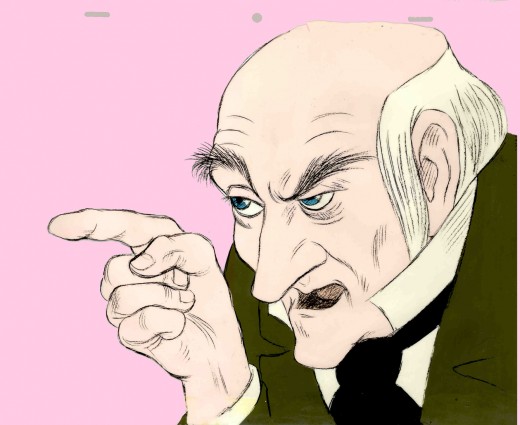 You'd better watch out.
I posted this cel two years ago. It was from a scene Richard Williams animated for his Christmas Carol. The drawing was done on cel not on paper with a mars omnichrome pencil. Hence, the inking is Dick's, as well.
David Nethery has posted a cel from Abe Levitow's sequence – probably my favorite scene in the film comes from this sequence. The scene where Christmas Present moves back his robe to reveal the two children – "ignorance" and "want". I think I disappointed Dick when I told him this years ago and hadn't named one of his scenes. Given the way Dick worked on Raggedy Ann, I'd guess he did the cleanup on these scenes as well.
3 Responses to "Christmas is Coming"
on 24 Dec 2007 at 2:21 pm 1.Tom Minton said …

That Abe Levitow scene is an amazing shot and its rapidly evolving drawings is still influencing art direction in animated features to this day. Check out the clip from "Coraline" on Cartoon Brew yesterday. When the ghosts are revealed under the backlit blanket the moment harks back to the 1971 "Christmas Carol", in technique altered to fit contemporary digital stop motion/cgi, albeit with fewer dissolves per foot. Dick Williams "Christmas Carol" remains the sole half hour television cartoon to have won both the Oscar and the Emmy. It was first broadcast on ABC in December, 1971 and took the Academy Award the following year.

on 24 Dec 2007 at 9:16 pm 2.Michael said …

I'd thought the same thing when watching the Coraline clip. Glad to not be along, Tom.

on 26 Dec 2007 at 3:57 pm 3.Eddie Fitzgerald said …

In my opinion Williams' "Christmas Carol" was the best thing he ever did. The sound for that film never gets mentioned and it was first-rate. The narration by Michael Redgrave and the choral piece were beautifully integrated.
Leave a Reply