Animation &Commentary 08 Jan 2008 09:24 am

- I received word late yesterday that Lu Guarnier had died December 29th. He had been in poor health for some time, living at a nursing home in Marlborough, Mass. Lu was someone I considered a friend for years while I worked within the industry; we worked together for John Hubley, Phil Kimmelman and R.O. Blechman. He had a unique, rough, drawing style that was certainly a challenge for an assistant animator.
He once told me that his father took pleasure in naming him Lucifer B. Guarnier, and you can guess what the "B" stands for. He also enjoyed his annual trips back to LA where he still had a lot of friends._______Lu at WB.
Lu had started at Warner Bros. in the 30's and told me many funny stories about working in Clampett's unit. He started as inbetweener to Clampett and worked his way up to animator. $12 a week. He once told me of the "hurt" jokes that were enormously popular for a short period back in the day. How "hurt" was he?
Well, as an inbetweener, he was the last to receive some animation that Clampett had done in a particular Porky Pig cartoon. An axe was falling on Porky and at the very last moment, he was saved from the blade falling on him. Lu, for a joke – a "hurt" joke – decided to continue the animation with Porky being cut in two as an alternate ending that he sent to PT. After they watched the dailies, they could watch the alternate – the correct version. Well, it just so happened that that was the day Leon Schlesinger was making the rounds. The fresh dailies arrived and the assembled animation crew watched Porky cut in two. Leon turned to director, director to Clampett, Clampett to the lowly inbetweener who squirmed his way out of the room. Lu expected to be fired, but wasn't; they all laughed after he'd left the room.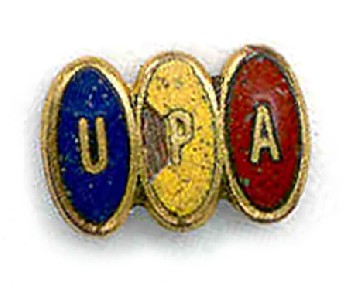 Tissa David told me that the UPA studio was one long space that was divided into cubicles. She called them "stalls" like horses would occupy at a racetrack. Grim Natwick, Tissa and Jack Schnerk shared the third cubicle. The only one who had a window was Lu Guarnier; he shared his space with Vince Cafarelli, his assistant.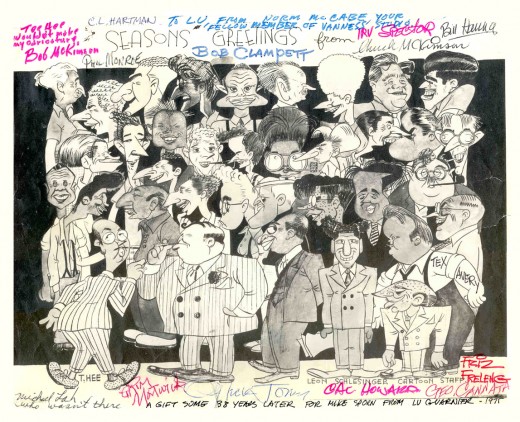 Lu was always a natty dresser, with a fine jacket, slacks and a bow tie. He gave me quite a few little gems that I've featured on this site. My favorite included the WB Christmas card filled with caricatures by Tee Hee. Lu, on one of his LA jaunts, had it signed by everyone he met. Tex Avery, Bob Clampett, Chuck Jones, Friz Freleng, both McKimsons. Even Hanna and Barbera. It's a treasure, and I think Lu always regretted giving it to me. He often asked about it.
___________(Click image to enlarge.)
I've missed him since he went into the nursing home, after his wife died. Now, knowing he's no longer there, I'll miss him even more. He was a gem of a guy.
I have some drawings for a couple of scenes Lu animated. I'll try to post one or two of them in the next week or so.
8 Responses to "Lu Guarnier 1914-2007"
Leave a Reply