Animation &Commentary &T.Hachtman 11 Jan 2008 08:14 am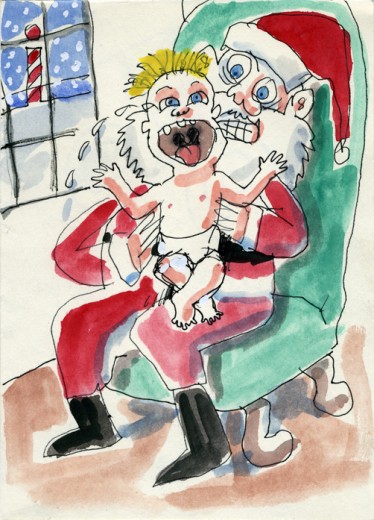 - Christmas is in the past, and the decorations are long gone.
Every year I save all the original cards and a couple of others I enjoy.
My favorite original card this year came from Tom Hachtman.
Tom wrote me about the development of this card:
– I sat down at the kitchen table to do cards with my niece April Centrone. She is a brilliant and somewhat demented artist. I gave her the Christ child from the creche and she began to draw – legs, body, hands and then, unhappy with the results, tossed it aside. I picked it up from there and put the baby in Santa's lap.
The artwork was a collaboration. I wanted to clarify.
(Click any image to enlarge.)
____
- Marjane Satrapi received her best animated feature award this week from the NY Film
____Critics by saying, "In France, they always call the New York critics tough bastards. So
____thank you, my bastard friends."
____It'd be nice to hear what she might say if she wins an Oscar. She'll get my vote.
- The Pirate VeggieTale Movie got the reviews it deserved. The Village Voice's Ed
____Gonzalez called it, "Humorless, incoherent, and ugly as sin…"
____I was going to attach an image from the film, but I couldn't sink that low.
____However, I must say I prefer the Veggietales images to those from any of the Shreks.
- I love the gag cartoons that Stephen Worth has posted on the ASIFA Hollywood
____Animation Archive side. They're from UPA New York, and they comment on
____Lu Guarnier's having the only window in the studio. The studio was divided into stall-
____like cubicles. (At least, this is Tissa David's description.)
____What fascinates me is that these cartoons were saved for the past fifty years! They're
____absolutely worth it, but how much of the important art is gone, yet these inside-gags
____are still extant and in good shape.
____By the way, a comment from his niece Pat, reminded me that Lu had told me about
____his first name – that his father named him "Lucifer, the light bearer" because he would
____someday lead the world out of its darkness. He wasn't named after Lucifer, the devil.
____This also had me wondering about the middle initial "B". Lu wouldn't tell me
____what it stood for and left me guessing whether it was for "Beelzebub."
- Speaking of Stephen Worth, I've been entertained by the back and forth discussion
____between Michael Barrier and Stephen Worth regarding the history of story/script
____development at animation studios. Worth says that prior to 101 Dalmatians, all scripts
____for animation were done by storyboard artists. Mike Barrier (having viewed the
____evidence) states the obvious – scripts did exist as far back as the silent Disney days.
____I've seen enough of these scripts to know that Barrier is correct. The script for
____Brotherhood of Man was published in the 1945 Hollywood Quarterly, for pete's
____sake. Hubley, Phil Eastman and Ring Lardner did this script in advance of
____any storyboard work, which Hubley, ultimately, did. I saw parts of that storyboard as
____well. I believe it's now in the MoMA archives.
____Scripts did exist. Just look in the Merritt and Kaufamn book, Walt In Wonderland.
____Pg 102 has a verbal scene-by-scene breakdown with a follow-up board for the Oswald
____cartoon, Africa Before Dark. That's 1929.
____I think in this argument, Stephen Worth is just fighting the hard fight to protect the
____claims of John Krisfalusi that only storyboarded scripts are good for animated films.
____The argument is not worth much more of a comment. The comments on Cartoon
____Brew have gotten beside the point.
____Barrier offers us a page of a Cinderella treatment & a Fleischer Koko silent film.
____There's also another page of a Superman script on Thad Komorowski 's site
____contibuted by Bob Jaques.
____Need anyone offer more?
- Speaking of Mike Barrier, his comments about Hanna/Barbera, their shorts and Jerry
____Beck's recent book, The Hanna-Barbera Treasury, are quite astute.
____His commments have also provoked some serious thoughts from Mark Mayerson
____about the subject. Mark comments, "There is no question that the animation industry
____suffered a major blow with the death of theatrical shorts and the rise of television. It
____took the industry more than 25 years to recover from that blow. Hanna and Barbera
____had no part in that recovery and if anything, they probably delayed it."
____I certainly agree, but I'm more bitter. I don't think there was ever a recovery from
____H&B's handiwork. They put the animation industry in the gutter, and it hasn't
____stepped out except for a few individual steps by others. A film like Persepolis suffers
____from the residue of Hanna Barbera's flattening of animation. UPA introduced limited
____animation; H&B flattened it out.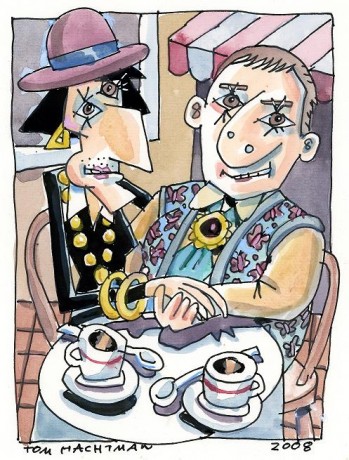 _
_
_
_

- There's another great Tom Hachtman image on the Kaliyuga Theater site for Al Carmines's play, In Circles about Getrude Stein. Tom, of course, draws the Gertrude's Follies comic strip. This watercolor was done for Carmines. Tom sent it to me, and how could I pass up posting it?
I'm almost tempted to buy a ticket to the show.

_
-
_

11 Responses to "Notes:"
Leave a Reply