Animation Artifacts &Disney &Peet &Story & Storyboards 14 Jan 2008 09:17 am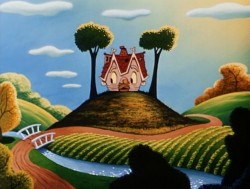 - John Canemaker loaned me these boards by Bill Peet for the short, The Little House.
These storyboards are five dense pages.
The photo images on them are small, so I had to break them apart and reassemble them so that you'd be able to enlarge them enough to study.
They're an excellent example of an extraordinary story artist developing a pre-existing story, the children's book by Virginia Lee Burton (who also wrote Mike Mulligan and His Steamshovel.)
This is the first of these five pages. It'll take a few posts to get them all in.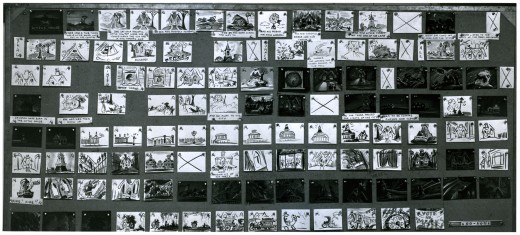 This is the full first board as it looks before I cut it apart. The image is small and I cut it up and reassembled it. The blue nunbers below the panels represent the row of images displayed.


Page 1 – 1a____ You'll have to click images to enlarge them enough to view them properly.
The following are three images from the dvd extas to give an indication of color.
More tomorrow.
12 Responses to "Peet's Little House 1"
Leave a Reply