Books &Illustration 24 Jan 2008 09:24 am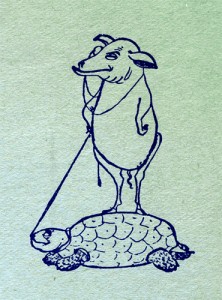 - I have two books of chilldren's verse written by Hilaire Belloc. I've been a fan of these poems and have prized the books. I thought it worth sharing.
After graduating from Oxford, Hilaire Belloc served in Parliament. After two terms, thoroughly disatisfied with public office, he left the House of Commons. He wrote extensive commentaries during the first World War. His first son was killed in that conflict; his second son during the second World War.
He was a very opinionated political writer, which didn't help his reputation during his life. He also refused to be pigeon-holed writing in many different styles and forms. Hence he was barely accepted by the cogniscenti of the time. Many of his children's poems are whimsical but quite dark. Victoriana lives on in his mood and attitude. His poems are all on line (none of the illustrations are there).
B.T.B. was properly named Basil Templeton Blackwood, the third son of the Marquess of Dufferin. He met Belloc when they were both students at Oxford. He became a Lieutenant in the Grenadier Guards in WW I and was killed in action in 1917.
Blackwood became a solicitor, but he illustrated several of Belloc's books. These include:
The Bad Child's Book of Beasts (1896)
More Beasts (1897)
The Modern Traveller (1898)
A Moral Alphabet (1899)
Cautionary Tales for Children (1907)
More Peers (1911).
Here we have selected pages from the first two of these books which were combined into one volume I own. It was last published by Duckworth in 1971. A "Bestiary", of course, is an alphabetical listing of animal poems originally designed to teach children the alphabet. (Sorry that I post these pages out of alphabetical order.)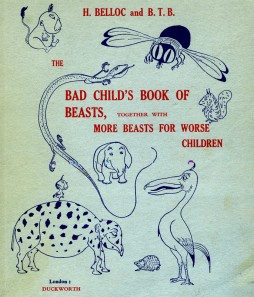 _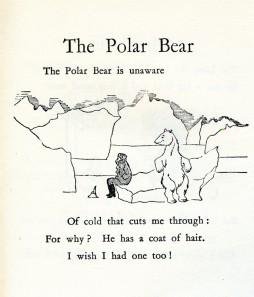 ______(Click any image to enlarge.)
11 Responses to "Belloc's Bestiary"
Leave a Reply