Books &Frame Grabs &Illustration 25 Jan 2008 08:54 am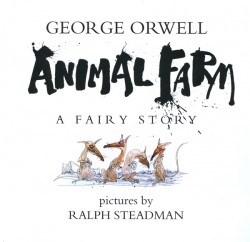 - I saw Halas & Batchelor's Animal Farm at a seminal point in my animation development, so I guess you could say I was struck over the head at just the right time. The same is true of Lady and the Tramp, Sleeping Beauty or Magoo's Christmas Carol. They, and a number of other films from that period, have enormously affected how I see animated cartoons and what it is that I like. Somehow, I think I've mentioned this before.
I am also a big fan of Ralph Steadman's work. For some inspiration, I was looking over his illustrations for Orwell's book. The story vibrates in his hands. I thought it might be interesting to post some of these and find relative images from the film to see how they compare.
Make no bones about it, I think Steadman is as close to an artist an illustrator can become, and I have no similar thoughts about the artwork for the Halas & Batchelor film. I am interested, however, in how different people view images they get from the same text.
_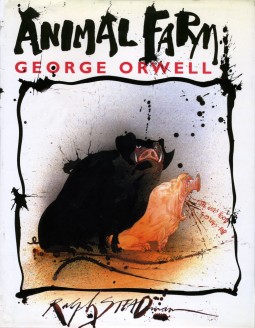 _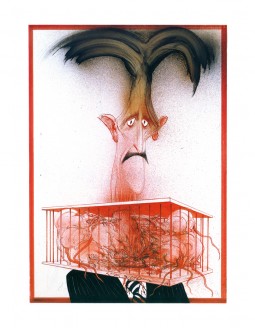 ___On the left, we have the book's dust jacket, cover. On the right, Steadman offers a
___caricature of George Orwell holding rats in a cage. A reference out of "1984."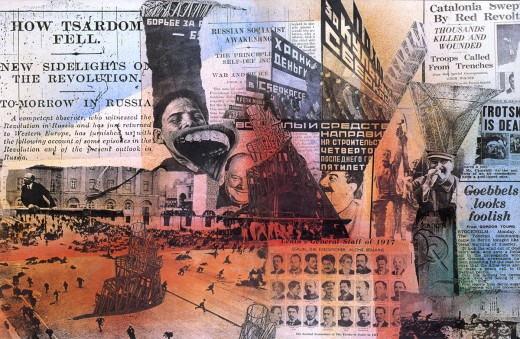 ___The inner cover of the book's front features this double page collage/painting by
___Steadman. Politics of Orwell's time is put front and center.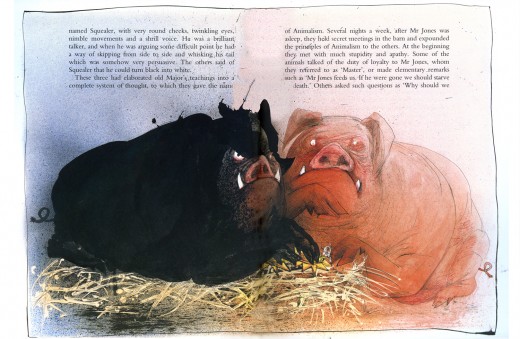 ____Napoleon and Snowball closely align with each other and give each other support.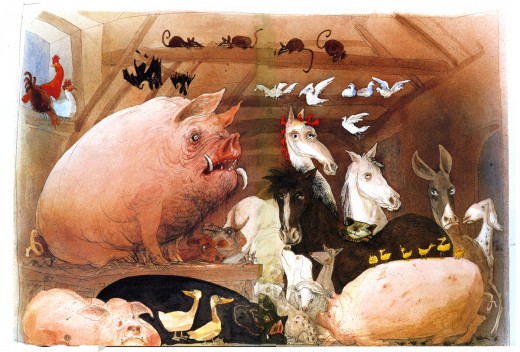 _______All the animals meet in the barn to create a plan. The pigs take the lead.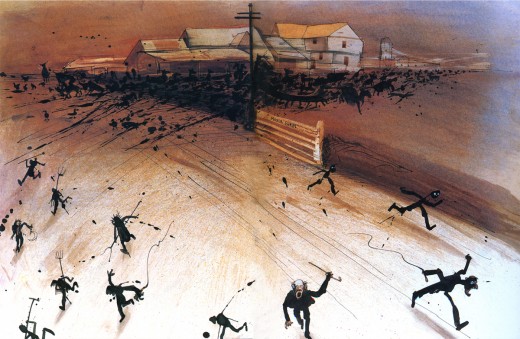 ___The major battle with the humans ends with the farmers running away from the
___animals who have joined together to take over the farm.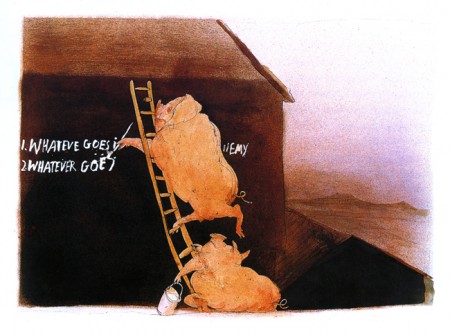 The pigs post new rules that they've created.
_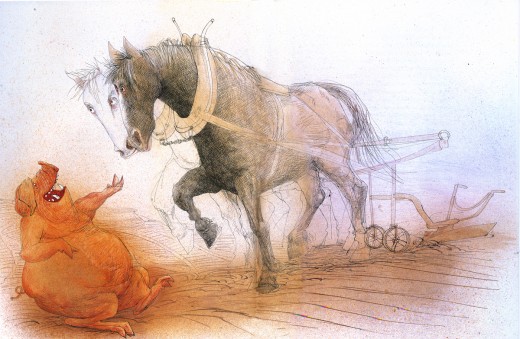 ________________The horse, Boxer, is the strongest and most loyal worker.
_________________________________

The Halas & Batchelor Film
_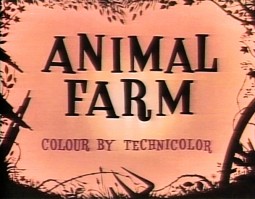 _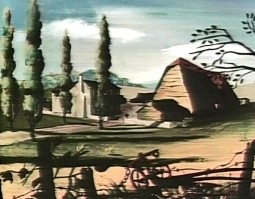 __________The Halas and Batchelor film starts out with master shots of the farm.
__The animals push the farmer and his drinking buddies off the farm and end the
__sequence with a rousing animal song around a fire.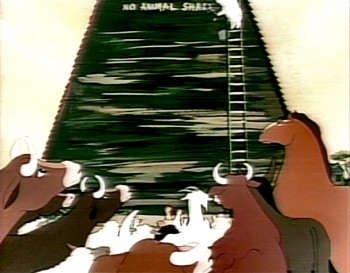 __
__
__
The rules are written on the barn wall while cross cutting to Napoleon hiding newborn puppies in the hayloft. We'll later learn that he's trained these dogs to grow into attack guards for him when he takes over the farm. It's interesting that the French version of the book calls this pig Caesar.
__
__
______(As ever, click any image to enlarge it.)
9 Responses to "Steadman's Animal Farm"
Leave a Reply