Animation Artifacts &Disney &Story & Storyboards 19 Feb 2008 08:45 am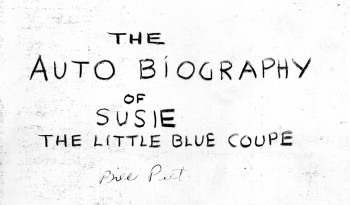 – Well, here we have an oddity to add to the Bill Peet playbook. Susie the Blue Coupe was a short written by Peet and animated as a Disney short released in 1951.
Obviously Peet had planned this as a children's book. For quite some time he wanted to separate from Disney, and he saw children's books as a way out. He writes about _______ Don't you love the title Auto ___ Biography !
Lambert the Sheepish Lion
in his autobiography. Apparently, though, Susie was another attempt by him to move out.
Here's the mock up for a book by Bill Peet. I don't know if the book came before the board or the board before the book. Again, this comes from the collection of John Canemaker as does the storyboard from the film which I'll post next week. Thank you, John, many times over.
Animators included Ollie Johnston, Cliff Nordberg, Hal King and Bob Carlson with backgrounds by Ralph Hulett. Clyde Geronomi directed it.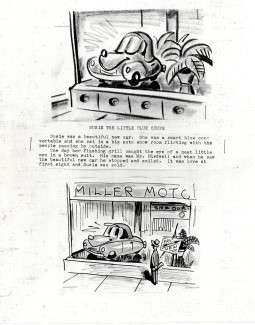 1_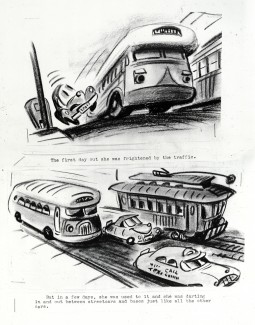 2
___________________________(Click any image to enlarge.)
(To be concluded tomorrow.)
_
The video is available all over the internet. You can watch it currently on YouTube or buy the dvd at Amazon.
6 Responses to "Peet's Susie Book 1"
Leave a Reply