Animation Artifacts &Hubley 24 Jan 2006 10:02 am
Michael Barrier's posted response to Karin Babbitt's letter, yesterday, brought back memories. This story has followed me most of my career and always has me a bit split. Since I both direct films and animate them, I see both sides of a coin. I dont remember ever talking about it to anyone.
The picture Michael Barrier painted of Art Babbitt and the letter sent him by Steve Worth both talk about the same man I came to know during the making of Richard Williams' film, Raggedy Ann & Andy. Whenever Art was in town there was always a dinner at Tissa David's or my apartment, or there was jazz late nights with Dick & Art. Some of these moments were part of the treasure of my life.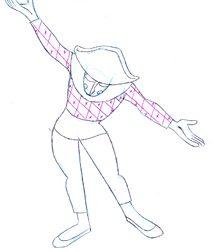 However years before meeting him, I got to know Art Babbitt's animation. I, of course, already knew about his animation from books and films. I'd been watching it carefully for over 20 years before working on John Hubley's film, Everybody Rides The Carousel. On that film we became a bit more intimate.
Art was animating the narrator of the film, a mime. The mime had no mouth, but we heard his voice (actor, Alvin Epstein) throughout the show. After art completed his first animation, it was photographed in LA by Nick Vasu at Dickson/Vasu, and it was one of the first pencil tests to come back to us. (As a matter of fact, it was one of the only pencil tests to be shot for that film.)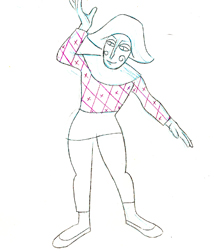 I worked two rooms away from the editing room (two upright moviolas, one with an animation paper-sized viewing screen) across from the kitchen in the art room. One day, John came running in to call me out – this was unusual. It was obviously urgent and I ran behind him to the editing room. When we got into the close quarters, he asked if I wanted to see "one of the greatest peices of animation you'll ever see." I knew it'd be the mime. The moviola buzzed and played that opening scene. It was stunning.
John was right, the scene was beautiful. It was all on ones and twos, mostly twos. All the drawings were tightly placed and beautifully – I mean beautifully – traced back. Art had done all of the drawings himself.
After it finished playing, we just looked at each other. John had to share it with someone who he knew would appreciate the virtuosity on display. I did. We ran it a couple more times, and I went back to work inspired.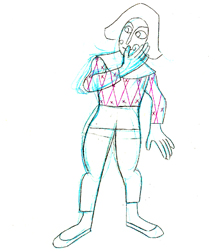 Months later – most of Art's work had been completed and was already colored. The untrained inker had loosened the line a bit using colored marky brand markers, though a light watercolor wash had softened the line. Gold and blue were the watercolored washes that had colored the mime's blouse. Charcoal grey tights. Drawing for drawing, I thought it still looked stunning.
The program was scheduled as three half-hour shows on CBS. They would air just prior to their new season. Roughly 18 minutes of new material per program with reuse bits from the previous shows filling the three 24 minute episodes. But just as we were coming to the deadline, CBS had decided to air it all at once – a 90 minute program. Lots more had to be added to the overall length to make it work – rushed animation to make an incredible deadline!
Suddenly it was decided that more of Art's mime would have to appear. John came up with a technique he said he'd developed on Fantasia. John said he'd shown it to Dick Williams; now he was showing it to me. Basically, it was a camera trick that amounted to 2 frame disssolves from one drawing to the next. Animation was slowed down. I was the one forced to reexpose Art's scenes and prepare them for the cameraman, Nick Vasu. He couldn't make any mistakes in the double exposed photography or it'd be difficult to correct.
The budget and schedule had forced John to resort to a trick on animation that he thought was perfect when it had first arrived. Believe me it worked stunningly well within the scenes Art had done. Barrie Nelson had animated a lot of the other mime scenes, but his movement was different and couldn't be successfully shot the same way. Nor could the budget afford more of the same.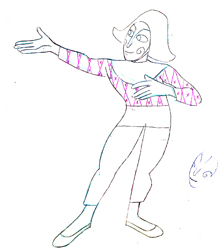 Art, of course, was upset. He knew he had done a good job and didn't like that the timing on his animation had been changed. This information came to me via Dick; I'd brought him to the premiere screening of Carousel.
I understood Art's complaint. He had made something he felt was wonderful, and it had been damaged. It wasn't what he had wanted it to be. I also saw the dilemma John had faced with his budget, his schedule, his need to make the best possible film under the circumstances given him.
And I saw the film. The scenes not only work, but they still have the majesty that Art wanted and the length John needed.
3 Responses to "Babbitt Mime"
on 24 Jan 2006 at 2:17 pm 1.Michael Barrier said …

Wonderful story; thanks for sharing it with us.

on 24 Jan 2006 at 9:20 pm 2.Mark Mayerson said …

I had always assumed that Dick Williams had come up with the dissolve technique. This is the first I've ever heard that it was Hubley.

And don't get me started on the tension between directors and animators. I've been both and neither side ends up happy.

on 25 Jan 2006 at 5:15 pm 3.Jenny said …

Indeed, wonderful, and well told. Wow!
Boy, I envy you those experiences…and did, back when I was under age and reading Canemaker's Raggedy Ann & Andy(you haven't changed much)! Spending an afternoon and all of an evening alone with Art was all I got, and I found him to be an old-school gentleman, a bit flirty–with taste, mind you–and also still carrying incredible, explosive anger.
I really fell in love with him, and wished I could work with him–rather, for him, somehow(he was at the Cahuenga Williams studio at the time, working on–what else? "the Thief"). At one point while waxing philosophically about some aspect of animation, he said "…now, in a business like yours and mine…"!? Oh, God! To say this to someone he knew was at that point only a wanna-be, not even a student of animation anywhere, only an aspiring artist? He made my night by "including" me in his life's vocation, and of course I'm sure deliberately so. I took the liberty of asking his advice re: writing about Freddie Moore(the point of our interview, though we rambled over a lot of ground): how was I–or should I–to deal with his alcoholism and emotional problems? Should I just forget it, and not say a thing about it?
He leaned in and gravely told me: "Just…tell the truth."
Well, thats' the trick, isn't it? There are a lot of shades to a person and sometimes many "truths", all real.
Leave a Reply