Animation Artifacts &Disney &Peet &Story & Storyboards 26 Feb 2008 09:01 am
Here is the remaining half of Bill Peet's storyboard for Susie, the Little Blue Coup.
Many thanks to John Canemaker for the loan of this board.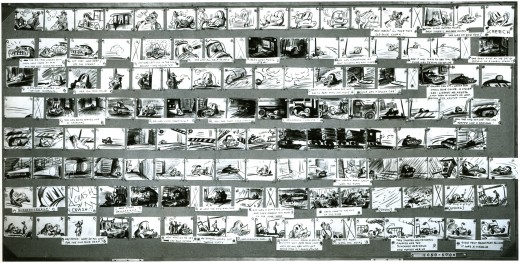 As usual, this is the composite of the storyboard panel represented here.
I've split it up and present it in a larger form.

B1a
____________(Click any image to enlarge to a legible size.)

B1b

B2a

B2b

B3a

B3b

B4a

B4b

B5a

B5b

B6a

B6b

B7a

B7b

B8a

B8b
There is one remaining board with this series. It contains some BG layouts and larger images. I'll post that next week.
2 Responses to "Susie Board 2"
on 26 Feb 2008 at 1:57 pm 1.Rusty Mills said …

Great to see this. John told me at the Annies you were going to put this up. Bill Peet was a master at showing personality in boards. Really love seeing how it differs from the final production. I remember T.Hee once telling me that each step of the production should inspire the next. You can definitely see that here. I can also see a lot of Peet in Joe Ranft's work. Especially can see the direct influence on Cars.

on 27 Feb 2008 at 5:05 pm 2.Eddie Fitzgerald said …

What a treat! I especially like the atmospheric night scenes which come out really well when you click twice. I'm going to get some pretzels and coffee and spend some time with this. Many thanks to you and John!
Leave a Reply