Daily post 27 Feb 2008 08:48 am

- Opening in New York this friday is the documentary Chicago 10. This film has been in the air for the last year and a half, and it finally makes it to NY theaters this week. The film opened the Sundance Film Festival in 2007.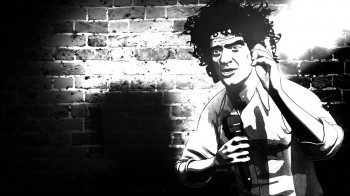 The NYTimes published an article this past Sunday about the film. It says the animation is motion capture, but to me it looks strikingly similar to the work of Bob Sabistan, who directed the animation for Richard Linklater: Waking Life and A Scanner Darkly.
Brett Morgen produced and directed this docu-mentary which includes film clips and lots of animation to tell the story of the Chicago 10. Morgen's prior work includes The Kid Stays in the Picture, the successful documentary biography of producer Robert Evans. You'll remember that film was half After Effects effx.
Since footage wasn't readily available of the court trial (among other things) the animation stands in for that footage. It's acted and voiced by the likes of Hank Azaria (as Abbie Hoffman and Alan Ginsberg), Mark Ruffalo (as Jerry Rubin), Jeffrey Wright (as the Black Panther Bobby Seale) and Liev Schreiber (as defense lawyer William Kunstler).
J. Hoberman has a review worth reading in the current Village Voice.
The NYTimes has a couple of video clips here.
There are several clips on YouTube here and here and a trailer here.

Larry Ruppel did some non-rotoscoped animation, and he has some of the drawings on his site; there's also a rough pencil test of the sequence. He worked with Asterisk Pictures and the director, Brett Morgen.
The NYTimes also had an article about the filim in 2006.
Curious Pictures, NY, (Richard Winkler, prod.) supervised the MoCap animation for this film. The traditional animation was done by Asterisk Pictures in NY (Richard O'Connor and Brian O'Connell prod); they did about 10 minutes of film. Dan Haskett had a hand in the character design.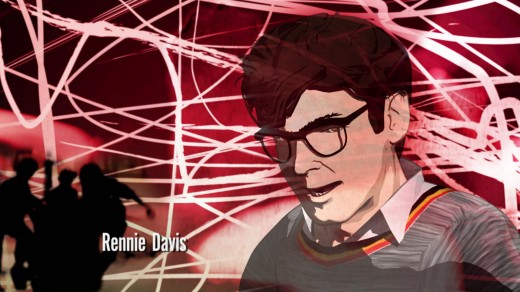 I'll see the film in two weeks and will report what I see, then.
______________________________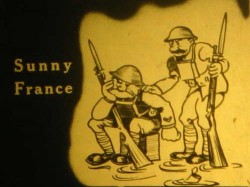 - I have a big interest in silent animated films and as a result have visited Tom Stathe's site frequently. Cartoons On Film regularly offers interesting information about those rare films.
Currently Tom has an interesting post about World War I film intertitles, and he offers quite a few examples. I don't know where he finds these things, but it's amazing. I'm glad to see someone is out there watching and reporting.
______________________________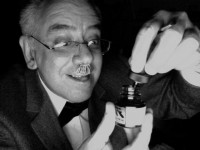 – Eddie Fitzgerald's blog, Uncle Eddie's Theory Corner, offers frame grabs from the rarely seen silent animation series, Mix Fleischman's Out of the Ink Bottle.
This is definitive proof that Eddie has completely lost control. Or maybe he's a genius. I've laughed each and every one of the many times I've returned to look at this post.
_

______________________________
- Thanks to Tom Sito for listing on his site all of the artists to be eulogized this coming Saturday at the Animation Guild's tribute, An Afternoon of Remembrance. The program is free of charge and is open to all. No RSVPs necessary. As Tom says, "You don't have to be related to anyone to attend. It is about the animation industry remembering our friends and colleagues. I would like to be there.
1 pm Memoriams
Hollywood Heritage Museum (Lasky-DeMille Barn)
2100 N. Highland (across from Hollywood Bowl), Hollywood, California
One Response to "Chicago 10 and Silents"
on 27 Feb 2008 at 4:51 pm 1.Eddie Fitzgerald said …

Thanks for the kind words! When I shot that I was amazed to find that the bow tie and shaving brush moustache actually seemed to suit me. Maybe they work for every guy with grey hair.

I don't know what to do about this. I was planning on wearing baggy shorts and a backward baseball cap in my grey years…you know, throwing my gang sign and chillin out in the hood, but now I'm not so sure.
Leave a Reply