Chuck Jones &Daily post 12 Mar 2008 08:31 am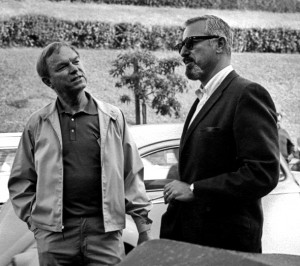 - There's a brand new site debuting today, and I'm pleased to say that my studio had a small part in seeing it off and running. Abe Levitow was an animator and director whose work I've long admired. I met his daughter, Judy Levitow, during the production of Raggedy Ann and Andy, and I really enjoyed her friendship. So many years later, she contacted me to ask about our sites and their design and told me that her family was hoping to put up a site to honor her father. The end result was that Matthew Clinton, a key animator in my studio, worked with Roberta Levitow in putting together the new site www.abelevitow.com, ______________ Chuck Jones and Abe Levitow
for the family, Judy, Roberta and Jon Levitow.
Darrell Van Citters was principal in organizing the archival material. As of today the site's operational and in full swing.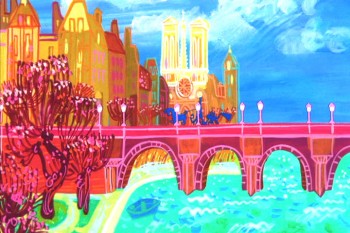 The site includes lots of photos, artwork and information about Abe Levitow's life and career.
For those of you who are not familiar with his work, Abe Levitow started at Leon Schlesinger's studio where he worked for years, breaking only for work in the Signal Corps during World War II. He animated key sequences of What's Opera Doc, Robin Hood Daffy and Broom-stick Bunny. He joined UPA where he was an animation director on 1001 Arabian Nights with Magoo, and he directed Magoo's Christmas Carol and the feature Gay Purr-ee.
He worked with Chuck Jones at MGM where he directed a number of the Tom & Jerry shorts as well as co directing The Phantom Tollbooth with Jones.
Abe Levitow's animation for Richard Williams was key to Dick's films. On The Christmas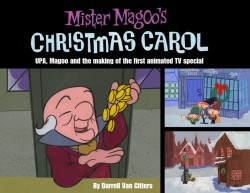 Carol his animation of the ghost of Christmas Present revealing the two waifs "want" and "ignorance" under his robe is the finest scene in that fine film. (I suddenly realize that he is probably the only artist to have worked on both the Magoo Christmas Carol and Williams' Christmas Carol.)
He died in 1975 at age 53.
This new site also announces the soon-to-be-published book by Darrell Van Citters about the making of Mr. Magoo's Christmas Carol.
4 Responses to "Abe Levitow.com"
Leave a Reply