Daily post &Festivals &Independent Animation 25 Mar 2008 08:16 am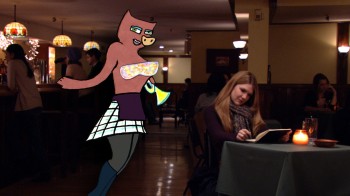 - It's nice to see some local talent get good press for their animation work. Currently, The New York Observer has a solid article about Emily Hubley in conjunction with the screening of her feature film, Toe Tactic, at the New Directors/New Films festival held at MOMA and Lincoln Center.
Here's a short quote from the informative article:
__ Originally, there wasn't going to be any animation at all in the film. But Ms. Hubley hand-
__ drew the dogs (with some help from animator Jeremiah Dickey) to help shepherd the
__ short poems about love, life and mortality into the movie. "At the beginning [of the
__ process] the dogs are just a joke, but then they nosed their way into the rest of the
__ story," she said. "Poetry is one thing that is very hard to put into movies… I just thought
__ that the only way to keep it fun, or keep people from glazing over, or I guess to keep it
__ from being too self-loving, would be turning it into something else completely."
__ All together, the result is a highly emotional fable. "I want [the audience] to feel full
__ when they walk away," she said. "It's really about personal art; it's not a factory
__ product."
As I reported last week the film's stars include: Lily Rabe, John Sayles, Marian Seldes, Eli Wallach, Andrea Martin, and Mary Kay Place. Ms. Place and Ms.Martin are two of my favorite performers; John Sayles is the father of Independent Cinema, and I love Eli Wallach. Lily Rabe was brilliant when I saw her in the play, Crimes of the Heart, now playing in New York. What more is there to say.
The film is scheduled to play:
__ Sat Mar 29: 6:00pm (Walter Reade Theater)
__ Mon Mar 31: 9:00pm (MoMA)
________________________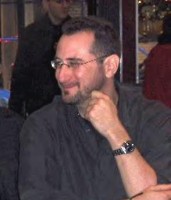 - I received some information from the Hiroshima 08 Festival, and was pleased to note that two ASIFA East members are featured.
Ray Kosarin is among the International Selection Committee Members. Along with Rao Heidmets from Estonia, Elena Chernova from Russia, Sophie Lodge of the UK, and Kiyoshi Nishimoto of Japan, Ray will represent the US in the selection of films for the festival to be held August 7-11. Add to that information, David Ehrlich, also of ASIFA East, will have a special exhibition and performance for his art. With Paul Driessen as the International Honorary President, the Festival sounds like a big one this year.
Congrats to Ray Kosarin and David Ehrlich.
2 Responses to "Local Talent"
on 26 Mar 2008 at 12:31 am 1.Manu Martin said …

Hi,

This site is a total information about animation. It is also a point for so many references.

Thanks for posting good content.

on 25 Jul 2008 at 11:02 pm 2.Sky David said …

I have lost contact with my old friend David Ehrlich. Does anyone know his e-mail address?
sky@skydavid.com
Leave a Reply