Daily post 29 Mar 2008 08:42 am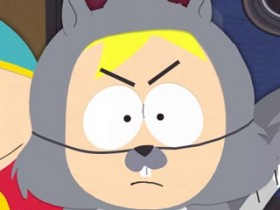 - I have to admit that I have almost zero interest in any animation that is made for television. It's virtually all worthless as far as its technical content, so all you can really judge it on is the writing. There, again, virtually all of the programming is pointlessly dreadful and completely banal. There's so little worth looking at that it makes it useless to even tune in.
The Simpsons has grown stale. Family Guy is good for one joke per show, but there's not much else there, and it's quite ugly to look at. If anything else is good, I haven't found it, and I can assure you I've looked. Thank god for the MGM shorts that are shown on Boomerang or the occasional feature that pops up.
There's only one program whose new season gets me charged. I won't miss any of the new episodes of South Park as they show on Comedy Central. The latest season is certainly up to the level of writing they've given in the past. It's not for the weak of heart, and it's certainly not for children.
Last week's show, Britney's New Look, interrupted the democratic debate between Obama and Clinton to present Britney watch.
It turns out Britney Spears was caught peeing in the woods of South Park. The photographer was paid several thousand dollars, and the boys are determined to get their own photo to make some easy money.

When they finally do lure Britney into one of their homes, she's devastated to learn that they just wanted her photo, and she tries to kill herself by shooting the top half of her head off.

At the hospital, it turns out she's going to live without 2/3 of her head, and her
manager drags Britney into a recording studio – with her crazy new look – to record a new album. The boys try to save her, but the photographers are growing greater.

In the end, we learn that she can't be saved because she is part of a ritual sacrifice, a necessary offering for the new harvest. Britney is photographed to her death, and the corn fields are ripe with product.

The program ends with the citizens eyeing Miley Cyrus on television – she'll be next.
This show starts off by blowing the viewers' heads off, then bringing it back to a responsible statement – we're killing these celebrities, and we have no justification whatsoever. Stop it!
Or the week before that, which had one of its most outrageous shows, Tonsil Trouble:
Cartman gets his tonsils removed and accidentally get a transfusion that gives him tainted blood and the AIDS virus. This bit of irony causes Kyle to laugh incessantly. Angering Cartman who decides to get even.

He sneaks into Kyle's bedroom late night and puts some of the infected blood into Kyle's mouth. Kyle gets AIDS and automatically knows that Cartman gave it to him. He decides to break every one of Cartman's toys and starts to do so. When he gets to the X Box, Cartman shouts for him to stop and says he knows how they can be cured.

The plan is to visit Magic Johnson, who obviously must have found the cure, since his HIV virus hasn't gotten worse over these many years. They visit Johnson, who admittedly doesn't know what has resolved the problem.

The answer ends up being cash. Cold hard cash. Johnson sleeps on it. They find that if they pulverize money into a serum and inject it into the body, AIDS is cured. The show ends with the announcement being made in Africa that they've found the cure; anyone with $180,000 can be cured.
Again a god awful shakeup for the viewer at the beginning of the show – AIDS for kids in South Park (played for laughs !) – followed by a reasonable statement – only money seems to be resolving the problem. Let's talk about pharmaceutical companies and insurance companies.
Not all of the shows are good. There was a weak one this week. Kenny gets high on life – or is it cat urine? A weak show, but who cares; there are too many great ones. If this show continues forever, I'll keep watching it.
_________________
Thanks to Animated News, I was drawn to the South Park official site. There you can watch all of the episodes in toto. (The new season currently airing on Comedy Central are being delayed several weeks but will be there soon.)
_________________
By the way, here's the schedule for this week's upcoming MGM program on Boomerang. (Note they don't have a show scheduled for Tuesday.) If you want to find future show schedules go here (they only post one week at a time.) I list the directors of the shorts. Originally, they screened older films, but lately they try to show all Avery (meaning:funny) all the time. Personally, I seek out the Harman and Ising films.
Sat 8pm Goose Goes South by Hanna and Barbera
_______ Jerky Turkey by Tex Avery
_______ Wayward Pups by Rudy Ising
_______ Good Little Monkeys by Hugh Harman
Sun 8pm Busybody Bear by Dick Lundy
_______ Little Wise Quacker by Dick Lundy
_______ Doggone Tired by Tex Avery
_______ Barney Bear's Victory Garden by Rudy Ising
Mon 8pm Lonesome Lenny
_______ Bottles by Hugh Harman
_______ One Droopy Knight by Michael Lah
Wed 8pm Little Johnny Jet by Tex Avery
_______ Blue Danube by Hugh Harman
_______ When the Cat's Away by Harman-Ising
Thurs 8pm Gallopin' Gals by Hanna & Barbera
_______ Daredevil Droopy by Tex Avery
_______ Slap-Happy Lion by Tex Avery
_______ Sleepy-Time Squirrel by Dick Lundy
5 Responses to "Headin' South"
Leave a Reply