Animation &Disney &Frame Grabs &walk cycle 03 Apr 2008 08:23 am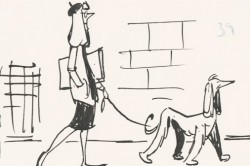 - When I was young, as I've pointed out many times, there were few books available about animation and as few illustrations and photos which ellicited the art of animation. Hence, it was always a treat when a Disney feature was released. The adjoining publicity would provide a trove of publicity material, some worth saving. An encyclopedia my parents bought at about the time of release of 101 Dalmations included several key images of Pongo running. One of those photos of many cels overlayed to detail the cycle. I loved that picture and frequently looked at that encyclopedia under "Cartoons, Animated" to study the photo of the cels.
At the very beginning of 101 Dalmatians, Pongo looks out onto the street to search for a good mate for both himself and Roger, his owner. At this point we're treated to a number of walk cycles that I think are brilliant. A number of women are perfectly matched to the dogs that they walk.
Now with DVDs available to us, we can see that the characters originated in the storyboard drawings, and we can study these walk cycles. I'm determined to take these animated bits apart to watch them a bit closer.
The first of these is the "girl art student" as described in the drafts (which can be found on Hans Perks' excellent site A Film LA.) Oddly, from my very first viewing of this film back in 1961, I identified her as a "beatnick," which was the fashionable joke back then. Now I find out she was an "art student." I guess that makes sense.
Here's the pan BG that this scene employs.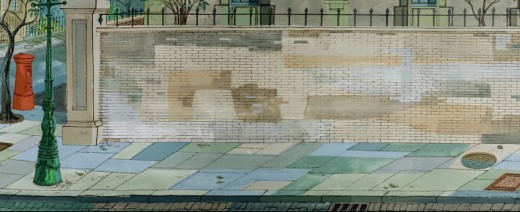 ________________(Click any image to enlarge.)
And here is the walk cycle animated by Frank Thomas and Blaine Gibson.
Gibson handled the following scene which pans across the bodies of the pair as they walk.
The "Art student" walks her dog on threes.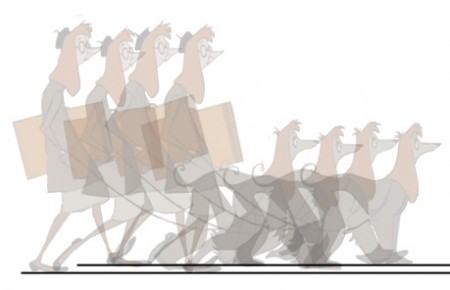 Animation note: The two separate feet are divided by a short space. The left foot is on one plane, and the right foot is on another. This is a
BASIC
precept for animators to follow, and it's something that is not appearing in a lot of the recent walk cycles I've been seeing. It's annoying.
35 Responses to "Art Student walking"
Leave a Reply