Animation Artifacts &Disney &Peet &Story & Storyboards 07 Apr 2008 08:05 am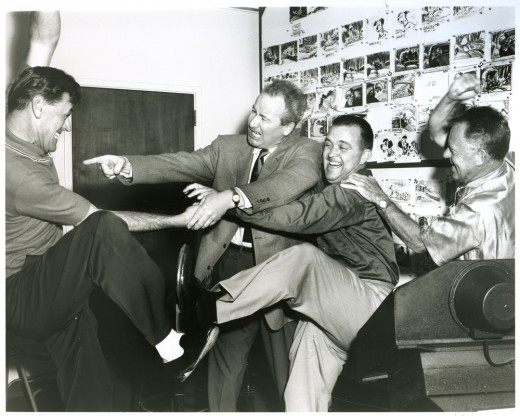 - The four artists pictured above were shot during a boisterous story meeting. Or more probably it's a posed photo. It's interesting that they pose a picture where the irrascible Bill Peet seems to be taking on the designer and directors of the film.
Left to right, that's Woolie Reitherman, Bill Peet, Ken Andersen and Ham Luske.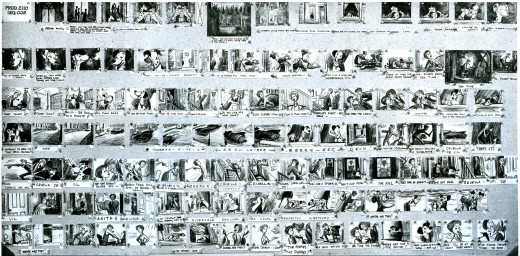 This is the first of the storyboards loaned to me by John Canemaker. It's the second sequence in 101 Dalmatians. The sequence starts with the wedding of Roger and Anita, Pongo and Perdita and takes us through the introduction of Cruella de Ville to pregnant Perdita worrying about the fate of her pups in the kitchen.
This board takes us more than half way through the sequence. The second board, which I'll post tomorrow or Wednesday (it takes a while to scan and post these), takes us through the end of the sequence.
Hans Perk is posting the complete production drafts of this film, and Mark Mayerson has started creating a mosaic from the drafts Hans is posting. The information they're both offering is invaluable.
As with past boards, I've split them up so that I can post the largest possible image. Otherwise they'd be the size of the full board, above.
Here we go:

1a
__________(Click any image to enlarge so that you can read it.)

1b

2a

2b

3a

3b

4a

4b

5a

5b

6a

6b

7a

7b
3 Responses to "101 Dalmatians – seq. 2 pt. 1"
on 07 Apr 2008 at 10:13 pm 1.Merry Effendi said …

I love watching the story board. Thanks for posting. I would like to learn drawing some storyboard of my own story and wonder how to start it. Just wonder how long does it take to built a story board for a short clip like 5 minutes and what is the important criteria for a good story board?

on 07 Apr 2008 at 11:21 pm 2.Eddie fitzgerald said …

Wow! What a treat! Many thanks to you and John for putting this up, and thanks for the great picture of Peet, Reitherman, et al.

on 08 Apr 2008 at 6:28 am 3.Dave said …

This is great to see a cartoon like this in storyboard fashion! To see a storyboard "animatic" along with a story's dialogue, people might be interested in going to the Adam Smith Academy http://www.adamsmithacademy.org to see classic short stories in literature brought to life.
Leave a Reply