Daily post &Layout & Design &UPA 10 Apr 2008 08:26 am
On March 6th, I posted a piece on the UPA short, The King and Joe. This film was done for television as part of the Gerald McBoing Boing show. I wrote a very brief piece about it and conjectured that the art was inspired by Paul Klee. (I had – and still have – a specific painting in mind which almost exactly matches a pan from the film. However, I haven't been able to find a copy of that painting.) Boy, was I wrong.
I received this note from Shirley Silvey, one of the designers of the film, and I'd like to post it. I hope that meets her approval.


A color still from Amid Amidi's great book, Cartoon Modern.
He credits director: unknown. Now, we know the director's name.
My name is Shirley Silvey and I worked on "The King and Joe". In 1956, near the end of the Gerald McBoing Boing Show, UPA hired Ed Levitt, a well known director/storyboard/layout and design artist to do some shorts. Ed wanted me to work with him, so I was hired as well. While Ed was a veteran in animation, I was a novice. With the two of us and two animators together in the same room, we started on the first short entitled "The King and Joe".
As far as the short itself, you questioned whether it was any good. We never thought or considered Klee for reference. As soon as we began, I purchased a book (published 1929) entitled "History of Ancient Persia". I used the book's photos of the sculptures and bas-relief that was created during the reign of the Persian Achamedian kings andI used the 1929 landscapes of Iran as my only references.
The length of the short was determined by its song that had been recorded before we started. I do remember the long pan you commented on. Klee? No. I just drew highly designed arab tents and sand dunes. In regards to "Magoo's 1001 Arabian Knights", I did layout, storyboard and character development under the art director Bob Dranko and animation director Abe Levitow.
I hope this explanation will exorcise the short from your brain. The King and Joe was just a little cartoon created by 2 artists who had fun doing it.
Regards,
Shirley Silvey
(I'd also written a snide comment in my original post saying that the film has haunted me for years and hoped writing extensively about it would "exorcize the film from my brain." That's her reference, and I deserved it.) The film was more than a "little cartoon" but still survives and compares well to most of the mediocre material done today.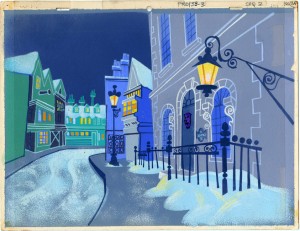 There's an excellent interview with Shirley Silvey at the Toonarific Cartoons. The focus of the interview seems to be her work at Jay Ward's studio, Bullwinkle and Hoppity Hooper, but there's quite a bit more about work with Abe Levitow and UPA.
Several of her BG layouts appear on the new Abe Levitow site. One of these appears to the right.
See Magoo's Christmas Carol and 1001 Arabian Nights.
__________________________________BG Layout – Shirley Silvey / Painting – Bob Inman.
One Response to "Shirley Silvey's King & Joe"
on 12 Apr 2008 at 12:51 am 1.Floyd Norman said …

I've never had the pleasure of meeting Shirley Silvey, but I certainly know her work and I use to work with her brother, David Jonas at the Disney studio. Dave did incredible storyboards while at the studio, and always remarked that his sister, Shirley was a much better artist than he was.
Leave a Reply