Animation &SpornFilms &Story & Storyboards &Tissa David 26 Apr 2008 09:37 am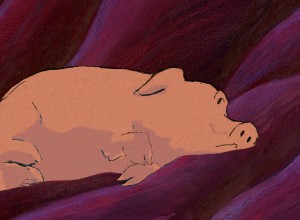 - As I stated recently, we're currently preparing for the release of four more of our films on DVD this coming June. Each of two disks will hold two films. Included among the extras will be lots of stills including sequences worth of the storyboards.
For The Marzipan Pig we've including a copy of a section of the animatic. This we'll offer with the actual film superimposed over the stills so you can make a comparison as the film runs. I like this format; you can really take in the animation and layout of the piece when both are on the split screen.
I thought I'd post here some of the storyboards and the animatic for that section. Of course, this is in a low res version; more can be discovered in the dvd version.
Tissa David did the storyboard and animated the entire film by herself. This film is a beauty, if I do say so myself. It's a truly adult film, though it was sold as a family film. It deals with love in all its forms, albeit, obviously, through metaphor. It was adapted from a brilliant children's book by Russell Hoban, one of my favorite authors.
Quentin Blake illustrated the original book, and we didn't purchase the illustrations. Hoban told us that it wasn't how he'd imagined the pig to look, so he drew it for us. He was once an art director in an ad agency, so he can draw. This is the pig we used.
Hoban had hated what was done with his book, The Mouse and His Child, so demanded that all the spoken dialogue in the film be found among his words. We wrote a script; Maxine Fisher went to London to work with him in revising it. Finally, when it came to recording Tim Curry, I threw out the script and had him read the book. It was a good decision, and it made for a great performance from a great actor.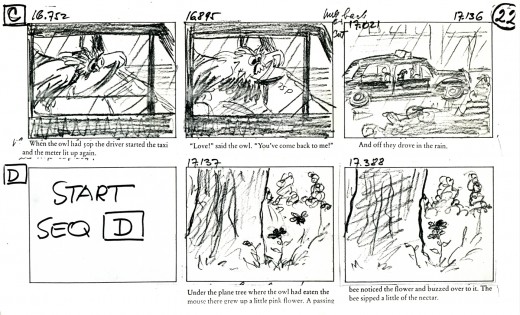 _____________(Click any image to enlarge.)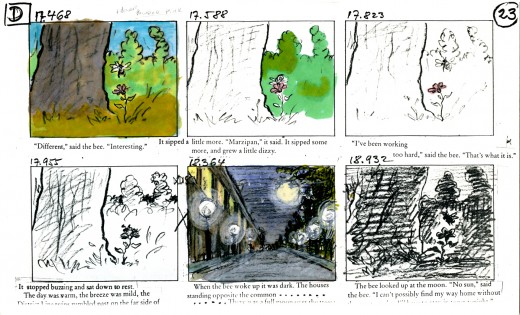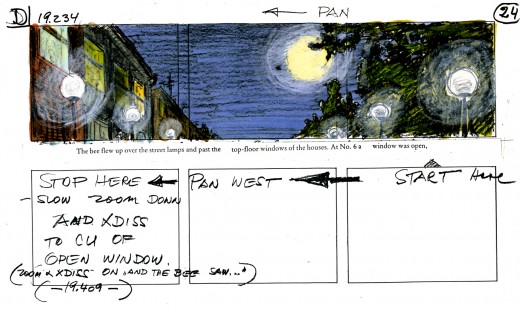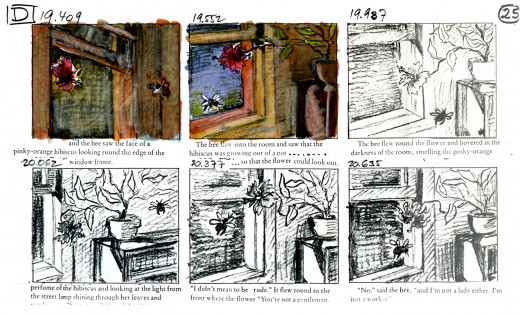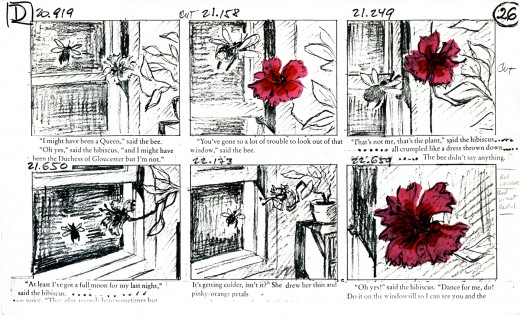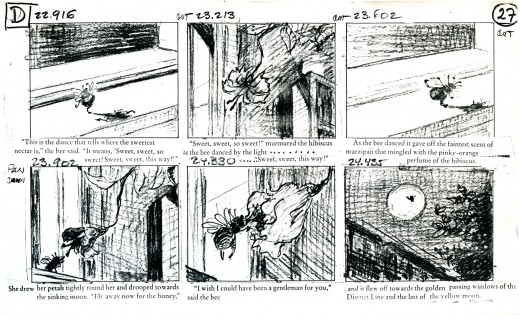 The animatic for Seq. D with the final film superimposed.
You'll notice that some changes were made
in scenes and scene cuts as the animation progressed.
This is typical.
2 Responses to "Marzipan Pig Extra"
on 27 Apr 2008 at 1:30 pm 1.Dave Levy said …

Congrats on the upcoming DVD release, Michael. I can't wait for it!
Marzipan Pig is a masterpiece. Will you be doing commentary on the discs and/or a making-of doc? I hope so! I loved those features on your past discs…

on 28 Apr 2008 at 7:01 am 2.Stephen Macquignon said …

Put me down for two copies
Leave a Reply