Animation &Articles on Animation &Disney &walk cycle 22 Apr 2008 09:23 am
Today's Wall Street Journal includes an excellent piece by John Canemaker about Ollie Johnston.
______________________________
- I've been enjoying analyzing the walk cycles in 101 Dalmatians. I particularly liked the last one I posted "girl with french poodle."
Here's the young child with her puppy. She not only walks, but she licks her lollipop. The pup is just an absolute innocent. It's another great walk by Blaine Gibson.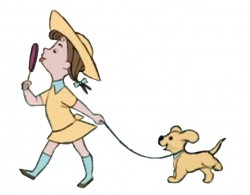 1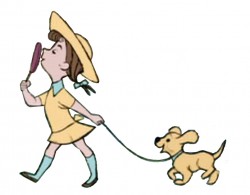 2
_______(Click any image to enlarge.)
The "little girl with puppy" walks on ones.
The piece, in the film, includes a zoom into the cycle. I've tried to adjust for it but don't think I was wholly successful. There's a marginal enlargement of the drawings as it goes on – noticeable only in motion. It's actually interesting in the walk.
One Response to "Little Girl w/puppy Walk"
on 22 Apr 2008 at 6:24 pm 1.Floyd Norman said …

Awwwww! This is cute as hell.
Leave a Reply