Animation &Daily post 23 Apr 2008 08:34 am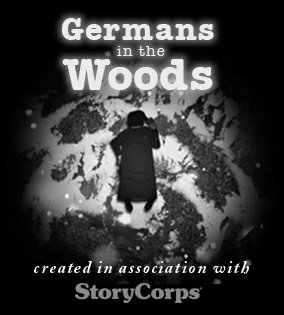 - I'd like to call some attention to a new production blog by Tim Rauch. He, together with brother Mike Rauch, created an animated short, Germans In The Woods. They started with a piece of pre-edited sound cut from a 40 minute interview in which a World War II veteran recalls his "saddest memory".
As Tim says, "This piece had aired on NPR and was included in the recent StoryCorps book. . . There was incredibly strong emotion in the voice and yet we knew there had to be something we could add with animation."
The blog gives some stills and clips from the film. I've been hearing from Tim for a while now and have seen several developing versions of the film. I'm quite impressed with the level of the animation and the graphics employed. I hope the film will be a success for them and encourage you to look into this blog.
You can see a teaser for the film here.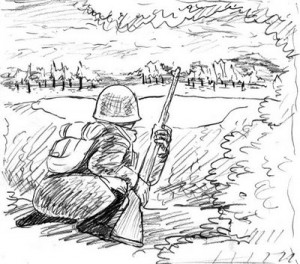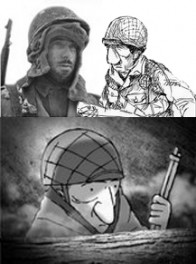 Some images from Germans In The Woods off Tim Rauch's blog.
The brothers also have an artists' demo site which includes information about other films they've done. These guys are artists in the making, and you should be aware of them.
_______________________________
- Michael Barrier's site has a letter from Borge Ring which details the LEICA reel experience, as it properly should be understood. Naturally enough, it involves the inestimable Hans Perk who comments on the experience. By the way, continuing the 101 Dalmatians study (started by Hans on his site, elaborated on by Mark Maryerson on his site, and with some small additions on this site) Hans is posting Bill Peet's original script for the feature.
2 Responses to "Tim & Mike Rauch"
on 23 Apr 2008 at 10:29 am 1.Francesco said …

Mr. Sporn, is there anyway I can contact you directly?

Thank you

on 23 Apr 2008 at 7:03 pm 2.Thad said …

Mike,
I need to ask you something, could you shoot me an email too?
Leave a Reply