Events &Hubley 25 Apr 2008 07:56 am


- Tuesday night, the Museum of Modern Art had an event to celebrate the Wednesday opening of a new exhibition devoted to Jazz film Scores. This is what the invitation looked like.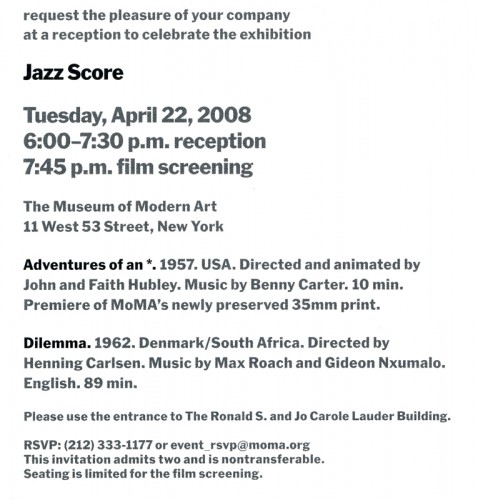 You can see from this that a main feature of the summer long exhibit of films will be Hubley shorts. The standout film is Adventures of an * in a brilliantly reconstructed print of the film. (I saw the film in 1963 in a theater, and I don't remember the colors, even back then, looking as good as this print.)
With the film screenings is an exhibit of outstanding posters and a wall of artwork from Adventures of an *, including the start of the storyboard for the film.
The wall looks like this:


_____(Click any image to enlarge.)
I shot the image in parts and reconstructed it in photoshop. There's some distortion due to the size and the fact that I was taking these pics on the sly; I don't think photography is allowed.
Above this is the storyboard which feels somewhat like this (though I'm missing parts here.)


The board was near the ceiling so was hard to see, never mind photograph. Lots of light bouncing off it.
Here are some closer shots of the wall. Lighting was at its best, but it gives you an idea of what was there. The images here start to the left of the wall and move right.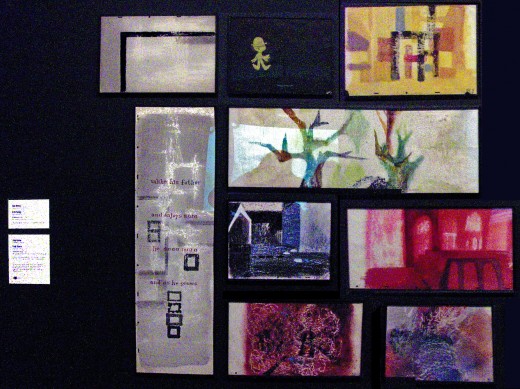 A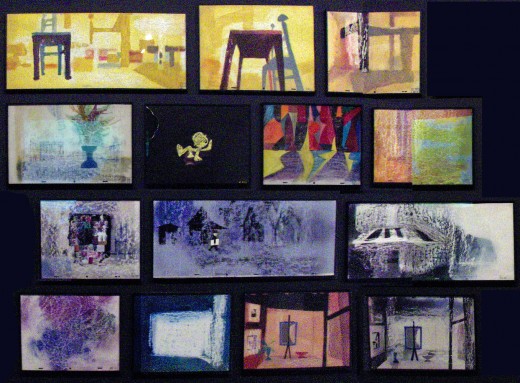 B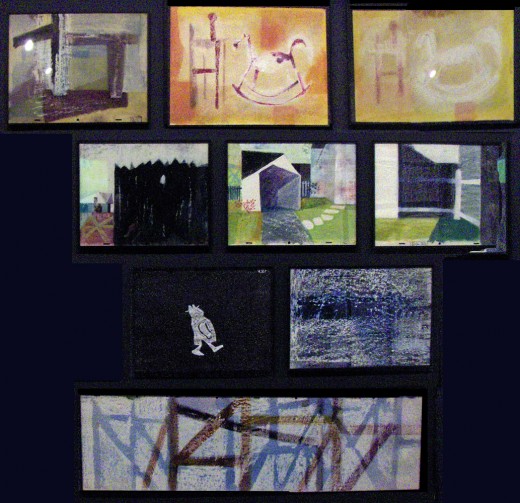 C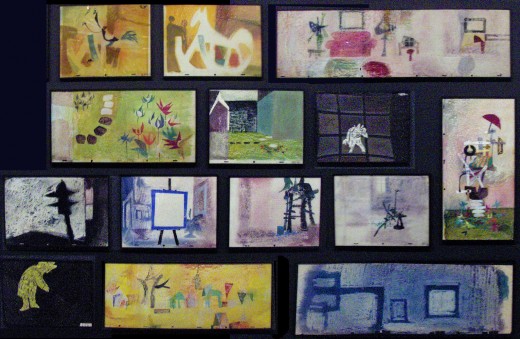 D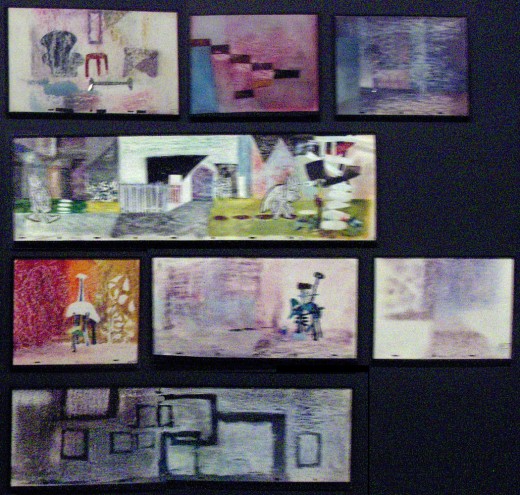 E
Here are a couple of the images shot separately.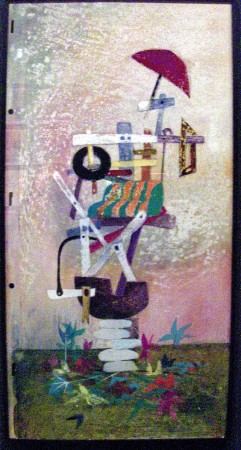 Quite a few of the backgrounds and setups from this film were framed and hung around the walls of the Hubley Studio, while I worked there. That alone made for glorious days just gawking at the stunning artwork.
Needless to say, I was a Hubley fanatic before starting work there. I remember vividly that first day of opening the elevator door to be face to face with the beautiful blue rocking chair from Moonbird framed there in all its glory. I think it took me about five minutes to finally ring the doorbell, I was so entranced with John's painting.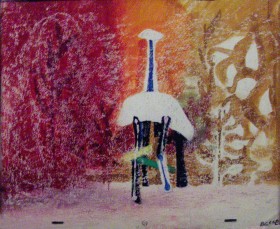 Part of the exhibitiion in the lobby is artwork from John Canemaker's beautiful short film, Bridgehampton. A sequence of paintings, that look like they emerged from an Oskar Fischinger film, grace the wall across from the Hubley images.
There's also a very large video screen playing clips of both films in a loop. The quality, naturally, isn't as good as the film print. Here's the wall of John's artwork, as well as a closeup of one of the images and a photo of him with me against the wall.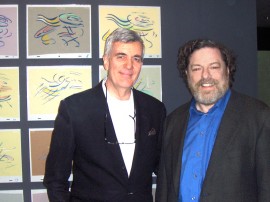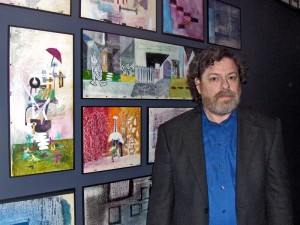 Here's a photo of me up against the wall of Adventures of an *.
There's also a reconstructed print of Tender Game whidch will play later in the summer. And, finally, below is the schedule for the animated shorts that will be playing through April and May.
The film exhibition runs through September, so you should keep up on the film programs.
I'll try to update the schedule when I can.
Playing with the feature Dilemma is
Adventures of an *. 1957. USA. Directed and animated by John and Faith Hubley. Music by Benny Carter, with vibraphone solos by Lionel Hampton. 10 min.
____Friday, May 9, 2008, 8:15 p.m.
____Saturday, May 10, 2008, 3:00 p.m.
____Sunday, May 11, 2008, 2:30 p.m.
____Monday, May 12, 2008, 8:15 p.m.
____Wednesday, May 14, 2008, 8:15 p.m.
____Thursday, May 15, 2008, 6:15 p.m.
Playing with The Man With The Golden Arm is
The Three Little Bops. 1957. USA. Directed by Friz Freleng. Music by Shorty Rogers. A classic Looney Tunes cartoon. 8 min.
____Saturday, April 26, 2008, 2:30 p.m.
____Sunday, April 27, 2008, 4:45 p.m.
Playing with Odds Against Tomorrow is
Tal Farlow. 1950s/1980. New Zealand. Directed by Len Lye. Lye's last cameraless scratch film, posthumously completed by Steven Jones, with a jazz guitar solo by Tal Farlow. 2 min.
____Sunday, April 20, 2008, 4:00 p.m.
Playing with Paris Blues is
Begone Dull Care. 1949. Canada. Directed by Norman McLaren, Evelyn Lambart. Award-winning abstract animation, with music by the Oscar Peterson Trio. 8 min.
____Saturday, April 19, 2008, 5:00 p.m., Theater 1, T1
____Wednesday, April 23, 2008, 6:15 p.m
5 Responses to "Jazz Scores at MOMA"
Leave a Reply