Animation Artifacts &Disney &Models &Story & Storyboards 28 Apr 2008 08:04 am
Robert Cowan, a major collector of animation art and materials, has sent some images from Bambi, which come from his collection, to add to the theme of the art I've been posting.
The first is a cel setup from the "twitterpated" sequence. It's a beauty of Thumper after he first finds love. Take a look at that stunning background, the beautiful, multicolored crowquill inking around the characters, and the refined airbrushing of the artwork. It's a stunning cel. To think there were thousands just like it. There's nothing comparable today.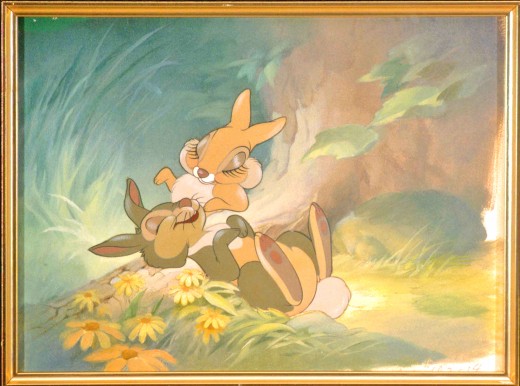 ___________________(Click any image to enlarge.)
The following storyboard drawing shows Bambi when he first sees Faline's reflection in the water. "Twitterpated!"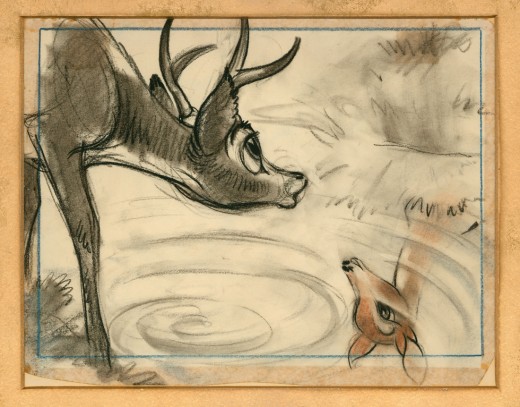 This storyboard drawing shows Bambi, the young doe, being led to the meadow, for the first time, by his mother. A great drawing.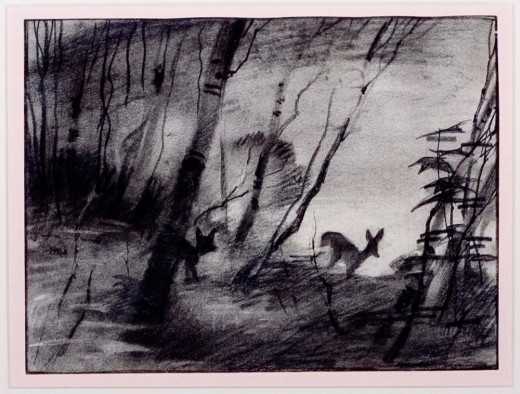 Here's another beautiful concept painting from Bambi.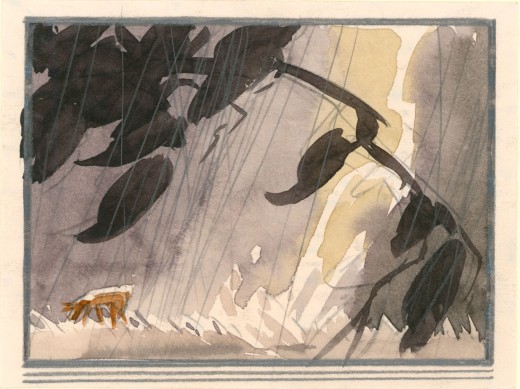 To be honest, I think these images are better than some that are printed in the Frank Thomas & Ollie Johnston book, Bambi: The Story and the Film. It's obviously an enormous and important collection Mr. Cowan has gathered, and I thank him for sharing these images.
Mr. Cowan has recently released the book, Working for Disney: 1936-1937 – The Ingeborg Willy Scrapbook, which looks interesting in itself.
3 Responses to "Bambiart"
on 28 Apr 2008 at 2:27 pm 1.Jenny Lerew said …

I wish he'd publish all of these!

on 28 Apr 2008 at 3:42 pm 2.Biblioadonis aka George said …

Thanks for sharing those.

They are beautiful pieces. What a great collection that must be.

on 28 Apr 2008 at 10:10 pm 3.Neil said …

This was a great article. Love the artwork.
Your friends at celspotter.blogspot.com
Leave a Reply