Photos 11 May 2008 09:11 am
____________________________Happy Mother's Day
-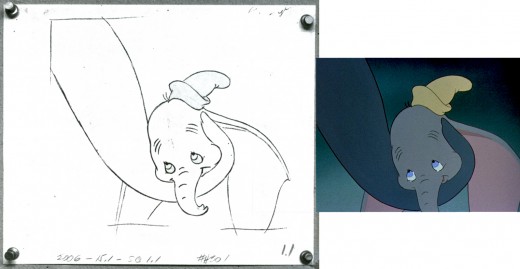 ________________________________
- Lyle, Lyle Crocodile was one of my favorite experiences since forming my own company. I'd like to revisit two posts of photos that I posted back in October, 2006.
This is the group in 1987 on Lyle Lyle Crocodile: the House on East 88th St. that worked in house. The studio at the time was located between Fifth & Sixth Aves, and I was there from 1985 thru 1988.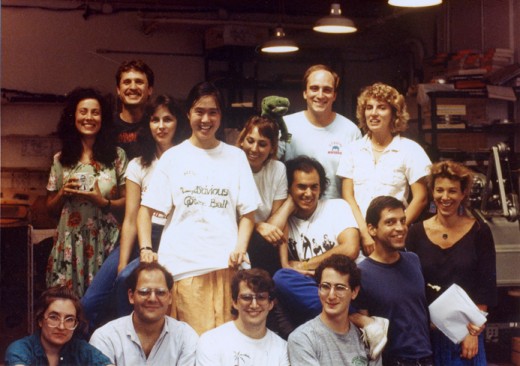 These are, Back row L to R : Lisa Crafts – animator, Tom Repasky – coloring, Susan Tremblay – coloring, Madeline Fan (full pic w/T-shirt) coloring, Caroline Skaife (leaning on Madeline) – coloring, Mark Baldo (w/puppet Lyle) coloring, Doug Vitarelli (leaning on Caroline) runner, Theresa Smythe – asst. animator.
Front row, sitting, L to R: Caroline Zegart – coloring, Steven Dovas – animator, John Schnall – Prod. Coordinator/Animator, Ray Kosarin – Asst. Animator/coloring, Michael Zodorozny – Layout, Bridget Thorne – Art Director/Bgs.
Some of the others who worked in the studio and not pictured in the group are: Elizabeth Seidman – ran the rendering and supervised the production, Greg Perler – editor, Kit Hawkins – studio coordinator, and me.
Working out of the studio on the artwork were: Tissa David – animator, John Dilworth – animator, John Canemaker – animator. Of course there were also actors, musicians, camera guys, and engineers.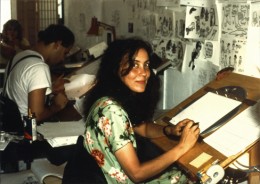 1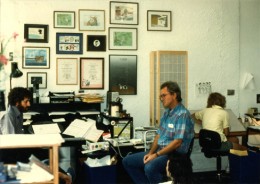 2
(Click on any image to enlarge.)
1) Lisa Crafts animating at her desk. Steve Dovas behind her.
2) Me at my desk with Mark Sottnick a producer of Santa Bear. Theresa Smythe on the right.
The studio was a good one. It was just over a music rehearsal studio where Tito Puente's group practiced every afternoon. All we could hear was the endless bass line over and over and over and over and over and over. At one point, late night, we heard Bob Dylan and Mark Knopfler rehearsing the new album they'd just done.
Unfortunately, the large skylight made it easy for people to break in. It happened three times in one month, and all that was stolen were walkman radios from the crew. Ultimately, I gave up, and we moved downtown.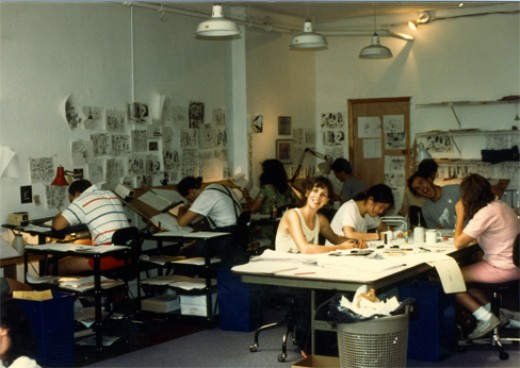 A shot of the whole studio from the door. (Things were tight.)
In the BG from L to R: Mark Baldo, Steve Dovas, Lisa Crafts, Ray Kosarin.
At the center table L to R: Susan Tremblay, Madeline Fan, Doug Vitarelli, John Schnall – behind Doug and Liz Seidman (in pink).
__________________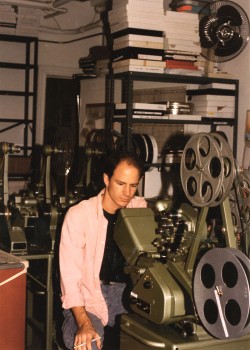 _
- Here are two more corners of the room in this 38th Street studio, back in 1988.
Greg Perler had a particularly crowded corner of the studio where he edited all of the films we were producing. You'll note that he was using an upright movieola. (I prized those two uprights and have kept them to this day, though they're used predominantly for holding things upright.)
Greg, at the time of these photos, was editing Abel's Island. There was a hurried rush for the mix which was fast approaching, and I was encroaching on his day to take these snaps.
Greg left NY to go to LA. He started as the Asst. Editor on Beauty & The Beast and became top dog on Tarzan. Currently, he's editing The Love Guru for Mike Myers.
_
(Click any image to enlarge.)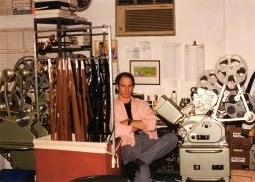 1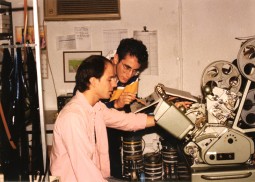 2
1. Greg's corner from another angle
2. Greg and Ray Kosarin, an assistant in the studio. who worked with Greg in assisting him in the rush to the mix.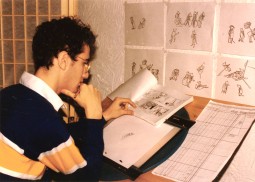 3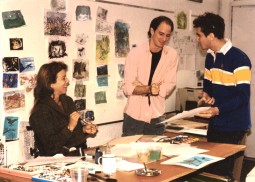 4
3. Ray Kosarin drawing on Abel's Island.
4. Bridget Thorne's corner – diagonally across the studio from Greg's – where she did backgrounds. Bridget, Greg and Ray.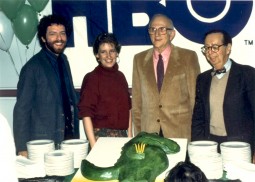 5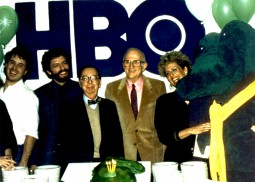 6
5. HBO threw a party to screen Lyle Lyle Crocodile. Pictured here L to R: me, Liz Callaway (the singing voice of Mrs. Primm), Bernard Waber (the author, illustrator of the book), and Arnold Stang (the voice of a parrot – he was also the voice of Top Cat among hundreds of voices he's done over the years.)
6. Pictured L to R: Rick Parks (multiple voices), me, Arnold Stang, Bernard Waber, Carole Rosen (an Exec from HBO with whom I did many films), and someone dressed as Lyle.
We're about to cut a cake shaped to look like Lyle, the crocodile. The knife was given to Bernard Waber who said he couldn't cut into his own creation. We had the costumed Lyle cut himself – the cake, I mean. (The head went first!)
2 Responses to "Recap PhotoSunday: LYLE Crew"
on 11 May 2008 at 3:03 pm 1.Stephen said …

Looks like a great group. Lots of work, lots of fun, I bet.

on 12 May 2008 at 5:26 pm 2.Doug Vitarelli said …

This was my first job in animation. I remember walking around the city delivering scenes to ink and paint, cels to camera, film to kodak, etc. My feet hurt so much that I could hardly stand up in the mornings by the end of the summer. But one of the perks of all that travelling is that I kept on running into a cute hat designer who worked on one of the lower floors on the elevator. I can still remember walking into the studio one day and everyone was to staring at me. She had sent up a bike messenger to ask me out!

And that elevator, (remember the round glass window?), was the scene for my senior film. I rode that thing so much it affected me long after my internship ended.

Lots of fun for me too.
Leave a Reply