Daily post &Music 23 May 2008 08:31 am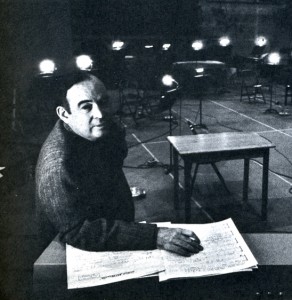 - This week, I enjoyed posting the article by Ross Care on the music of Bambi.
I have been a film music fan almost as long as I have been an animation enthusiast. When I was 12, I bought my first soundtrack, the score to To Kill A Mockingbird, by Elmer Bernstein. What a way to start! This was almosts immediately followed by Lillies of the Field by Jerry Goldsmith. I subsequently bought every score I could find by either of them and stayed a devotee of both. (Animation fans might recognize Goldsmith's brilliant score for The Secret of Nimh and Mulan or Bernstein's for The Black Cauldron and Heavy Metal.)
______Ed Plumb in a break between
______recording sessions on Fantasia.___________I have spent quite a bit of interest
__________________________.________________searching down any bits and pieces of information written about film scores and film musicians. I virtually absorbed Roy Pendergast's book, Film Music: A Neglected Art, with its interview with Scott Bradley and discussion wiht Gail Kubik (who wrote the score to Gerald McBoing Boing.) I subscribed to Film Score Monthly and Soundtrack Collector's Newsletter, and I belonged to collector's groups that would introduce Japanese versions of many scores that included cues that weren't included in US releases or offered records that weren't available here. In short, I was obsessed.
That obsession has quieted somewhat, though I still pay close attention to soundtracks and scores. Goldsmith and Bernstein are gone now, but there's still Tom Newman and James Horner and John Debney (who did the score for my film, Goodnight Moon.)
_______________________
_
Ross Care
, who wrote the article on Bambi and has written and performed much of his own music – concert as well as filmusic – wrote to tell me that he has a concert upcoming in LA.
Letter to the World – Poets to Song,
Original Songs by Ross Care
June 8, 2008 2pm
First United Methodist Church
1338 E. Santa Clara St.
Downtown Ventura
805-901-2697
Suggested Donation, $15
Featuring the poems of Lewis Carroll, Edward Lear, Christina Rossetti, Frank O'Hara, Emily Dickinson, James Joyce, William Blake and A.E. Housman
Ross Care, Composer/Pianist
Diana Burdick, Soprano
Molly Kohler Pei, Soprano
Steve Perren, Baritone
Philip Vaiman, Violin
Maksim Velichkin, Cello
Notes on the Music
Care has always been interested in the fusion of music and poetry in a somewhat
neglected form, the modern art song. "Letter To The World" draws from both classic
and modern texts. The settings in this concert are written for voice and piano and
voices with piano, violin, and cello.
_______________________
_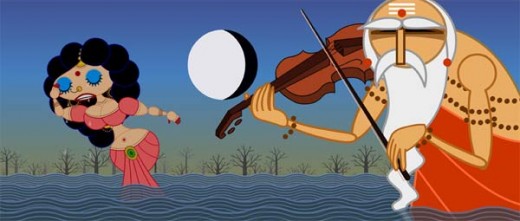 - Nina Paley is interviewed in depth on Film & Video's site. The subject is how she animated a feature length film, Sita Sings The Blues, in Flash. The film just recently finished playing in the Tribeca Film Festival and will soon show at Annecy.
You can read Variety's very positive review here.

_______________________
_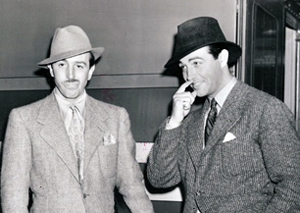 - I enjoy
Mike Barrier
's essays built around "A Day In The Life" of someone or some animation studio.
These are extraordinary little commentaries on moments in time. His most recent details a trip Walt and Lillian Disney made to New York in 1938 where they met a young Robert Taylor on the train.
Disney: June 20, 1938
These pieces really give you a feel for the time and place of the event. This is something too often left out of animation history and an aspect that I demand of good history (even if I have to supply it myself.)
_______________________
_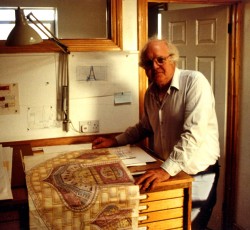 - The fine blog,
The Thief
, has two excellent pieces on
Roy Naisbitt
. Roy was one of the keys to the
Richard Williams Studio
. The two posts feature some of the elaborate and exceptional art Roy did for Dick's feature, The Cobbler and the Thief. Roy was probably the closest thing Dick had to a computer back in the '70′s. The post calls him a "certified genius," and I'd have to agree. For years I knew about Roy's work; The Thief gives us some of his drawings.
There's some amazing art here.
Roy Naisbitt pt 1
Roy Naisbitt pt 2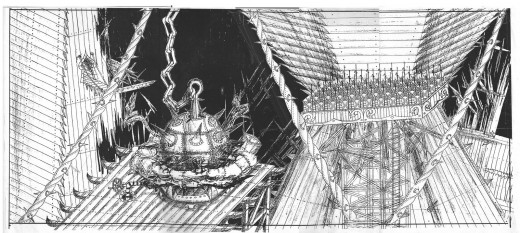 2 Responses to "Notes"
on 19 Aug 2008 at 8:04 am 1.Shaun said …

Michael,

Just finished "Goodnight Moon and Other Sleeptime Tales" and was in complete bliss watching the transformation of one of my favorite bedtime stories to animated lullaby. You mentioned John Debney doing the score to the film, and I haven't been able to find anything on the score at all. Do you know if it was ever released?

on 19 Aug 2008 at 8:38 am 2.Michael said …

No soundtrack was released for this show, however the program does exist on dvd or vhs.
Leave a Reply