Books &Photos 25 May 2008 08:49 am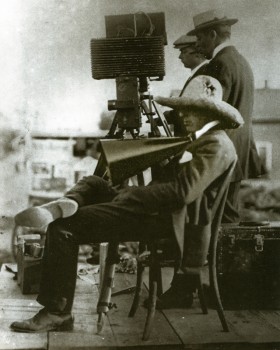 - I'm sure I've mentioned before that I love silent films. I particularly am a fan of D.W.Griffith's work. I think I've read just about every book about the man's career and biography.
If you're looking for a great one, read Adventures with D.W. Griffith by Karl Brown, who was an apprentice on Birth of a Nation and Intolerance. I thinnk often enough about Brown's story about his daily walks with D.W. It seems that they both lived near 14th Street, and their studio was on 125th St. when they worked in NY. They'd walk together to the studio in the morning and walk home at night. The young Karl Brown would use the opportunity to learn as much as he could from the master. He tells how Griffith, at one time, pulled out a big six shooter which surprised Brown. That's when he realized that most people carried guns. It was protection from criminals. ______Griffith filming Birth of a Nation.
I'm sure it was also protection from the patent
holders group who would beat up anyone making a film without paying for the use of a camera, whose operation was patented and owned by Thomas Edison.
Billy Bitzer, Griffith's brilliant camerman, reconstructed their camera so that it was different from the patent rights' group's cameras – therefore not in violation of the patent. This didn't stop the constant attacks on Griffith's sets.
I have a book by Kevin Brownlow that I love. Photographs from the sets of silent films. Hollywood, the Pioneers is a companion book to a series he produced. The photos are outstanding. Here are a few: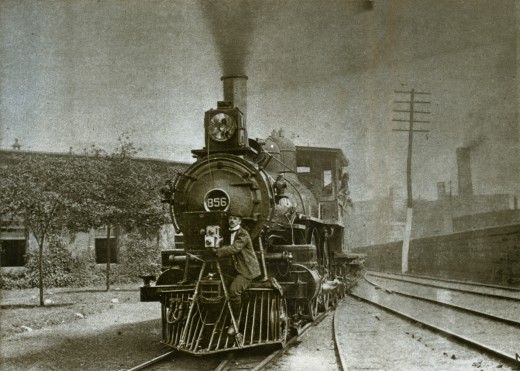 Billy Bitzer on the front of a train filming the movement
for a pre-Griffith film, a Hales Tour film.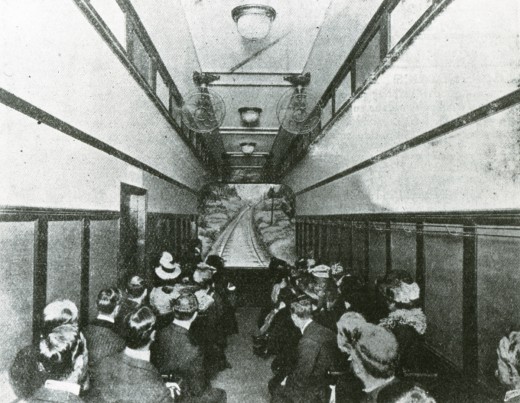 This is how the Hales tour films were screened. It's a duplicate of a railroad car, and you ride facing the screen where you got to watch the movement, as if you were on a train. Future director, Byron Haskin, talked about spending whole days in a theater
watching these tours since they were so spellbinding.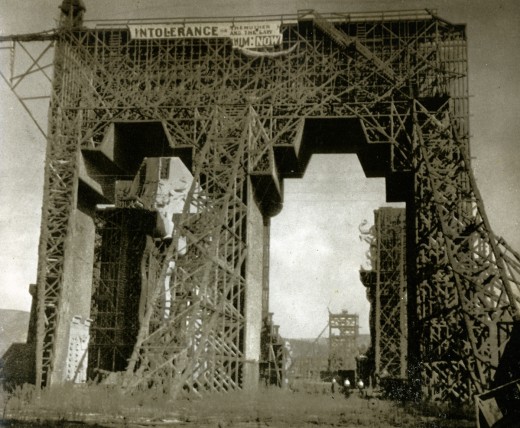 Here's a shot of the skeleton to the set of Babylonia in the film, Intolerance.
This film was shot in California. Film makers ran to the west coast
as much to escape the patent holders as to find all sun all the time.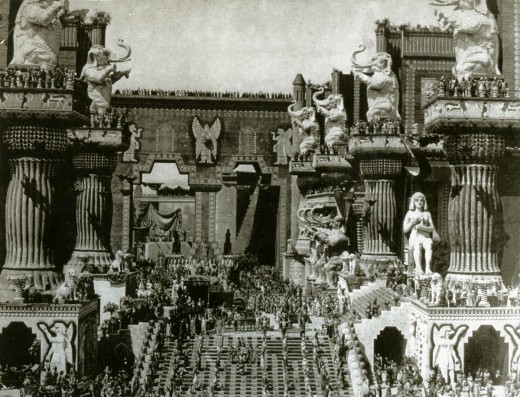 This is what the final set looked like for the film. (Those are
real people and elephants inhabiting the set, not computerized creations.)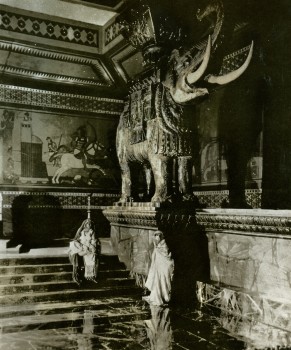 This is closer shot of one of the elephants that lined the walls. The care that was put into these films was amazing. Griffith loved recreating famous paintings and etchings that illustrated the stories he was filming. Quite often, the intertitle would tell you that you were watching such a recreation and show you the painting.
After the film was completed, the set remained standing for many years. If Roger Corman had been around at the time, there would have been another dozen films featuring it.
There's also a wonderful Italian film by the Taviani brothers called, Good Morning, Babylon. It's about two architect brothers who emigrate to the US and get work helping to build the set. It's worth hunting down for a look.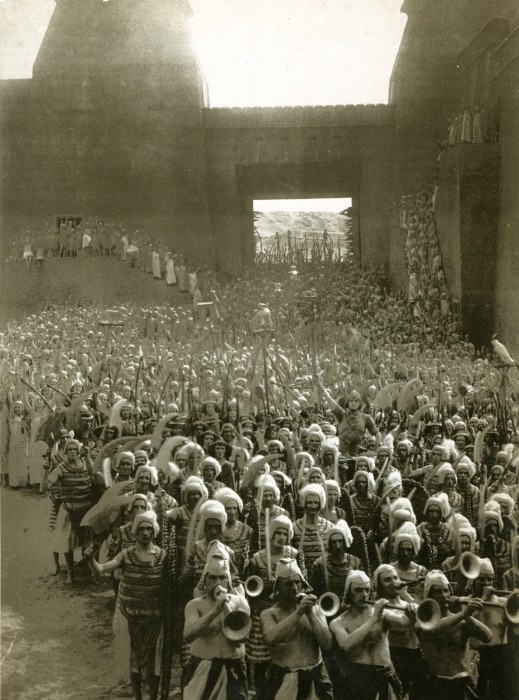 The Griffith film led to bigger and bigger sets.
This is Ernst Lubitsch's German film, Loves of a Pharoah.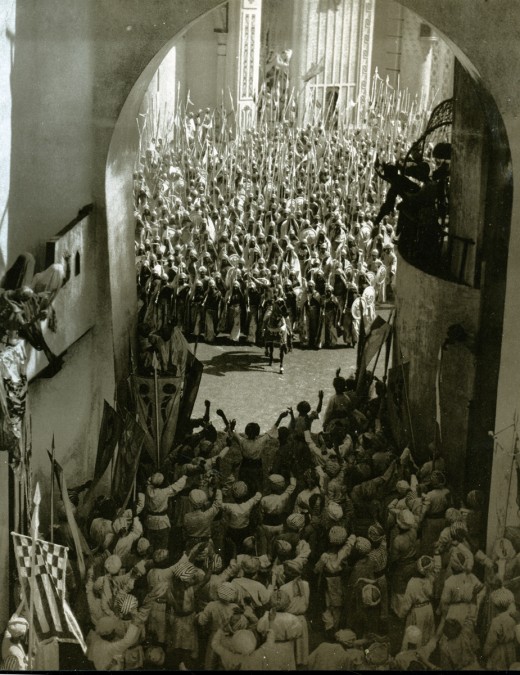 Douglas Fairbanks got even larger with his set for The Thief of Baghdad.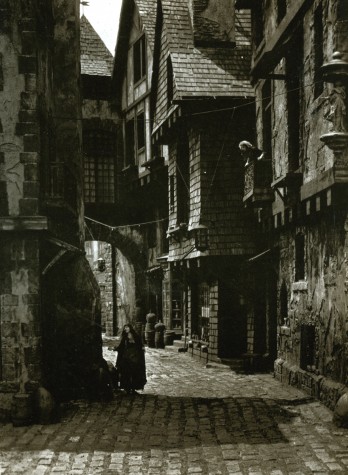 Years later, after a number of films had failed for him, Griffith tried to make one more special film. He bought some land in Mamaroneck, NY and built his own studio. There he had constructed Paris. This would be the set for Orphans of the Storm.
It was a film that featured the sisters, Dorothy and Lillian Gish. The girls are separated in the period melodrama. here, Dorothy, playing the blind sister, is searching the streets for her sister.
She isn't very successful and sinks lower and lower into the depths of revolutionary France. Needless to say, there's eventually a reunion.
Lillian took a very big part in the making of these films. During Intolerance she actually was an uncredited editor. Since she had a small role in the film, she would spend the days assemblilng footage to view with D.W. in the evenings and would rework the film to Griffith's instructions on the next day.
There was no script when they started this film. Griffith wrote it all and kept it in his head as he shot the film. This was quite a feat since it's four separate stories that are interwoven. (The first time this was done on film.)
Anita Loos was employed, early in her career, after the fact to help write the intertitles and offer suggested changes to the footage.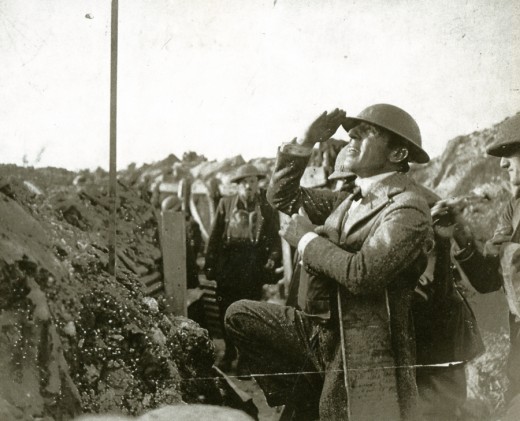 In 1917, during WW I, Griffith actually went to the French front to film his movie,
Hearts of the World. The film was financed with British money as
early propaganda. The footage shot in France wasn't all he'd hoped for,
so some of it was recreated back in the US when he returned.
2 Responses to "PhotoSunday: Silents"
on 27 May 2008 at 3:23 pm 1.Eddie Fitzgerald said …

Fascinating!
Leave a Reply